030 Roundtable: SAP Hosts Innovation Hubs in the German Capital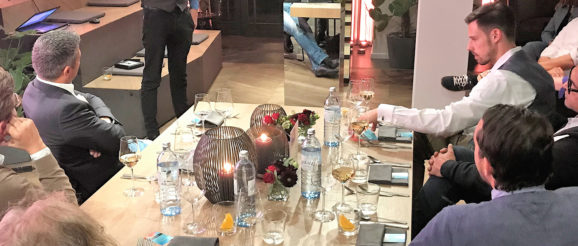 SAP recently hosted 20 of Berlin's brightest and most innovative minds for the third 030 Roundtable at the SAP Data Space. The event brought together the local innovation labs ecosystem, offering participants the opportunity to exchange and share successes, challenges, and questions.
Divining the future has become a popular sport with corporations ever since word got out that current achievements don't equal future success. From the Fortune 500 list of 1955, only 60 survive today.
As Dr. Martin Heinig, managing director of SAP Labs Berlin, put it while hosting the event on October 8: "All of us corporates are facing the same challenges when it comes to questions like: Will our company still be around 10 or 20 years from now? And what do we have to do to ensure future success? We all have customers who are asking these questions as well, and we want to support them in finding answers."
What could be more natural for corporate innovation units than to get together and share their findings? To offer them a common ground, SAP hosts the 030 Roundtable, which takes its name from Berlin's area code. With a vibrant startup scene and strong academic clusters, Berlin is a logical place to bring together these groups focused on innovation.
Innovation Focused on Blockchain, Machine Learning, IoT, Smart Cities
Over a three-course dinner at the SAP Data Space kitchen in Berlin Mitte, 20 innovation managers discussed the issues and challenges their hubs are facing every day. SAP's Heinig summed them up: "How do we measure success? What should we focus on, development or marketing? How can you build an innovation lab that is sustainable for the future by actually producing results? There are companies that actually killed their innovation labs or incubators and we don't want to see it happen to us."
SAP's own innovation hub, the SAP Innovation Center Network, contains more than 250 employees in eight locations around the globe. Backed by the Office of the CEO, it is tasked with identifying emerging technologies that help solve future business challenges for SAP and their customers. Recently the SAP Innovation Center Network was recognized by Capital magazine as one of Germany's best innovation hubs.
Jan Schaffner, head of the SAP Innovation Center Network, isn't smug about this: "It's difficult to set yourself apart as an innovation unit among so many others," he admits. "Everyone is focusing on similar topics: blockchain, machine learning, IoT, smart cities. And what's also remarkable is that everyone applies a similar process of managing innovation: You incubate an idea, you grow it by adding more resources, and at some point, you scale it back into the mother company. I asked myself, 'What are the learnings, what do people actually do differently in this situation?'"
The conclusion? Companies don't differ that much when it comes to identifying topics and funneling them inbound. The differences lie in how they make these technologies become a reality in the larger organization.
Connecting Corporate Innovative Minds Within the Berlin Ecosystem
"I find it's important to network with innovators from other companies to learn from them," said John Calian, senior vice president and head of Deutsche Telekom Innovation Labs (T-Labs) in Berlin, a unit that partners with academics and focuses on innovations that lie three to seven years in the future. "We certainly don't do everything correctly, and it's always good to find out what methods other companies are employing and try to learn from them."
Participants switched tables after each course. "030 Roundtable is an intimate way to introduce myself to new people," said Calian. "I try to go to three to four events per month here in Berlin; the ecosystem offers so many opportunities to get inspired. But this one is special: It's about sharing stories over dinner in a comfortable place. It's pleasant to have six or seven people at a time talking, rather than a bigger group."
SAP host Heinig was pleased with the outcome of the evening: "All the different interactions during the three dinner courses tonight offered very valuable insights into the common issues and challenges the innovation labs are facing. I enjoy this free exchange, it shows how corporate cultures have changed in recent years. The times are over when companies used to anxiously guard their methods. Now it's about transparency and learning from each other's successes and failures."
Keep in touch with the Berlin ecosystem on Twitter via @SAP_Berlin.