12th Graduation: ICPAU President Emphasizes Innovation as a Key Success Factor – Today's Accountant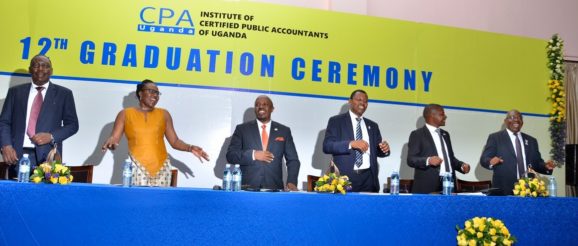 The President of the Institute of Certified Public Accountants of Uganda
(ICPAU), CPA Frederick Kibbedi has urged graduates to be innovative if they are
to be successful in a fast-paced world.
CPA Kibbedi was speaking at the 12th Graduation ceremony of
ICPAU on 6 March 2020 at the Imperial Royale Hotel.   
"Being innovative is one of the things that will help you survive," CPA
Kibbedi said. "Without being innovative, the world that you are entering is so
fast and technologies are so disruptive that the only way you will remain
relevant as a professional accountant is by being able to use technology to get
new innovative ways of adding value the organisations that associate with you,"
he added.
The ICPAU president urged the graduates to take pride in the accountancy
profession because it is a unique profession that has one way of doing things
throughout the world, with one hierarchy across the globe. The International
Federation of Accountants (IFAC) prescribes global accounting standards that
are adopted by professional accountancy organisations for their jurisdictions.  
CPA Kibbedialso emphasized
ethics, application of emotional intelligence, and productivity as key
attributes that will keep graduates relevant. 
"Organisations are looking for people who they can vouch for, those who
embrace ethics and can be trusted to do what they say they will do," CPA
Kibbedi noted.            
"Employers will hire you for your qualifications, but they will retain you
for your productivity," he added.
 END.