4 lessons the coronavirus "swab robot" can teach about innovation | World Economic Forum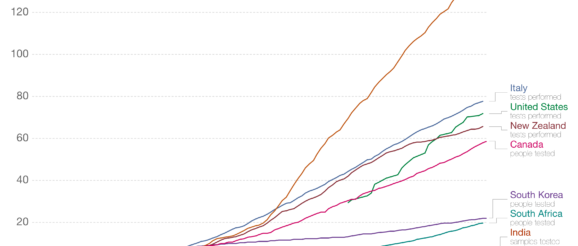 Similar examples of crisis-driven innovation are happening all over the world, not just in labs but also in homes and offices. Children have shifted to homeschooling, and adults to remote working. Fashion brands have produced medical clothes, and car companies have built hospital ventilators. These feats of imagination and effort show us what we are capable of in times of hardship. But they also inspire us to do better once our lives return to normal, and provide valuable insights into what it takes to excel under pressure. Speaking as a member of the swab robot team, here are four lessons the project taught us about how to innovate in a fast and effective way that produces life-saving results:
Our team was driven by a clear and urgent mission: make coronavirus tests available to as many people as possible. Everyone knew that this would save lives. The sense of a higher purpose brought us together and fuelled the process. For the researchers, the project also felt like an opportunity to repay Danish society for their free education at a time when help was needed.
We learned that working towards a common, meaningful goal can motivate people to try and achieve the impossible, and help tackle an unprecedented global problem at record speed. Saving lives became way more important than research publications or profit. Articulating such a clear, compelling purpose can get everyone on board. Our situation was of course exceptional, but all researchers and team leaders could take a moment to consider how their work contributes to the greater good, and orient their projects towards a meaningful goal.
To reach our goal as quickly as possible, we built an interdisciplinary team of people from fields as diverse as robotics, vision, mechanical design, and medical device approval. We also called on experts in accounting, healthcare, and microbiology. We learned the importance of nurturing such interdisciplinary networks in ordinary times, in order to be ready when disaster strikes. The robotics cluster is another example of a network that was nourished over time, and saved the day when the crisis hit. Years of dedicated work and public investment to attract start-ups and researchers to Odense paid off when the talent on the ground decided to collectively take on this challenge.
The members of our core research group already knew each other, but the consortium of investors had never met before. They had to learn to trust each other fast, helped by shared feedback on individual personal assessment tests that revealed strengths and weaknesses. Robot scientists, doctors, and impact investors all contributed their expertise to achieve the common goal, which in turn fostered a spirit of collaboration rather than competition. This huge diversity of skill sets played a crucial role in speeding up the development process.
Innovating at breakneck speed requires sprints and creativity, but sometimes it's helpful to check what's already in the drawer. Rather than developing the entire robot from scratch, we looked for existing components that could be mixed with new elements for a fast and reliable solution. For example, we used a conventional robotic arm to hold the swab. We also designed a simple head rest for test subjects to lean into. We used well-known robot control schemes, then added our own layer of custom control.
Leaning on tried-and-tested systems and using them as building blocks for something new turned out to have several advantages. It freed up time and resources, allowing us to think about aspects such as accessibility and sustainability while still keeping the finishing line in sight. The initial prototype was not exactly a thing of beauty, but it did an effective and gentle job of swabbing. This was enough to set up a company that could then refine the product design. In a global crisis, function beats fashion.
As an organization, the Forum has a track record of supporting efforts to contain epidemics. In 2017, at our Annual Meeting, the Coalition for Epidemic Preparedness Innovations (CEPI) was launched – bringing together experts from government, business, health, academia and civil society to accelerate the development of vaccines. CEPI is currently supporting the race to develop a vaccine against this strand of the coronavirus.
We reached our goal in time, but the process wasn't flawless. Long days and various design changes placed a strain on the team. Even when working towards an urgent goal, team leaders must be mindful of people's need to rest and recharge, and ensure that everyone's efforts are acknowledged. The key is to lead with empathy, calmness and gratitude, and keep in mind that each imperfect individual contributes to an amazing collective achievement.
This idea of the sum being greater than its parts goes beyond the team itself. One of our lasting insights is that a city, a society and a sector can all make different contributions to a project. The city of Odense had nurtured a robotics cluster that now turned out to be crucial to the mission; society had invested in research and education; different sectors contributed know-how and materials. Sometimes the true value of an individual system – be it a specialist cluster or an educational system – becomes most obvious as part of a collective effort.
In conclusion, having a clear mission, a diverse team, a willingness to combine old and new, and a calm, thoughtful leadership style helped us achieve what originally seemed like an outlandish idea. The coronavirus swab robot still has a long journey ahead. We're currently improving the user interface, and there will be more tweaks and modifications along the way. But even as it stands, this robot will make testing huge numbers of people easier and safer. We have an extra tool in this crisis that we did not have a month ago. The robot can also be used to collect samples in other public health crises, and can be easily adapted to different needs and circumstances.
This global tragedy has presented many of us with a chance to do good, and develop new capabilities and perspectives. Hopefully, we will take some of these insights back into our normal lives after the crisis. Our swab robot challenge united people who had never met before, motivated them to give their very best under trying circumstances, and changed their expectations of what they could achieve in such a short space of time. As a commentary in the Wall Street Journal so eloquently stated: Although in the fight against Covid-19 we might look forward in doom, one day we will look backward in awe.