5th Africa Youth In Tourism Innovation Summit 2023 Moves To Swakopmund From May 31 – June 2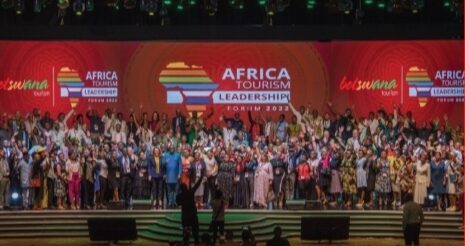 With only three weeks before the 5th Africa Youth in Tourism Innovation Summit and Challenge kicks off, this year's edition is scheduled for 31 May to 2 June 2023 in Swakopmund and again hosted by the Ministry of Environment, Forestry and Tourism, Namibia. The town is a coastal city in Namibia, west of the capital, Windhoek, with must-experience beautiful sandy beaches.
Held annually in collaboration with the UNWTO and BDO, this year's Summit will include a desktop exhibition, SME Digital/social media and Entrepreneurship Masterclass, SMEs trade offerings including tour operators, tourism accommodation facilities, transport service providers, educational institutions, travel and marketing technology start-ups and incubators, employment agencies, professional development and more. The goal is to provide a transformative platform for African Youth, start-ups, entrepreneurs, students and small enterprises for income generation and career development.
Another major highlight for this year's Summit is the hosted buyer program crafted by the Ministry of Environment Forestry and Tourism and will run concurrently with the Summit. Hosted buyers will have access to informal networking events, including the Investment Business in Tourism networking meetings organised by the Namibia Investment Promotion and Development Board (NIPDB) and B2B sessions. This is an opportunity for buyers from across the globe to network with the industry's key decision-makers and stakeholders on an exciting and informative platform and all the continents' leisure tourism options and negotiate the best deals on products and services under one roof. A matchmaking system will facilitate meetings with exhibitors. The purpose of the hosted buyer program is to market Namibia to the world.
The faculty for this year's summit includes Elcia Grandcourt – Director, Africa Department, UNWTO – Spain, Hon. Pohamba Shifeta – MP Minister of Environment, Forestry and Tourism, Namibia; Dr Linda Pereira – CPL Events, Portugal; Nangula Uaandja CEO of The Namibia Investment Promotion and Development Board (NIPDB), Prof. Michael Twum-Darko – Cape Peninsula of the University of Technology, Hamza Farooqui – Founder & CEO, Millat Investments, South Africa, Alex Mabunda – Founder and CEO, Nyitiso Consulting Group, South Africa, Robert Eiman – The DBN Head – Namibia, Caroline Wairimu – Deputy Operations Coordinator, INUA AI Solutions, Kenya, Mustapha Tijjani – CEO & Co-Founder, Aeropaye, Nigeria, York Zucchi – Centre For Unconventional Entrepreneurship, Switzerland, Dipopego Julius Tsheko – Project Manager, Global Expo Botswana, BITC, Botswana.
Mentorship of the Innovation Challenge finalists has commenced. The mentors assist the mentees in fine-tuning their projects, which are ready for presentation at the Africa Youth in Tourism Innovation Summit. The top three finalists will be announced on the Summit's last day. Currently, registrations for both physical and virtual participants are ongoing. Interested persons may visit www.youthtourismsummit.com.
About Africa Tourism Partners
African Tourism Partners (ATP) is a UNWTO-affiliated award-winning Pan-African tourism development and strategic destination marketing advisory firm.  The firm specializes in tourism and MICE strategy formulation, investment facilitation and promotion, research, master planning and destination market development and capacity building across Africa's travel, tourism, hospitality, aviation and golf sub-industries.
The tourism advisory firm's clients and partners include but are not limited to UNWTO, World Bank, Mastercard Foundation, NEPAD, AfCFTA, South African Tourism, Ghana Tourism Authority, Tourism KwaZulu- Natal, Rwanda Development Board, Rwanda Convention Bureau, Rwanda Chamber of Commerce, SAACI, RwandAir, SAA, Ethiopia Airlines, Tanzania Tourism Board, Kenya Tourism Board, Uganda Tourism Board, Gauteng Tourism Authority, Zimbabwe Tourism Authority, Tourism Business Council of South Africa, Nigeria and more.
UNWTO
The World Tourism Organization (UNWTO) is the United Nations agency promoting responsible, sustainable and universally accessible tourism. As the leading international organization in tourism, UNWTO promotes tourism as a driver of economic growth, inclusive development and environmental sustainability and offers leadership and support to the sector in advancing knowledge and tourism policies worldwide.
The post 5th Africa Youth In Tourism Innovation Summit 2023 Moves To Swakopmund From May 31 – June 2 appeared first on Reporters At Large.