A slice of innovation: How bespoke is new buzz in the world of catering | Business Standard News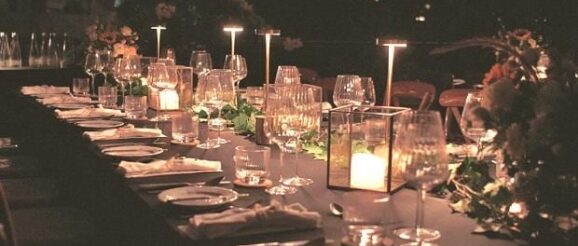 You are probably thinking you're in a luxury restaurant. But you may as well expect the same in your own backyard or practically anywhere else. For, bespoke is the new buzzword in the world of catering.
Chef Manu Chandra, who started Single Thread Catering in Bengaluru in March 2022, says bespoke catering is all abo­ut innovation and experimentation while keeping the client's demand at the forefront.
Chandra headed to the 75th Cannes Film Festival in May 2022 to fashion the inaugural dinner for Indian luminaries, as well as running a catering service with Single Thread at the official India Pavilion there.
What made it bespoke? Ind­i­an recipes with a French twist.
Sample these: vada pav with French brioche buns or duck confit galouti kebabs, among an assortment of innovative fusion dishes.
For a series of dinners for Spotify's clients in India in November last year, Chandra blended food with music. "Each course represented a certain genre of music from the country. The menu, the presentation, the music in the background and the smells were all tied in together."
Delicacy in the detail
Chandra and his team of 20 have a whole list of bespoke creations to their credit. From line-caught yellowfin tuna tataki tarts with jamun ponzu, slaw and wasabi foam to goat cheese-stuffed ram ladoo with hemp seed and coriander chutney, to roasted and glazed lamb leg with truffle jus, the recipes are as innovative and exclusive as they come.
"It's not just the food but also the presentation. Be it the quality of the paper that the menu is printed on, the kind of candles used — which melt inwards and don't leave a mess — ironed tablecloths or the tables themselves that have aluminium lining and felt tops, which don't make a sound when a glass is kept on them," says Chandra.
Ashish Ahuja, director, Cream of the Crop, a Delhi-based bespoke catering service, agrees that the level of detailing — from restaurant-style menus on all tables to personalised butler services — that clients require today is planned to a T.
"At wedding parties, Sajjan Bhoj, where only the core family members are given a sit-down service, has been rep­laced by a sit-down service for all guests even with a buffet laid out," he says, adding, "People want authentic flavours, international chefs… they want the whole works. Menus are no longer structured; they are instead curated over days."
The chase for an authentic experience has also led Ahuja to onboard chefs. "We call ourselves aggregators who put together an event. There is a lot of outsourcing that goes into bespoke catering now, including having vendors in specialised dishes like galouti kebabs, or having pizza counters run by someone who specialises in Italian cuisine."
According to Ahuja, the changing landscape is also reflective of how Indians are far more well-travelled now and that shows in their changing taste in food. "Till some years ago also, if they wanted Italian it would have to be Indianised."
Not so anymore.
Niche yet affordable
The bespoke catering market has been thriving for long. But Sourish Bhattacharya, co-editor of The Bloomsbury Handbook of Indian Cuisine and managing editor of IANS, feels that it has acquired a new form. "While the segment remains niche and uber-luxe, it is also more affordable now for a larger section of society. It is also about making moments more special by offering something new to guests that will never be seen again, much like couture clothing," he says.
This is evident in the prices for such niche catering services. The menus mostly start at Rs 4,000 a head, with no upper limit.
Angela Toppo, who recently celebrated her son's first birthday, hired Saltt, a bespoke caterer based in New Delhi.
"The idea was to lay out experiential food for the guests," she says. So, her 400-plus guests were treated to multiple live counters — from teppanyaki grills to pasta stations. "We wanted to do something interesting for everyone in attendance, especially the vegetarians for whom options are mostly limited to potato, paneer and tofu."
Also on offer was golgappa chaat, but done differently. "Cat­erers serve golgappa in the usual manner. But we had quarter plates with the golga­ppa and the other ingredients placed separately — almost like art pieces," says Toppo.
For a customer like her, the presentation of the food or the crockery used can elevate the experience. "I thi­nk stained glasses or using tissue papers can really take away from the dining experience, even if the food is great."
So, spick-and-span glassware, and fabricated pa­nels all part of a presentation in sync with a midnight black-and-gold theme were what she had ord­ered. The per pl­ate cost came do­wn to Rs 3,900, exclusive of taxes.
Chef on call
What's also new, Bhatta­charya points out, is a trend of caterers accompanying the client to exotic locations.
Says Ahuja: "Today you have Indian catering compa­nies accompanying the parties to exotic locations, even internationally to places like Doha or Abu Dhabi for destination weddings. The fact that the likes of JW Mariott or Four Sea­sons allow Indian caterers to run a service at their hotels sho­ws that it's serious business."
The Taj group of hotels launched its bespoke catering se­rvice, Soulinaire, three years ago. "We have been in the luxury business for eons and we get that luxury to the custo­m­er's venue of choice. We have do­ne eight- to 10-course din­n­ers, complete with the en­tire set-up travelling with us, while also taking care of hy­giene and safety req­uir­e­m­ents," says chef Arun Sun­da­r­araj, director of culinary operations at Taj Mahal Hotel, New Delhi.
Starting at Rs 10,000 a plate (exclusive of taxes and other catering charges), the bespoke element shines through in the curated menus.
For a dinner for Japanese dignitaries, Sundararaj gave Japanese dishes an Indian touch — such as prawn pakora, but with a tempura texture. Or upma sushi rolls, a crossover that demanded the most precise temperature for the upma to work. "We must get the flavours and textures just right. It cannot get more bespoke than that, where the food is specially crafted for the guest," he says.
In the world of bespoke, an occasion itself can get redefined. One party that Sun­d­araraj cate­red at, for a member of The Chambers (an exclusive bus­i­ness lounge of the hotel chain), centred aro­und the gue­st's precious mo­m­ent of uncorking a magnum bottle of a high-end French wine.
"From the opening of the bottle and pairing that wine with a full meal, we crafted a menu that would complement the wine. It is an experience not just for us, but even for the 20-30 guests in attendance who saw the whole process — from the decanting of the wine to it being chilled, and then to the meal," he says.
It's a niche market for a select group — albeit one that is growing gradually, and, as Sundararaj points out, "with zero scope for error".