A systems method for supporting inclusive agricultural research and development systems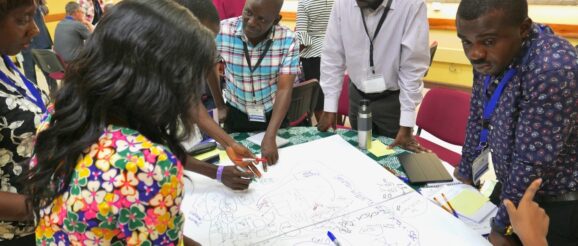 Agricultural research and development capacities are vital to attaining the U.S. Federal government's Worldwide Food Security Strategy (GFSS) objectives of inclusive and sustainable agriculture-led economic development, resilience amongst people and systems, and a well-nourished population.
Most past and numerous current approaches to establishing research study and development capacities, nevertheless, have actually focused mainly on establishing the technical abilities of scientists. While essential, neither researchers nor technical abilities suffice. For an agricultural research study and innovation system to work, a much wider and inclusive set of individuals and companies need to be offered on a problem so that unique combinations of skills can be used to translating research into social and economic worth.
Practical abilities are crucial in this context. They are what gives individuals the capability to work with a variety of actors, the capacity to adjust and show as circumstances change, and the abilities to interact tactically in the process of adapting research study results into policy and practical application.
An useful method of comprehending the interaction between technical and practical abilities is to use a development systems lens to strategies for farming research study and innovation capacity advancement. A development system is a network of actors– both people and companies– and the organizations and policies that bring brand-new or existing understanding into social and economic use, typically in the type of innovations, practices, and processes. Generally, it is an inclusive development system that effectively transforms research study into innovation for advancement.
A group from Michigan State University, the International Food Policy Research Study Institute, and Wageningen University & & Research, with assistance from USAID under the Feed the Future Innovation Laboratory for Food Security Policy, use this viewpoint in an interactive guidebook that brings together tools and resources to assist researchers and professionals style and implement capability advancement activities with an innovation systems approach in mind.
The assistance provided in this brand-new toolkit is not authoritative. Rather, it offers practical applications from experiences that enable users to better recognize capacity advancement chances and activities that constantly enhance the development abilities of farming and food systems.
Notably, the "capability development for agricultural innovation systems" (CD4AIS) lens uses an inclusive method to problem-solving since it focuses on comprehending a developmental problem from the viewpoint of the individuals affected by problem. At the exact same time, the technique takes on the analytical procedure by engaging a vast array of varied stars in seeking services– researchers, federal government decision-makers, civil society companies, farmer associations, personal companies, business owners, believe tanks, and many others. This type of engagement requires thoroughly determining and reviewing the interests, relations, and power positions of different stakeholders early on at the same time. This enables concerns of social exemption or structural inequalities to be resolved along the method.
The assistance in this brand-new toolkit likewise assists move conventional thinking and practice far from applications of singular and technical "fast fixes" and toward dealing with systemic concerns, inclusive facilitation, and collective engagement among varied individuals, companies, and networks to establish localized services to complex farming and food system problems. The assistance motivates substantial reflection throughout the process– reflection that opens the door to determining stakeholders who might be otherwise left out or marginalized, and to account for the myriad interests, relations, requirements, and power positions in an innovation process.
We hope that scientists and development specialists alike will be able to use and gain from this resource to advance advancement impact through research and development. You can access the manual in the sidebar.
This post initially appeared on Agrilinks.
The CD4AIS project was a collaboration under the Feed the Future Development Laboratory for Food Security Policy among Michigan State University (MSU), the International Food Policy Research Study Institute (IFPRI), Wageningen University and Research (WUR), University of Florida (UFL), the CGIAR Research Program on Policies, Organizations, and Markets (PIM), and USAID's Bureau for Food Security
Factors to the "Capability Advancement for Agriculture Development: A Practitioners' Manual to a Systems Technique" task were David Spielman, Nina de Roo, Jan Brouwers, Kurt Richter, Jia Ye, Domenico Dentoni, Rebecca Williams, Sandra Russo, Suresh Babu, Namita Paul, Nienke Beintema, William Heinrich, John Bonnell, and Elias Zerfu. Invaluable assistance was offered by Jessica Bagdonis and Clara Cohen at USAID; Zeleke Mekuriaw and Saskia Hendrickx at the Feed the Future Innovation Laboratory for Animals Systems; Mark Lawrence, Harrison Karisa, Julius Nukpezah, Joe Steensma, and Elin Torell at the Feed the Future Development Laboratory for Fish; Jurgen Hagmann, Jeffrey Ried, Yvonne Pinto, and Doug Horton, who reviewed beta variations of the guidebook; Nahume Yadene, Kwaw Andam, Indira Yerramareddy, Mulugeta Bayeh, Jamed Falik, Tracy Brown, and Arpan Dahal at IFPRI; and Mywish Maredia and Eric Crawford from Michigan State University and the Feed the Future Development Laboratory for Food Security Policy.
Picture: Jia Ye/Wageningen UR
Your e-mail address will not be published. Needed fields are marked *