Accelerate: 2019 Conference on Technology Innovation a Success • Innovate Mississippi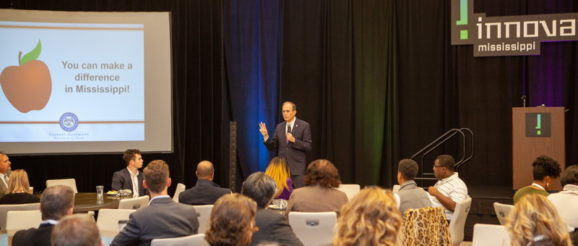 Accelerate: The 19th Annual Conference on Technology Innovation took place on November 13-14, 2018 at the Westin Jackson in Missisippi's capital city.
Convened by Innovate Mississippi, the conference began with the Company and Investor Spotlight on November 13th, where companies were able to pitch to an audience of mentors and potential investors, getting notes from them on the quality of their presentations.
Likewise, investor panels throughout the afternoon offered insight for entrepreneurs on the world of startup finance.
Day one was capped with a speakers and sponsors cocktail hour featuring Jeffrey Rupp, the director of outreach for Mississippi State University's School of Business—who is also the former mayor of Columbus, Miss., and a fantastic singer and guitar player!
The conference got in full swing on November 14, with the Breakfast Session featuring Mississippi Secretary of State Delbert Hosemann, who presented facts and figures from the "Y'all Business Service," with a particular focus on how the state's businesses can work together with educational entities to build a strong and stable workforce.
The Breakfast Keynote featured Dr. Nashlie Sephus, a Jackson native and graduate of Jackson Public Schools who went on to a doctorate at Georgia Tech University, where she became a co-founder and CTO on the startup PartPic, which was recently acquired by Amazon.
Sephus now works for Amazon in Atlanta, while having founded a non-profit in Jackson called "The Bean Path," designed to help people in Jackson learn about technology and explore the possibility of using technology in their businesses or starting up companies with a potential technology solution as their product or service.
After breakfast, attendees grabbed coffee and spent time on Innovation Alley networking among themselves and the vendors who had booths at the conference. That flowed into the Big Ideas talks, featuring quick TED-style presentations.
Joe Donovan of the Mississippi Development Authority introduced the session and spoke on "The State of the State in Entrepreneurship," where he emphasized his desire to attract capital investment to the state by building a culture of attracting talent, collaborating with industry and building future-focused careers.
Michael Adcock of the UMMC Center for Telehealth gave an overview of telehealth technologies and UMMC's role on the cutting edge of delivering medicine remotely; he then took a look at the future of telehealth and how impactful it could be for the Mississippi economy.
Joe Graben of the Marine Industries Science and Technology (MIST) Cluster at the University of Southern Mississippi presented "Mississippi's Blue Economy," on the critical nature of the Gulf of Mexico to Mississppi's economy, and the exciting technologies that are happening in and on the "ocean of future opportunities."
Bobby Rappai of Camgian Microsystems spoke on "The Disruptive Power of Artificial Intelligence," making the point that by 2020 we'll have over 20 billion devices connected to the Internet, and that having more and more of those devices will provide the ability to sense, perceive, reason and respond—capabilities that will prove critical as we move forward.
After the Big Ideas session, it was Coffee and Contacts sponsored by Bradley, followed by a presentation on the current state of Augmented Reality and Virtual Reality by Vince Jordan of Lobaki, Inc.
Jordan demonstrated VR and AR to the audience while speaking on the significance of the technology as it is exploding in applications today, and the potential that Mississippi has to lead in creating jobs and industry that he feels are inevitable around AR and VR.
Throughout the morning, the "VIP Lounge" featured investors and entrepreneur-mentors who met with up-and-coming entrepreneurs for one-on-one sessions; our VIPs included Jan and Lawrence Farrington, Joel Bomgar, Lois Lovelady and Dr. Bill Rayburn. Similarly, "Office Hours" were available to entrepreneurs who sought mentoring or advice on specific topics with the following mentors participating: Whit Rayner of Jones Walker (legal topics); Bryan Carter of ThinkWebstore (marketing); Terrence Hibbert, UMMC Center for Telehealth (healthcare); Robert Thompson, Mississippi Polymer Institute (engineering and prototyping); John McCallum, Grantham Poole (accounting).
After a little more networking on Innovation Alley it was time for lunch, featuring keynote speaker, Leslie Smith of Epicenter Memphis in Memphis, Tenn., the entrepreneurial hub of the Southwestern Tennessee region.
Smith told her story of moving from Detroit to Memphis in order to raise $100 million in investment dollars for small businesses and entrepreneurial startups that reflect the spirit and demographic makeup of Memphis, and how to forge the ecosystem relationships and partnerships necessary to make that happen.
As the conference wound down after lunch, one takeaway was that networking and entrepreneurship had been particularly strong this year, with a very active Innovation Alley in the new venue. Likewise, the speakers represented a cross-section of entrepreneurs and people in the innovation ecosystem working to support those entrepreneurs in growing Mississippi's economy and creating jobs.
Innovate Mississippi's CEO, Tony Jeff, expressed his satisfaction with this year's conference. "It was a great venue and turnout, and fantastic speaker lineup that offered a lot of different perspectives on how innovation can grow the economy," Jeff said. "Plus, I really want to get one of those virtual reality headsets!"
Thanks to all of the sponsors and participants who made this event possible again in 2018; we look forward to the 20th annual Conference on Technology Innovation in Fall of 2019!