Accuphase : Combining Tradition & Innovation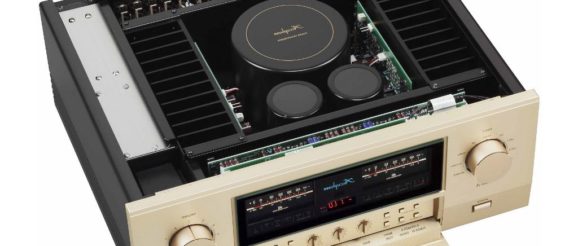 During my visit to Japan, I had the pleasure of visiting the Accuphase factory. Accuphase is a prestigious brand, a true legend in the world of high-end Japanese electronics. The reliability and quality of its products have been proven many times over. Accuphase has been located in Yokohama, in Tokyo Bay, since 1972, the year of its founding. Yokohama is only 30 km from the capital and thus easily accessible by train from the enormous Shinjuku train station, which sees 3.6 million passengers pass through its doors every day.
 Accuphase's modest headquarters are found in one of the city's quiet, small streets. Upon my arrival, I was warmly welcomed by Mark Suzuki and Tatsuki Tozuka, the company's vice-president and manager of international marketing, respectively. In the parking lot, I saw a couple of vehicles sporting the company's logo. My hosts informed me that the company itself delivers its products to resellers located in the Greater Tokyo Area, a detail that illustrates that many Japanese companies make it a point to offer customer service of exceptional quality.
My hosts were at pains to point out the company's small size. This excessive modesty almost makes one want to smile, given the sterling reputation of its products. Accuphase comprises 75 employees, 25 of whom are engineers working on research and development. In contrast, there are approximately 15 people who are responsible for manufacturing. The company's work is neatly divided across four departments: quality control/after-sales service; production; research and development; and sales and administration. Each has its own dedicated floor in the building.
We got engaged in an informal conversation that allowed me to ask my hosts about the company's perspective on the market shift towards digital music formats; Accuphase has spent the last 40 years making products that read physical media. Even if CDs are still alive and well in Japan (see my recent post on the subject), isn't the company's focus a handicap when it comes to exporting its products? Suzuki explains: "We are keenly aware of the burgeoning presence of digital music formats. All our integrated CD drives are able to access the internal DAC thanks to the appropriate jacks, which allow you to hook up digital sources, such as computers. Nonetheless, we still strongly believe that CDs and SACDs represent the best possible options when it comes to quality audio reproduction. In our opinion, the ease of using digital music formats often prevails over musical quality ."
The visit began on the fourth floor, which is dedicated to quality control, a term that regularly cropped up over the course of the visit, indicating that it is a constant concern. The quality control process is particularly rigorous and involves multiple steps; 100% of Accuphase's devices are checked. Each workstation tests for something different. I was most particularly struck by the "vibration table," which harshly mistreats devices, subjecting them to all sorts of shocks and vibrations. When I asked about the purpose of this test, my hosts responded that they want to feel certain that their products can resist any extreme conditions they may encounter while being transported by land, sea, or air. Suzuki added that this particular test is good at detecting any potential issues with the electrical contacts or the connections between the onboard components.
Once built and broken in, all devices are subject to one final round of quality control in a self-contained control booth; the person working inside is completely autonomous, including from the head of the unit. This independent quality controller carries out a final series of tests; he or she alone certifies that the product is ready to be packaged and shipped out. The quality control department is also responsible for furnishing after-sales services to the company's Japanese clients; 70% of Accuphase's products are sold in Japan. There is also a specific after-sales services subdepartment that deals with much older products. We ended our tour of the fourth floor in a small room that houses a display of around 50 different product models, which illustrate a portion of Accuphase's history. My hosts were quick to clarify that the room is far too little to house all of the models that the company has produced since 1972.
We then moved on to the production department, which is located on the third floor. It is here that Accuphase manufactures around 6,000 devices a year. It takes about 4–5 days to put together an amplifier or a CD drive from start to finish. The company strives to have complete mastery over all steps of the product development and manufacturing process, down to the last details and including the protective double wrapping in which the devices are packaged. I was really struck by the lack of automatization: every step of the assembly process is carried out by hand. Employees on the production line handle the devices with the greatest of care; they are, for instance, all equipped with white gloves. The assembled devices are then subject to 48-hour stress tests that check for vulnerability to overheating.
On the second floor, the atmosphere was no less serious. A large open space houses a number of computer workstations. Suzuki describes this floor as belonging to the company's "brains." It is here that the next generation of innovative products are conceived. Product development takes 1–2 years, and Accuphase's new products are always characterized by some sort of technological innovation that truly enhances audio reproduction quality. We crossed the large room, headed for a metal door that had drawn my attention. As per Japanese custom, we took off our shoes and put on slippers before entering the listening room. The visit schedule has clearly been honed to perfection, and I found that the audition was planned for just the right moment. In the listening room, around ten models were on display. My hosts introduced me to the current demonstration models: a C-3800 preamplifier, two A200 class‑A monophonic power amplifiers, and a DP-900 CD-SACD drive coupled with a DC‑901 digital processor. These devices were hooked up to a pair of B&W 800 Diamond speakers. It goes without saying: this set-up was ultra high end.
On this system, Melody Gardot's voice brought tears to my eyes, and quite frankly, she is not normally my cup of tea when it comes to jazz vocalists. I also rediscovered the delectable sounds of Duke Ellington's concert in Paris (on SACD): it was absolutely marvelous. I offered a few remarks here and there between tracks and then lapsed into silence. Talking became superfluous. I entered a whole other world; the superlatives that commonly come to mind when describing such situations fell away, and I lacked the words to describe the voices of the opera I was listening to. The audition, which lasted about 30 minutes, ended with the sounds of Isabelle Faust's violin playing J.S. Bach's sonatas and partitas. It is a CD that is very familiar to me; in this case, the violin's acoustics took center stage with their absolutely breathtaking detail.
Over the years, Accuphase has become a bastion : safeguarding traditional approaches in the world of high-end HIFI. The company brilliantly symbolizes the paradox that exists at the heart of Japanese culture—the tremendous respect for tradition that cohabitates with a modernity that is constantly being renewed by innovation. Although the company continues to focus on devices that play physical media, it is nevertheless also dedicated to improving the methods being used and to constantly enhancing the performance of amplification technologies. Accuphase offers a HIFI experience that is exceptional and highly sustainable and that grants listeners a musical experience that is both sublime and unforgettable.
# # #
Slideshow  / Photos of the factory
Click to view slideshow.