ACG Joins Inclusion Fusion – Innovation x Impact Night with Hack-A-Tax Partners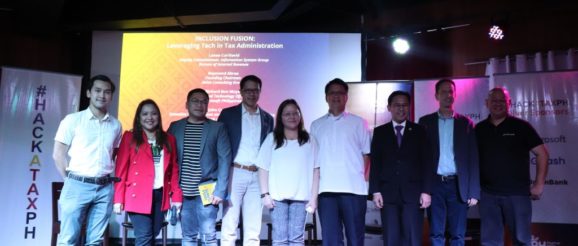 The Asian Consulting Group joined in on the Inclusion
Fusion: Innovation x Impact Night held on November 22, Friday, at the 12
Monkeys Hall & Pub, Pasig City. The event is organized by Hack-A-Tax PH, DevCon,
and Talino Venture Labs in celebration of the Philippine Startup Week 2019.
ACG Founding Chairman Mon Abrea attended as one of the speakers and panelists at the event. As a partner in launching Hack-A-Tax, the Philippine Tax Whiz discussed leveraging tech in tax administration. Other panelists included are BIR Deputy Commissioner Lanee David, Microsoft Philippines' National Technology Officer Richard Bon Moya, and UnionBank's Executive Vice President John Cary Ong, and Ateneo de Manila's Professor John Paul Vergara.
Another panel discussion, with PayMaya's Head of Government
Sector Marvin Santos, CARD SME's Vice Chairman Jingle Perreras, and Asenso
Tech's Chief Technology Officer Miguel Cabral discussed Leveraging Tech in
Financial Inclusion.
The panel discussions were moderated by financial expert and
ANC On The Money Host, Ms. Salve Duplito.
Hack-A-Tax, as one of the BIR's latest initiatives on
improving the taxpayer experience, was presented as a project that will
jumpstart innovation. Through the Hack-A-Tax challenge, software developers can
submit their concepts on how to make tax transactions easier.
The proposed concept could aim to digitize filing of returns, payment of taxes, business registration, or an effective combination of any of the above.
Those who wish to join can submit their entries until November 30, 2019. Simply visit the Hack-A-Tax website at
To launch Hack-A-Tax, the Bureau of Internal Revenue has partnered with DevCon Philippines, USAID, ACG, CSR Philippines, and media.xChange. During a Q&A Session at the Inclusion Fusion, the Hack-A-Tax team answered the mechanics, background, and rationale of the innovation challenge.
As part of its digital transformation, ACG has been
continuously developing its own tech solutions to improve the taxpayer
experience, but aims to encourage the development of other solutions via its
partnership Hack-A-Tax.
ACG will also be launching the Tax Whiz Channel and its
TaxWhizPH Mobile App on December 13, taking another step forward as the tax
consulting firm transitions to tax tech.
For more information, contact us at [email protected] or (02) 7622 7720.
The post ACG Joins Inclusion Fusion – Innovation x Impact Night with Hack-A-Tax Partners appeared first on Asian Consulting Group.