æternity Partners With DSTOQ Exchange to Drive Economic Innovation Globally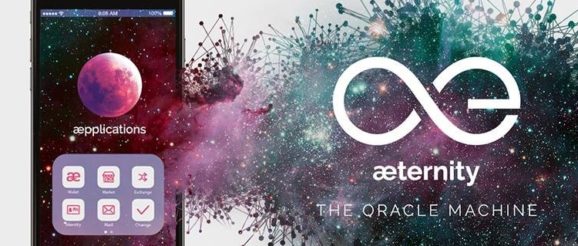 Decentralized data oracles track real-world financial information for individual traders and companies
æternity, the blockchain 3.0 platform designed to deliver unmatched efficiency, transparent governance and global scalability, has partnered with DSTOQ, a licensed, decentralized stock exchange for trading security tokens. The partnership will allow for the integration of æternity's oracles —which track and record information on real-world assets — into the DSTOQ platform thereby enabling enterprises to more efficiently monitor financial data.
æternity's partnership with DSTOQ represents a significant use case of its oracles and their ability to use real-world information to facilitate trading and financial reporting. A regulated securities exchange, DSTOQ supports peer-to-peer trading of tokenized securities such as equities, stocks, bonds, oil, and gold. DSTOQ also conducts Initial Public Offerings (IPOs), whereby companies can create unique securities tokens and offer them for peer-to-peer trading.
The integration of æternity's oracles to the DSTOQ platform will reduce the barriers to trading of tokenized assets by giving individuals the real-world data they need to make informed financial decisions. In addition, the incorporation of the oracles offer businesses using the DSTOQ platform — particularly those in unbanked regions of the world — the tools for financial reporting necessary for global expansion.
Yanislav Malahov, Founder and CEO of æternity, said: "Together, æternity and DSTOQ share an enduring vision to bring blockchain to the masses. Our oracles are critical tools to provide investors with the real-world information they need to conduct everyday transactions. Our partnership will also help blockchain startups in emerging markets mature and ultimately achieve mainstream adoption."
In tandem with the partnership, DSTOQ and æternity are working to create a vibrant blockchain ecosystem in Liechtenstein that will facilitate further adoption of blockchain technology in the region and promote educational initiatives, in terms of both institutional research and in the area's public education system.
Craig Mc Gregor, Co-Founder of DSTOQ, said: "I look forward to working closely with the æternity team in one of the most blockchain-friendly jurisdictions in the world, driving forward progressive regulation as evident in their newly proposed Blockchain Act. We seek to make capital markets more accessible to as many individuals as possible by removing the intermediaries who often create artificial barriers. With æternity, we are at the forefront of the blockchain revolution and are empowering communities to contribute and reap the rewards."
About æternity:
Founded in 2016, æternity is an open-source, blockchain-based distributed computing platform that builds on decentralized cryptographic P2P technology. Designed to deliver unmatched productivity, transparent governance, and global scalability, æternity offers blockchain technology with a consensus mechanism that is as efficient and cost-effective as possible.
For more information please visit: https://www.æternity.com/
About æternity Ventures:
æternity Ventures is established with the goal to support and enable projects, building applications on æternity Blockchain. The company oversees the global Incubator and accelerator program and is responsible for all business liaisons of æternity.
About DSTOQ:
DSTOQ is a licensed stock exchange without borders allowing for peer-to-peer trading of tokenized securities such as equities, bonds, stocks, oil and gold using the DSQ token. All trading on the DSTOQ platform is decentralised and happens on-chain where users always remain in full control of their assets, and trade directly with each other through blockchain technology. In this way, DSTOQ is able to create a global trading platform for security tokens, through leveraging its stock exchange license and peer-to-peer trading user-interface. Their license was granted in Vanuatu and also enables conduct of Initial Public Offerings (IPOs) and creation of unique tokenized securities.
For more information please visit: https://dstoq.com/