AI a risk to humanity? Innovation Minister won't say | CTV News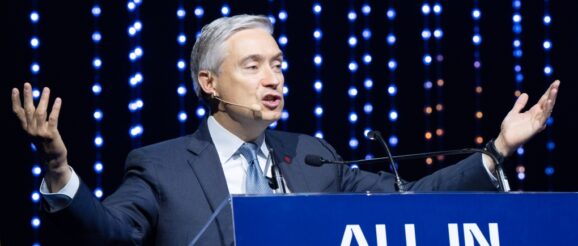 Innovation Minister François-Philippe Champagne says his job is to move "from fear to opportunity" when it comes to the development and regulation of artificial intelligence, but when pressed on whether he believes the exponentially advancing technology poses a risk to humanity, he wouldn't say.
In an interview airing Sunday, Champagne told CTV's Question Period host Vassy Kapelos there needs to be transparency about the technology, and a framework in place to strike a balance between "the anxiety of Canadians" and the developers who want "responsible innovation."
"I'll let the experts debate what it could do," he said. "But my job is that we need to move from fear to opportunity."
"And you know, I think this is fundamental, because what we want is responsible AI," he added.
But when asked again whether he believes AI is an existential threat — as AI pioneer Yoshua Bengio has referred to it — or whether he's afraid of it, Champagne wouldn't say.
"There is a sense of anxiety, but at the same time, AI can do great things for humanity," he said. "It's for us to decide what we want AI to be."
The federal government has been in the process of laying out its AI regulations since June 2022 with the Artificial Intelligence and Data Act, baked into the larger Bill C-27, which also amends other acts as they relate to privacy.
Champagne also unveiled a voluntary code of conduct for companies that develop and manage AI late last month.
The Innovation Minister said his department has been looking at what other countries are doing in their bids to produce frameworks around AI, and as The Canadian Press reported in June, he believes Canada is "ahead of the curve" in its approach.
But critics and experts have called both Bill C-27 and the voluntary code of conduct vague and opaque.
"I am hopeful it can do good things for humanity," he said in response to a question about whether AI scares him, and adding he's being "prudent."
"But at the same time, we need to prevent the really bad stuff that you say experts have been warning us (about)," he also said.
François-Philippe Champagne discusses his views on the risks and opportunities of AI in the video at the top of this article.
His full interview with Kapelos, which also covers his government's plan to stabilize food prices, will air Sunday on CTV's Question Period.