Architect'19 "Living Green", the first regional eco-friendly architectural innovation Expo in ASEAN – LIVING ASEAN – Inspiring Tropical Lifestyle //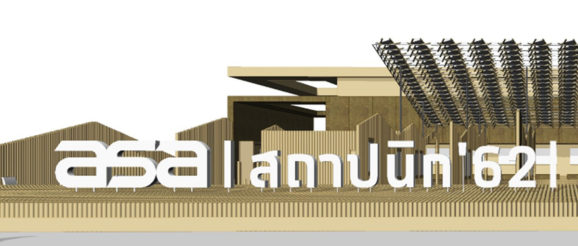 We can say that for now, 'being green' is not new anymore. For the new generation, global warming, along with other environmental and natural resource issues have led them to realize that the 'living green' philosophy is more like a necessity than a choice.
But, 'living green' is more than saving energy or using recycled straws. With the theme "Living Green", the Architect'19, organized by The Association of Siamese Architects under the Royal Patronage (ASA), aims to encourage architects and the general public to embrace every facet of sustainability through the 'Green Experiences' and innovative building material exhibitions from leading brands on over 75,000 square metres of area.
Apart from the latest innovations from exhibitors, this fair also features thematic exhibitions and activities designed for both architects and general public, including the ASA International Design Competition 2019 [under the design concept: Uncanny Sustainability], ASA Forum 2019 [the seminar speakers are architects from Thai and worldwide companies], along with sustainable design exhibitions [such as Smart Cities, Zero Waste or Innovative Green Products].
To date, this Expo is probably the first regional eco-friendly architectural innovation Expo in ASEAN, and will take place between 30th April – 5th May 2019 at IMPACT Exhibition Center, Bangkok, Thailand.
The highlights that are not to be missed!
–ASA FORUM: Inspiring talks by architects of leading firms in Thailand and abroad, namely MVRDV, Bjarke Ingels Group (BIG), Foster + Partners, Atelier Ten, Stu/D/O Architects and Eco Architect, etc.
–Green Building Tour: The special tour is a part of Green Building Showcase exhibition, featuring guided tours of five iconic green buildings in Bangkok.
– ASA Seminar: This edition of ASA Seminar comes with the theme of "The 4+1 Elements" which discuss the interactions between human beings and four natural elements.