Ariel Katz, CEO & Co-Founder of H1 — Supporting Israel and Gaza, GenosAI, Trial Innovation, The Impact of AI in Healthcare, The Role of Data in Modern Medicine and Startup Advice – AI Time Journal – Artificial Intelligence, Automation, Work and Business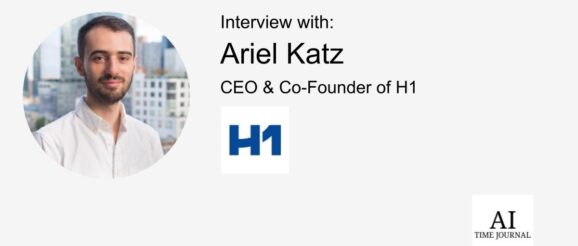 H1 connects healthcare professionals, researchers, and industry partners to clinical, scientific, and research information and insights to improve healthcare outcomes and drive innovation in the medical industry. We thank Ariel Katz, CEO & Co-Founder of H1, for joining our AI in healthcare interview series. In this interview, Ariel discusses H1's support efforts for the ongoing crises in Israel and Gaza, the launch of GenosAI, AI's impact on the industry, data security, and the strategies that underpin H1's success.
Hi Ariel, I noticed your recent LinkedIn post where you outlined three initiatives to support the ongoing crises in the Middle East, ranging from healthcare to the tech ecosystem. Could you share more about how H1 is leveraging its platform and community to make a meaningful impact during these devastating times?
We founded H1 with the mission to connect the world to the right doctors, and with our unique position of having exhaustive databases of doctors at our fingertips, we knew we had to put our mission into practice.
It was the Tuesday after the Hamas attacks and I was texting a few of my childhood friends when I made the decision to take action. We started reaching out to doctors in the US via email to determine which doctors would want to volunteer. We also got in contact with doctors in Israel, Gaza, and the West Bank to find out where help was needed. So far, we've reached out to over 200,000 doctors. We have assembled a small team at H1 to lead the charge, and brought in doctors and public health experts at Harvard to join the effort.
We've had an overwhelming outpour of support both in terms of supplies and financial donations, as well as medical professionals willing to travel to the affected areas. To date, we've had hundreds of volunteers and that is growing daily. We are continuing to reach out to get more volunteers, and would urge those who are inspired to help to go to our website and fill out our form.
H1 has recently launched GenosAI, a new generative AI tool which analyzes and responds to all types of complex clinical trial inquiries. One of the most interesting aspects of GenosAI is its potential to have a profound impact on trial diversity and efficacy. How is the tool specifically geared towards achieving this?
GenosAI is a significant leap forward in enhancing efficiency, diversity, and innovation in the pharmaceutical industry. We embedded our GenosAI tool into our Trial Landscape solution to help clinical operations, feasibility, and medical teams more easily access deep insights, speed up workflows, explore new types of data, improve efficiencies and reduce costs, and accelerate time to market. We've combined the power of GenAI and conversational AI with our unmatched breadth of healthcare data to give sponsors access to the best insights possible. For example, using AI to sift through diversity data, patient records, and past trial performance, researchers can check if certain patient groups are being fairly represented in trials.
Deloitte reports that AI could potentially reduce drug discovery costs by as much as 70%. How does GenosAI contribute to cost reduction, and have there been any measurable impacts on budgets in the trials that have used the tool?
The utilization of AI in healthcare is game changing. Our goal with GenosAI is to ensure researchers no longer have to spend hours sifting through disparate data to determine whether clinical trials are equitably and inclusively designed. All researchers need to do now is type in a few key questions like "which sponsors are running the most promising trials in small cell prostate cancer?" or "what are the best sites for my phase 3 prostate cancer study?" and receive high-confidence, actionable responses in seconds, saving both time and money. This process makes it easier for researchers to find underserved communities and come up with strategies to address the inequalities.
Data privacy and security are significant concerns, especially in healthcare. What measures have been put in place to ensure the confidentiality and security of the data that GenosAI processes?
We understand how important security and data privacy concerns are, especially when it comes to the pharma sector. GenosAI lays on top of our global platform that uses state-of-the-art technologies ranging from machine learning to NLP to create a unified single source of truth for healthcare data. We are utilizing top tier solutions like Microsoft Azure Enterprise GPT-4, implementing guardrails that reduce hallucinations common in healthcare language models, and the Retrieval Augmented Generation approach to enrich the model with H1-specific data and knowledge in order to provide accurate information.
How does GenosAI help pharma companies in the area of Competitive Intelligence & Trial Design, and could you provide some use-cases?
It's important that researchers can optimize trial design strategies, and with GenosAI's capabilities, they can surface critical insights, evaluate site and PI performance, and optimize patient recruitment strategies. GenosAI can sift through our unrivaled foundation of aggregated public, proprietary, and contributory healthcare data sources covering over 10 million HCPs, 11 billion claims including US and Europe, 250 million patients, and 490 thousand clinical trials across 800,000 facilities around the globe.
For those startup founders tuned in, let's crack the code on H1's growth strategy. H1 has been referenced as the "LinkedIn for doctors," boasting more than 10 million doctor profiles. Could you share some user acquisition, activation and retention strategies that were particularly effective in the early stages?
We really lean into our company's mission, which is connecting the world to the right doctors.
Our goal with H1 from the beginning was to build a single source of truth for every doctor around the world. We wanted to make sure that patients seeking a doctor to treat specific conditions could find the right doctor. We wanted to make sure that pharma companies looking for the right expertise for their clinical trials could find them. We wanted every doctor in the world to have a place where they could own their narrative and ensure their clinical and academic work is represented accurately to the world. So we founded H1 to gather all the information about every doctor around the world and make it accessible.
We have experienced tremendous growth fueled by the release of innovative solutions, our acquisition of Faculty Opinions now branded as H1 Connect, our entrance into new markets, expansion of underlying data, and an extension of our Series-C funding round.
Today, our solutions are used by more than 250 customers in the pharmaceutical, biotech, medical device and payor segments to engage with the right healthcare professionals—improving health equity, patient access, and accelerated go-to-market activities. 
In 2022, we acquired Faculty Opinions- now named H1 Connect, marking an important step in our evolution as we continue to grow as the go-to source for healthcare professionals, while also providing unique access to the latest discourse within the scientific community. We also overhauled our brand and launched a new website.
We also added key functionality to our flagship solution, HCP Universe, in early 2023 to help medical affairs track and understand the impact of their activities, improve patient outcomes, and drive adherence to evidence-based medicine.
More recently, we launched our new H1 Mobile app, bringing the power of HCP Universe and its deep KOL and HCP insights to the palms of life sciences professionals worldwide.
In keeping true with our mission, our investment into new technologies has helped us tremendously with our growth and success, and we are excited about the use cases and the potential of our new GenosAI tool.