ASIRT Presents ITCG Synergy Biz Conclave 2023: Uniting IT Channel Leaders for Innovation and Growth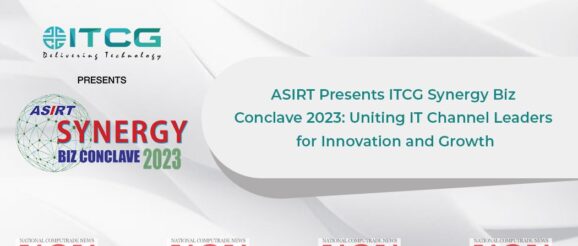 The Association of System Integrators and Retailers in IT is thrilled to announce the highly anticipated Synergy Biz Conclave 2023, a flagship event designed exclusively for the visionary owners of IT Channel companies. Set against the serene backdrop of the Treat Resort and Spa in Gholvad, this residential conclave promises to be an unparalleled networking and learning experience.
The Synergy Biz Conclave 2023 is scheduled to take place from August 25th to 26th, attracting IT industry luminaries, top-tier system integrators, dealers, stockists, and technology enthusiasts from across Mumbai. Hosted by the Apex IT Association of Mumbai, this event is an endeavour to foster collaboration, expose attendees to emerging trends, and facilitate strategic alliances for unprecedented business growth.
New Horizons of Innovation: This year's conclave is all about connecting IT Channel leaders with pioneers from new Original Equipment Manufacturers (OEMs) and vendors. Attendees will gain invaluable insights into cutting-edge technologies, trends, and solutions that can shape the future of the industry. With a focus on forming strategic partnerships, participants will explore avenues for synergistic growth and mutual success.
Distinguished Sponsors: The event is proudly sponsored by an elite roster of technology companies, led by the title sponsor ITCG Technologies LLP. A leading value-added IT Distributor specializing in Cybersecurity and Data Protection solutions, ITCG Technologies LLP is bringing a consortium of four innovative vendors to the event: Sophos, QNAP, Nakivo and Aivid Techvision. This collaborative effort showcases a commitment to driving technological advancement within the IT Channel landscape.
In addition to the title sponsor, AMD, Indio Networks, BD Software Distribution and Sound Solutions are supporting the conclave as esteemed sponsors. Their involvement underscores the importance of collaboration and shared growth within the IT ecosystem.
Media Partnerships: The Synergy Biz Conclave 2023 will be a landmark event not only for the IT community but also for the wider industry, thanks to its media partnerships with renowned IT trade publications. Media partners include Digital tech Media, NCN, CRN, Var India, SME Channels and Cell IT, who will be on-site to capture every moment, keynote, and discussion, ensuring that the conclave's impact resonates far beyond its physical confines.
The Synergy Biz Conclave 2023 is not just an event – it's a convergence of minds, a platform for innovation, and a catalyst for transformation within the IT Channel community. As technology continues to evolve at an unprecedented pace, this conclave provides an opportunity to stay ahead of the curve, explore new dimensions of business, and forge connections that can reshape the future.
Covered By: NCN MAGAZINE / ASIRT
If you have an interesting Article / Report/case study to share, please get in touch with us at [email protected]  [email protected], 9811346846/9625243429.
The post ASIRT Presents ITCG Synergy Biz Conclave 2023: Uniting IT Channel Leaders for Innovation and Growth appeared first on NCNONLINE.