ASTRO Annual Meeting highlights radiation oncology innovation – Physics World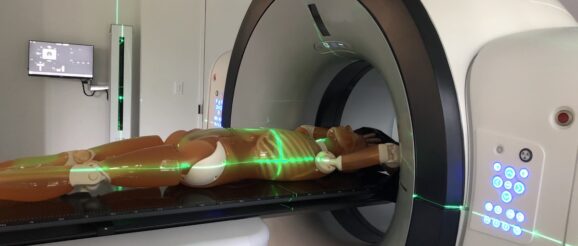 The ASTRO Annual Meeting is the world's largest scientific meeting on radiation oncology. And like many conferences and other events around the globe, this year's meeting has gone entirely virtual. Billed as "a virtual experience unlike any other", the 2020 ASTRO Annual Meeting includes live and pre-recorded education and scientific presentations, many with live Q&A sessions, as well as breakout rooms for networking, chat and product demonstrations.
The theme of this year's meeting is "global oncology: radiation therapy in a changing world". According to ASTRO president Thomas Eichler, the primary focus will be on global cancer issues, with expert analysis, fireside chats and TED style presentations. The meeting will also include information regarding the impact of the coronavirus pandemic on healthcare professionals and patients.
This year's meeting also incorporates a cutting-edge Virtual Exhibit Hall. This highly interactive online environment allows attendees to visit exhibitors, learn about their products and services, and chat with booth representatives. It also includes industry expert theatres and industry satellite symposia, where attendees can find out about trends and treatment options on the horizon and how these will impact patient care. Here's a selection of some of the innovations on show at the 2020 ASTRO Annual Meeting.
Innovating and evolving radiotherapy quality assurance
Quality assurance (QA) plays a fundamental role in any radiotherapy procedure. IBA Dosimetry is working to shape QA to advance patient safety in radiation therapy, proton therapy and medical imaging. The company predicts that its latest innovations will bring the accuracy and efficiency of QA to a new level. Future solutions, meanwhile, will significantly reduce QA times and further streamline the medical physics workload.
Independent QA is essential to ensure reliable, trustworthy and accurate QA, and has been assumed as a given in the radiotherapy community. But as radiotherapy systems increasingly offer built-in "self-check" QA, the need for independent QA becomes imperative. To raise awareness of this topic, IBA Dosimetry has teamed with radiotherapy QA equipment vendors worldwide to launch an "Independent Quality Assurance" initiative.
IBA Dosimetry also highlights the need for convergence of machine and patient QA. Today, QA applications for validating the treatment machine and those for verifying the patient-specific plan generally have little or no connectivity. Combining data from patient QA and machine QA will provide more precise outcomes and faster results.
These QA innovations are based on four strategic pillars – implementation of measurements, integration, smart automation and prediction of QA results – that help save valuable time of the medical physicist and provide higher accuracy and increased confidence. IBA Dosimetry notes that while measurements will remain important for future QA, further integration, Monte Carlo-based predictive QA and automation will enable users to measure only where it really matters, leading to fewer measurements with better quality results.
Motion phantoms provide end-to-end radiotherapy QA 
With the advancement of radiotherapy techniques designed to escalate delivered tumour doses, there is an increasing need for quality assurance tools (QA) in radiation treatment planning. Medical physicists are looking to improve treatment delivery by optimizing current 4D image-guided radiotherapy (IGRT) protocols and exploring rapidly advancing adaptive techniques.
Modus QA specializes in high-quality radiotherapy QA phantoms, including end-to-end QA solutions for 4D IGRT. Designed by medical physicists and built based on clinical needs, the company's product range includes targeting QA phantoms, motion QA phantoms, as well as geometric distortion devices for MR-guided radiotherapy and 3D dosimetry systems.
In this on-demand presentation, End-to-end motion QA in radiation therapy treatment planning,  Rocco Flores provides an overview of the company's CT and MR-safe motion phantoms, with an emphasis on how the phantoms can meet current and future QA needs. Flores, a product manager at Modus QA, discusses 4D IGRT, explaining the need to reduce treatment volumes and the methods used to mitigate patient motion. He goes on to describe how the company's motion QA phantoms can be used to provide end-to-end QA of CT-based and MRI-based treatment systems.
SunCHECK Platform optimizes remote QA
For too long, radiation therapy quality assurance (QA) has required multiple databases and manual processes to get the job done. Fragmentation with no automation makes working at home harder than it needs to be. Sun Nuclear's SunCHECK Platform solves this.
SunCHECK aggregates disparate databases, automates inefficient tasks and centralizes critical patient and machine data to provide easier access by staff. The platform delivers a worklist-oriented dashboard, remote development of tests, as well as real-time results via direct device connectivity, automated data transfer and analysis.
Over 800 centres worldwide have adopted SunCHECK. Many users report that the platform has proved essential to their operational continuity through the COVID-19 pandemic. SunCHECK's remote access helps minimize time in the clinic, for example, while automation reduces reliance on physical tools.
To assist more departments with solving their own remote QA challenges, Sun Nuclear offers flexible options for SunCHECK Platform acquisition. Demonstrations can be scheduled at sunnuclear.com.
Sun Nuclear is hosting a session entitled "Performing QA remotely in the age of COVID" at the 2020 ASTRO Annual Meeting, in the Innovation Hub. Presented by Jason Tracy, a medical physicist at Sun Nuclear, the session will take place on 26 October at 11.45 EST.
SBRT for localized prostate cancer: Biology Meets Technology
When hypofractionated radiotherapy is delivered via stereotactic body radiation therapy (SBRT), a strict adherence to dose–volume constraints to the surrounding at-risk organs is paramount. Specifically, the steep dose gradients associated with SBRT plans require a high level of reliability during the entire treatment delivery process.
The RayPilot HypoCath from Micropos Medical is designed to enhance the precision of prostate cancer SBRT. The system is a removable electromagnetic tracking device that enables real-time localization of the prostate during both conventional and hypofractionated radiotherapy. With the transmitter integrated in a standard Foley catheter, RayPilot HypoCath may offer better localization of the prostate and its motion (for accurate treatment) and helps outline the urethra. It can be used with conventional linacs and requires no surgical intervention.
The white paper, SBRT for localized prostate cancer: Biology Meets Technology, describes the first clinical experience using the RayPilot HypoCath at Ospedale San Gererdo in Monza, Italy. The hospital started SBRT treatment of prostate cancer patients using RayPilot HypoCath in June. In the white paper, head of the clinic Stefano Arcangeli describes how the tracking device fits into precision radiation treatment of prostate cancer.
STEEV phantom enables end-to-end testing of SRS systems
Stereotactic Radiosurgery (SRS) necessitates a high degree of accuracy in target localization and dose delivery. With this in mind, CIRS offers the Stereotactic End-to-End Verification (STEEV) phantom, which provides a means to check all necessary steps of a treatment planning system – from diagnostic imaging with CT, MR and PET, through to plan verification.
STEEV's anthropomorphic exterior enables the use of clinical positioning and fixation. The phantom's internal details – such as cortical and trabecular bone, brain, spinal cord, teeth, sinuses and trachea – provide a realistic clinical simulation, enabling end-to-end testing of SRS systems in the most challenging anatomical regions. Geometric and organic target inserts enable comprehensive image quality assurance (QA), geometric machine QA and treatment planning system QA.
STEEV accommodates five interchangeable multi-modality inserts, which come with a variety of internal targets and are filled with MRI- or PET-compatible liquids. Five external MRI/CT fiducials enable additional alignment and distortion evaluation. The phantom can also accommodate a variety of tissue-equivalent inserts suitable for small-field dosimetry.
Persona CT streamlines radiology and oncology treatment planning
CT is an invaluable tool when treating cancer with radiation therapy. Studies have shown that CT is increasingly used in tumour volume estimation, with image quality critical to the accuracy and ease of treatment planning.
Fujifilm and Analogic have joined forces to offer healthcare providers an innovative CT system that enables new workflows in oncology imaging and treatment, while seamlessly executing diagnostic radiology requirements for all body types. With a unique 85 cm bore and 64-/128-slice performance, the Persona CT is a revolutionary CT system that helps to simplify oncology treatment planning.
The Persona CT's large bore adds comfort for patients of any size. Fast acquisition further enhances the patient experience, while easy operation improves workflow, speed and accuracy. The scanner offers advanced automated dose optimization and synchronized dose-lowering acquisition technologies. Meanwhile, its low-noise acquisition system and refined image processing with artificial intelligence deliver exceptional image quality.
Finally, the Persona CT offers advanced applications powered by Fujifilm's Synapse 3D software, as well as specialized 3D tools for coronary, brain, respiratory, orthopaedics and whole-body applications.
ExacTrac Dynamic patient positioning system merges surface and X-ray tracking
ExacTrac Dynamic is the next-generation patient positioning and monitoring system from Brainlab. The new system offers never-before-seen, high-speed thermal surface tracking technology combined with an update of ExacTrac X-ray monitoring.
For thermal tracking, the 4D thermal camera creates a highly accurate and reliable hybrid thermal surface by correlating the patient's heat signature to their reconstructed 3D surface structure. To achieve this, 300,000 3D surface points are acquired and matched to the heat signal generated by the thermal camera, creating another dimension to track their position.
The X-ray monitoring system includes larger (compared with ExacTrac 6.5 or 6.2) panels that show more anatomy for easier orientation and interpretation of X-ray images, while improved soft-tissue contrast and enhanced read-out speed prevent motion blurring effects. The higher heat capacity of the X-ray tubes supports more automated, high-frequency imaging. New clinical workflows allow for treatment of a wide array of indications. Together, these advancements make ExacTrac Dynamic the all-in-one radiotherapy tracking solution.
Join Brainlab on 26 October at 11.00 EST for a virtual session discussing the first clinical applications of ExacTrac Dynamic. The session will cover topics including:
Radiosurgical planning: brain and spine disease considerations.
IGRS experience: intra-cranial tumours and spine metastasis setups.
Radiotherapy planning: breast disease considerations.
IGRT experience: free-breathing and manual breath-hold breast setups.
MR-safe QA phantom focuses on MR-guided radiotherapy
The MRgRT Motion Management QA phantom from CIRS is designed to address the quality assurance (QA) needs of MR-guided radiotherapy. The phantom is MR-safe due to the use of piezoelectric motors and non-ferromagnetic materials. The two piezoelectric motors move a cylindrical insert, which contains a tracking target, through a gel/liquid-fillable body by rotating it independently from the motion in the inferior–superior direction.
The moving insert contains a "tumour" target filled with gel, surrounded by the same background gel used to fill the "body". This body includes simulated lungs, liver, kidney and spine, providing a heterogeneous background. The simulated organs are filled with gels that provide CT and MR contrast versus the background gel. All organs (except for the lungs) also offer ion chamber dosimetry cavities, enabling completion of the entire QA process: from imaging to planning to verification of the delivered dose.
The phantom is driven by CIRS Motion Control software, which offers multiple built-in motion profiles for commissioning and routine QA, as well as allowing import of complex patient-specific respiratory waveforms. It can also set up independently controllable waveforms for the insert's linear and rotational motion. To enable verification of beam latency, the inferior–superior motion of the insert/moving target can be gated based on amplitude.
The post ASTRO Annual Meeting highlights radiation oncology innovation appeared first on Physics World.