bacardi india introduces martini fiero the newest innovation from martini – For Press Release – Online Press Release Distribution Services.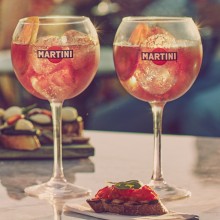 Delhi, 5th April 2021 – Bacardi India, one of the country's largest international spirits companies, has launched Martini Fiero, welcoming the newest innovation to the Martini portfolio. Martini Fiero is a contemporary take on vermouth that offers a tantalising taste retaining all the goodness of Martini's original white wine mixed with zesty and bold flavours of citrus, bittersweet orange, and wormwood making it the perfect drink for any occasion with friends and family.
Aastha Gupta, Brand Manager for Premium White Spirits (India and South East Asia), Bacardi India Private Ltd. commented: "With the constant growth of premiumisation in India, Bacardi has been focusing on expanding its portfolio of premium brands in the country. As consumers become more affluent, even within the context of the Indian market, people are drinking better and hence trading up to premium global brands. They are aware of the variants of Martini available in the international markets and we are thrilled to welcome Martini Fiero to India. Martini's efforts have always been focused on the taste of the product. The consumers around the world love the refreshing flavours across Martini's portfolio and we expect a similar response from our Indian consumers."
Over the past few years, Bacardi has further strengthened its position in India as a premium brand. Known for its diverse brand portfolio, Bacardi aims at bringing superior quality spirits to the market. The newly introduced Martini Fiero is a significant addition to Bacardi's expansion in India. Martini has always worked towards reinventing and innovating its spirits. With its natural aroma, colouring, and balanced bittersweet orange taste, Martini Fiero vermouth is structured perfectly to pair with tonic water and is set to become the must-have spirit at every get-together and celebration. Enjoy this irresistible drink preferably in a balloon glass with ice. Pour in equal amounts of Martini Fiero and tonic water and garnish it with the blood orange wheel.
Martini Fiero is now available to buy in Delhi, Gurugram Mumbai, Bangalore, Goa, Pune, and Nagpur.
Company :-Fetch Consulting Pvt. Ltd.
User :- Shivani Negi
Email :[email protected]