Bamomas named overall winner of PIP Startup Innovation Award 2023 – Parcel and Postal Technology International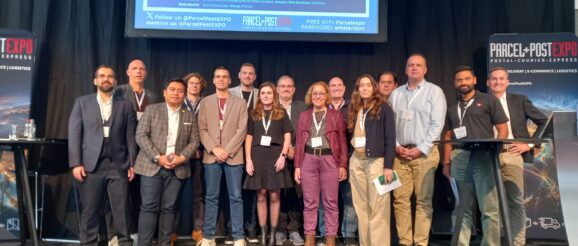 Now in its seventh year, the Postal Innovation Platform (PIP) Startup Innovation Award competition, which took place at Parcel+Post Expo on October 24, 2023, brought together more than 20 startups which were then assessed by a panel of 16 judges from the postal and parcel ecosystem.
"The task of choosing the winners was not easy, because all startups presented solutions which are relevant for the postal and parcel industry," said Bernhard Bukovc, founder and chairman of PIP.
The judging panel, chaired by Thierry Golliard, director of innovation and venturing at Swiss Post, selected the following category winners:
"The winning solutions underline what has become increasingly important for our industry and with which challenges postal and parcel companies have to deal with today," added Bukovc. "Powerful OOH and locker solutions to reshape last-mile operations; the management of the EV fleets which are growing quickly and where the lifespan of batteries plays a crucial role in increasing efficiencies; as well as a waste management solution which can effectively contribute to the industry's sustainability efforts."
From the three category winners, the judges then selected an overall winner, which they considered to be the most innovative and industry relevant solution. This year, Bamomas was named the winner of the prestigious PIP Startup Innovation Award 2023.
Golliard said, "The task of identifying the winners is increasingly complex. Most startups have a clear understanding of the industry's needs, and most solutions are really innovative, bringing value to the postal and parcel markets. Our winners this year have shown that it is important to offer a concrete business case which can make an impact. The winner of the 2023 PIP Startup Innovation Award, Bamomas, stands out as they solve a problem that is crucial for the fleet transformation and electrification processes which all operators are undergoing at the moment."
Fellow judge Andreas Thöni, EVP group strategy, digital and innovation at Austria Post, added, "We have been supporting PIP and the annual startup competition for several years, and we can see a tremendous increase in innovative solutions which can have a significant impact on our business. With Bloq.it, Seenons, and Bamomas we have chosen three outstanding startups. Moreover, we are already collaborating with Bamomas. Real-time insights about battery state-of-health and depth of discharge enable efficient battery use, thus expanding the lifespan of batteries. This results in capex optimization from avoided or postponed investments. Startups therefore play a crucial role in gaining efficiencies and creating value for us."