Behind The Beer: Allagash Brewing Company's Jason Perkins Talks Innovation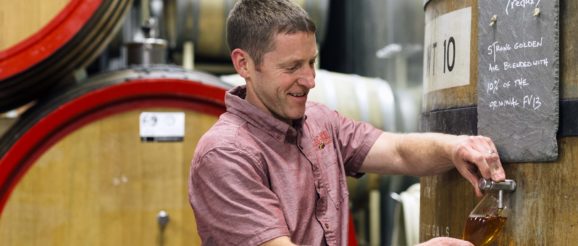 Long before craft beer took the United States by storm, a small Maine brewery created a beer that would ultimately become the first truly Americanized Beligian witbier.  That beer was White and, despite originally being met with an unenthusiastic response from locals, it's become Allagash Brewing Company's cornerstone, accounting for almost 80 percent of the company's annual production. 
White might be the predominant reason Allagash has grown into one of the nation's largest breweries – 30th based on sales volume – but there's always something new brewing at its Portland headquarters.  Allagash is constantly looking to create unique and innovative new beer and there's no shortage of ideas, which can come from brewmaster Jason Perkins or any of the company's nearly 130 employees.
"Everyone at our brewery is actually able to propose new beer ideas," Perkins explained in a recent interview.  "If an employee's beer idea sounds exciting, someone from our pilot team will work with them to develop it and brew it on our pilot system."
But there's a lot of testing that goes into a beer before drinker's can get their mitts on it, starting with a 10-gallon pilot system and eventually moving to a 30-barrel brewing system, especially if the new effort involves fruit or a unique ingredient, such as wine.  If it turns out to be a success in house, Perkins and his crew will produce it on an even larger scale, which is a 70-barrel system. Not every beer created will reach distribution – in fact, many ideas the company brews up become table beers.
Table beer, a term which is a direct translation from the Belgian "tafelbier" and the French "biere de table," is a style of beer Allagash has long incorporated into its brewing, harkening back to Belgian families in the early 1900s who wanted a low alcohol beer to enjoy typically around mealtimes.  Back then, the ABV would typically be under 3.0 percent but the beer would still contain enough flavor – malt-forward, with hops typically taking a back seat – to accompany traditional meals. 
Allagash's table beers, which are specifically for the company's brewers and available only at the brewery, rotate with frequency, so there's always something new.  One table beer actually made it to distribution earlier this year and became a year-round effort in the brewery's arsenal. River Trip, a 4.8 percent Belgian style session ale, is brewed with local grains, spiced with coriander and dry-hopped with Comet and Azacca hops.  It's available throughout the company's distribution area in 16-ounce cans. That might seem standard for a brewery of this size, but canning is new to Allagash.
After years of bottling in glass, Allagash elected to follow the landscape's latest trend of pumping out year-rounds in four-packs of pounder cans – the results have been great.
"I think by the time we got into cans, we were way behind the curve," Perkins admitted.  "And it was never really a point of principle for us not to be in cans. We just happened to start bottling first and put our time and effort into making sure our bottled beer stayed as fresh as possible for as long as possible. Around 2018, we just happened to have the bandwidth to finally get into cans with the same quality of our bottled beers. We're lucky, and happy, to say that people have really been digging them, so much so that we're expanding our canning line to offer more cans in more places."
Allagash makes sure some of it's more complex limited releases are still released in bottles to ensure that drinkers get the freshest and most flavorful beer possible.  Take Farm to Face for instance, a 5.7 percent sour peach beer released last month that required almost 9,000 locally sourced peaches, from both Maine and New Hampshire. Using fresh, local fruit is always at the forefront of creating for Perkins and his crew but that's not the case when it comes to the barrels used in the barrel-aging process.
"We source barrels from all over.  We've used wine barrels, bourbon barrels, calvados barrels, aquavit barrels and more.  All of those come from different places. But for a beer like Curieux, which goes out to our whole distribution, one batch of that beer can be as many as 150 freshly emptied bourbon barrels. We get these barrels fresh from the distillery in Kentucky and use them only once."
Barrel-aging is something that continues to evolve at Allagash. 
Back in 2007, the company's founder, Rob Tod, had the idea to create a coolship, a small, unheated shed with a sheet-like pan inside in which steaming cloudy unfermented wort was pumped into the pan and left to sit out overnight before barrel-aging it for up to three years.  After a trip to Belgium, Tod reached out to a storied producer of Belgian lambics and elected build the structure and give it a try. Up to that point, Belgian lambics hadn't been attempted in America but Perkins and Tod concocted a plan to craft a localized coolship beer.
That plan worked and breweries throughout the country once again took notice of what Allagash was able to accomplish.
"We're definitely proud of where we've come with our coolship beer program," said Perkins.  "That beer is spontaneously fermented, meaning that it gets its yeast from the air. It's the only beer we brew that we don't add yeast to. But that mixture of yeast in the air is particular to the air around our brewery in Portland, Maine. If we brewed the same exact beer and put it out in a coolship even just down the road, it would taste slightly different. So there's something very cool about how local and specific the flavor of our coolship beer is."
Creating innovative beer is what Perkins and the crew at Allagash strive to achieve but is it challenging to create and reconstruct beer flavors for a market constantly moving on to the next beer trend? Perkins doesn't think so, in fact, he thinks Belgian-style efforts are the perfect test subjects.
"There's so much inventiveness already built into Belgian-style brewing.  Now that American beer enthusiasts are looking for beers that do something they haven't tasted before — that fits right into what we've always been trying to do."
For a brewery that's constantly producing old favorites and new creations, there's always something coming in the not too distant future.  Fresh on the heels of Haunted House, a limited release 6.66 percent hoppy dark ale brewed with Crystal, Chinook and Blackprinz hops as well as roasted Barley and Blackprinz for a ghastly coffee-flavored bitterness, Perkins gave us a little sneak peak at what to expect from Allagash in the upcoming months.
It's a beer that speaks to bourbon drinkers, taking its taste from an Old Fashioned.
"One that's coming up is a beer inspired by an Old Fashioned cocktail," Perkins added.  "The beer, called World on a String, is brewed as an amber ale with orange peel and then we age it in bourbon barrels."
The post Behind The Beer: Allagash Brewing Company's Jason Perkins Talks Innovation appeared first on DirtFork.