Best colleges list: UArizona ahead of Arizona State, ASU No. 1 in development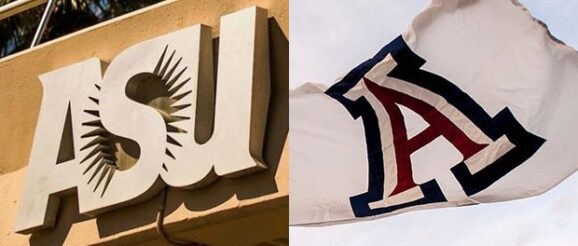 PHOENIX– The University of Arizona was ranked ahead of Arizona State University in U.S. News & & World Report's list of best colleges on Sunday, but ASU remained No. 1 in the website's list of most ingenious schools for the sixth year in a row.
UArizona was available in at the No. 97 total spot on the list– a 20-spot dive from last year– and was ranked the 40th-best public school. ASU routed just a few spots behind at No. 103 general, while Northern Arizona University likewise discovered itself among the list at No. 284.
The University of Arizona likewise saw improvements to its undergraduate company (No. 32) and engineering (No. 53) program rankings.
"We are enjoyed see our university make such extraordinary gains in the most recent U.S. News & & World Report rankings," UArizona President Robert Robbins said in a press release.
"Our university has actually stayed unwavering in its concentrate on supplying a world-class education during this unprecedented time in our country's history."
ASU finished ahead of the likes of prominent scholastic schools such as the Massachusetts Institute of Innovation (MIT), Stanford, Johns Hopkins and Duke in the top 15 for development.
The list was put together by conducting a peer evaluation survey carried out by leading academics in the spring and summer of this year.
College presidents, admissions deans and provosts chose as much as 15 colleges or universities that they considered to be making the most innovative improvements to curriculum, school life, students, faculty, technology or centers.
In order to make the list, a school had to receive at least 7 top-15 elections.
"Development is instilled in ASU's DNA due to the fact that we are designed to stimulate, support and manifest new concepts," President Michael Crow said in a press release.
"Development can be discovered at all levels of our education, our research study and our neighborhood engagement. It drives our perpetual evolution and it will continue to guide us as we work toward solutions to the next excellent challenges of a complex future."
U.S. News & & World Report also ranked ASU as No. 9 in first-year experiences, No. 16 in undergraduate teaching, No. 19 in senior capstones, No. 24 for its undergraduate business program and No. 46 for public schools.
Follow @jwa1994