Big Data and the quest to understand human behaviour | News | Warwick Business School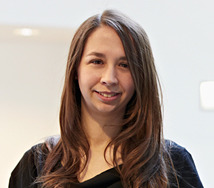 Big Data and the quest to understand human behaviour
09 January 2015
The potential of Big Data to help identify links between data from the real and online world is immense according to Suzy Moat, Assistant Professor of Behavioural Science at Warwick Business School.
The term Big Data has emerged in light of an increased growth in the availability of information, with a number of academics including Dr Moat embracing this new information in a quest to better understand human behaviour.
Dr Moat has worked alongside Tobias Preis, Associate Professor of Behavioural Science & Finance, to conduct research around Big Data on topics including an analysis into the connection between Flickr posts uploaded during the Hurricane Sandy and the hurricane's exact moment of land fall in October 2012.
Dr Preis believes Big Data has created a "gigantic ocean of information" to improve future forecasts of human behaviour areas in health and economics among other areas, including research on whether Google has the ability to predict the stock market.
Dr Moat thinks Big Data is an extremely exciting method of gathering new measurements into how people behave.
She said: "Everything we do generates data, from calling a friend to chat, to buying bread at a supermarket, and even using an Oyster card. All these methods provide access to a large scale natural set of data.
"The potential to link data from the real and online world in order to get a better understanding of how people behave right now, as well as how they may act in the future, is immense."
It is now easy to find an array of information available via Google and Wikipedia to analyse and view general trends across the globe at different points of the year according to Dr Moat. As such, it is now possible to view correlations between people's actions online and in the real world.
Dr Moat has previously discussed how Big Data is set to revolutionise banking as every day interactions with technology creating larger data sources for banks to utilise and customise the services on offer.
Dr Tobias Preis and Dr Suzy Moat both teach Big Data Analytics on the MSc Finance and MSc Business courses.
Both also teach the Behavioural Sciences for the Manager module on the Executive MBA.