Biochar innovation paves the way to net zero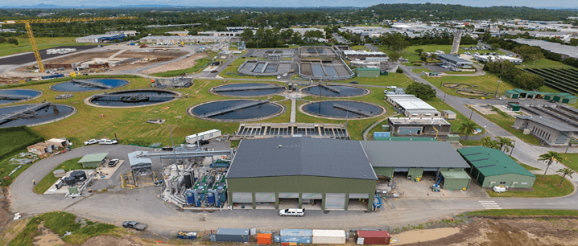 Australia's first biosolids gasification facility is expected to play a major role in sustainably managing the wastewater of the City of Logan's growing population.
The City of Logan, located south of Brisbane in South East Queensland, has a population of 348,000, but it is forecast that half a million people will call Logan home by 2040.
Logan City Council, and its water business, Logan Water, have been looking at innovative, progressive ways to handle the growth spike.
Loganholme Wastewater Treatment Plant, which processes most of the city's sewage, is expected to play a vital role. Australia's first biosolids (sewage sludge) gasification facility recently opened at the treatment plant. It features a process that revolutionises the way municipal authorities manage wastewater.
The brainchild of a dedicated group of innovators at Logan Water, biosolids gasification essentially involves dewatering sewage sludge, drying it at high temperatures and transforming it into a product called biochar.
Biochar is a charcoal-like substance that can be used as a nutrient-rich fertiliser and an additive when making building materials like asphalt and bricks. The process has a threefold benefit for Council and, importantly, ratepayers.
It reduces the amount of treated waste that has to be removed from the plant every day by about 90 per cent. Currently, around six daily truck trips are needed to take waste 150km away to the Darling Downs, where it is used as a soil improver.
Under the new process, the gases created during the super-heating of the biosolids are captured and used as energy to dry the biosolids. The remaining energy needed to produce the biochar is then offset by a 1MW solar array, making the entire process carbon neutral.
The gasification process destroys chemicals in biosolids, such as persistent organic pollutants and micro and nano-plastics. Those contaminants are an increasing threat to terrestrial ecosystems and human health.
Logan Water worked closely with partners Pyrocal, Downer, WSP and Stantec to deliver the biosolids gasification facility. A $6.2 million funding grant from the Australian Renewable Energy Agency (ARENA) as part of its Advancing Renewables Program helped kick start the project.
Operational cost savings and carbon credits will return almost $1 million annually to the City of Logan, while a new revenue stream will be created from biochar sales. Carbon emissions will be reduced by about 6000t per year. City of Logan Mayor, Darren Power, said the gasifier is a game changer that has attracted global interest.
"We are the first local government to try something like this in Australia, so its evolution has been keenly watched," Mr Power said. "This innovation will benefit the city and the environment for generations."
The new technology is just one of many initiatives Council has pioneered to drive down carbon emissions and be carbon neutral by the end of 2022. The Carbon Reduction Strategy and Climate Resilience Strategy have so far seen more than 2.5MW of solar power installed on Council buildings.
Infrastructure Chair Councillor, Teresa Lane, said the gasifier could set the future standard for wastewater management. "Disposing of human waste has always been costly and environmentally challenging," Ms Lane said. "The gasifier sets a new standard in the management of waste and, as an added bonus, will create a product that benefits our farmers and builders.
"To think this idea was hatched here in Logan is something we can all be proud of." A small-scale biosolids gasification demonstration plant was built on the site to prove the technology.
The complex construction of the permanent facility included installing two 34t, 18m-long industrial-strength dryers that were built in Germany by Dutch company ELIQUO. The plant officially opened in April 2022. Three more solar sites were announced in Council's 2022/2023 Budget, cementing the organisation's position as one of the leading generators of solar energy in the city.
Council is also a member of the H2Q Hydrogen Industry Cluster as part of the Queensland Hydrogen Industry Strategy. About 40km west of Loganholme is another major contribution to advancing the treatment of wastewater.
The Cedar Grove Environmental Centre is Queensland's first wastewater treatment plant to benefit the environment through membrane bioreactor technology and constructed wetlands, to achieve record low nutrient levels, and offset remaining nutrients through catchment restoration.
The site is also a centre for research and a community recreation reserve. The $53 million centre operates under the strictest environmental license ever granted by Queensland's Department of Environment and Science. Economic Development Queensland contributed funding to the project. The project has been recognised with seven industry and Council awards.

For further information, please visit or email [email protected]
The post Biochar innovation paves the way to net zero appeared first on Utility Magazine.