Blockchain accelerator TRIBE introduces OpenNodes to build an innovation melting pot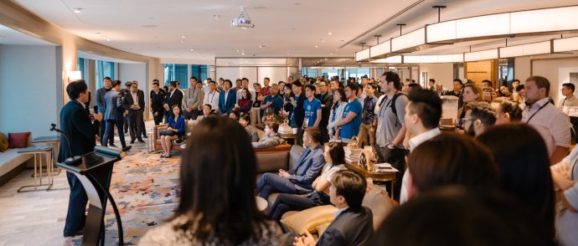 OpenNodes has the support of IMDA to bring government agencies, corporate, and blockchain companies onboard
TRIBE Accelerator, a blockchain accelerator based in Singapore, announced the upcoming launch of OpenNodes, a web-based engagement platform supported by the Infocomm Media Development Authority of Singapore (IMDA).
TRIBE Accelerator said that it is meant to bring together government agencies, corporates, and blockchain companies onto a single online platform, fostering innovation and collaboration in the blockchain community.
With OpenNodes, enterprises and individuals from any level of expertise can take part in the ecosystem.
The platform's key feature will include a directory listing of various stakeholders in Singapore's blockchain ecosystem. Using the directory, startups can form industry-specific working groups to discuss how blockchain can be used across various verticals, such as mobility and healthcare.
Companies will also be able to connect with other global blockchain communities in cities such as Berlin, Hong Kong, New York, San Francisco, Seoul, Shanghai, and Zug.
OpenNodes will also provide educational content to help enterprises glean insights into blockchain technology as well as facilitating discussions led by leaders of different industries on the platform.
Additionally, there will also be job listings that will connect talents to recruiters.
OpenNodes is expected to be launched to the public at the end of this year.
The promising world of blockchain
Blockchain technology presents a wealth of opportunities for enterprises to tap on and make their processes more transparent and secure. However, challenges remain constant, with the lack of collaboration and poor visibility into the blockchain industry that hinders mainstream adoption.
Philip Heah, Assistant Chief Executive, Technology Infrastructure Group, IMDA.l, highlights that there are still many existing blockchain solutions in the current market that are use-case specific and specialised.
"These solutions can provide greater value to the parties involved if they are participating in the ecosystem. This platform will bring the key stakeholders of the blockchain ecosystem closer together, consolidating efforts towards mass adoption," said Heah.
Besides partnering IMDA, OpenNodes is also supported by more than 20 organisations, including:
TRIBE Accelerator was officially launched on March 27 this year and is part of TRIVE Ventures, an early-stage VC in Singapore.
It is supported by Enterprise Singapore, a government agency, and includes corporate partners such as BMW, Intel, Nielsen, and PwC Singapore's Venture Hub.
–
Image Credit: TRIVE Ventures
The post Blockchain accelerator TRIBE introduces OpenNodes to build an innovation melting pot appeared first on .