Brexit is holding back innovation at European carmakers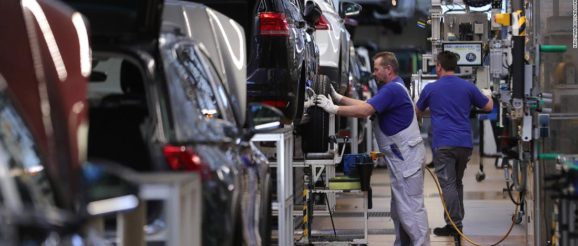 The industry is already playing catchup in the race to develop electric vehicles and self-driving cars.
Volkswagen's factory in Wolfsburg, Germany.
"From a technological point of view, the future is written right now in China and United States," Hofmann said.
The United Kingdom and European Union have not yet been able to strike an agreement on the terms of their divorce and future trading relationship. With time running out, businesses are increasingly worried Britain could crash out of the bloc without a deal.
The UK industry group estimates that newEU-UK tariffs on imports would cost the European car industry at least £5 billion. And a chaotic Brexit would cause manufacturing headaches for the carmakers because customs checks could cause delays in deliveries, playing havoc with complex just-in-time supply chains.
BMW's (BMWYY) senior vice president for electronics, Christoph Grote, said his company views Brexit as "a very negative thing."
It is shutting its Mini factory in England for one month of maintenance immediately after Brexit because it can't be sure of getting the parts it needs once the divorce has happened in March 2019.
Another risk to the industry comes from damage to academic research projects that support innovation. The European Union is funding a number of transportation and vehicle research projects run jointly by universities and private companies across the bloc.
This kind of partnership could become more difficult after Brexit, Grote warned.
"Any barrier that's being created does not lead to more cooperation," he told CNN Business.
British universities are already feeling the chill. Data from the UK Department for Business, Energy & Industrial Strategy shows the proportion of EU research funding going to British universities has dropped since the Brexit vote in 2016.
BMW and Volkswagen are just two of many companies in the industry that have warned about the costly consequences of Brexit.
Automakers including Nissan (NSANF) and Honda (HMC) have big factories in the United Kingdom. Ford (F) also makes engines at two plants. Some have warned they would have to quit the United Kingdom if trade barriers after Brexit wipe out their profit margins.
German engineering group Schaeffler (SCFLF) said Tuesday it was planning to close two plants in the United Kingdom. The biggest carmaker in the country, Jaguar Land Rover, has cited uncertainty over Brexit as one reason for putting 1,000 workers on a three-day work week until Christmas.
Senior tech executives at BMW and Volkswagen say the United Kingdom's departure from the European Union could cause the region to fall behind Asia and America because it is disrupting operations, threatening collaboration in research, and draining resources.
"The Brexit debate is capturing the entire Europe, which is not going to accelerate technological growth," Martin Hofmann, Volkswagen's (VLKAF) chief information officer, told CNN Business at the Web Summit in Lisbon, Portugal. "It's distracting us."
Europe's car industry pours €54 billion ($61.3 billion) into innovation every year, according to the European Automobile Manufacturers' Association. That makes it the leading investor in research and development in Europe.
But that spending is under threat. The Society of Motor Manufacturers and Traders said investment into new models and facilities in the United Kingdom slumped 47% in the first half of the year.