Bringing innovation to the table: Why foodtech is the next frontier in Southeast Asia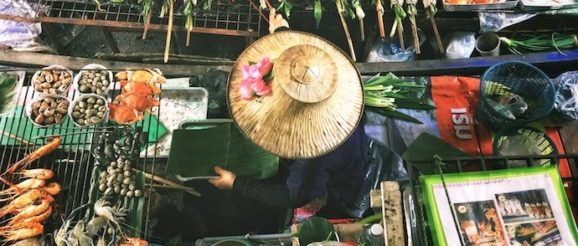 It's no secret: Asians love food, and so when we think about opening our first business, many of us gravitate to it. We may dream of opening our own restaurant, eatery, or cafeteria … depending on our capital. But there is so much more to food than just cooking and serving meals.
The last decade has seen the emergence of foodtech. Most of us are familiar with foodtech services such as GrabFood, FoodPanda, and Lalafood, but the space is much larger than those on-demand food delivery services.
Foodtech encompasses any attempt to innovate a product or service along the food value chain, any of which would be a promising area for Asian founders to create a business around.
Perhaps the easiest way to understand the opportunity in foodtech is to look at the biggest players in the space and see what it is they exactly do.
The prospects are so huge and exciting that the popular online social and copy trading platform eToro recently launched a foodtech portfolio comprised of companies across the space. eToro's idea, of course, is for ordinary folk to have a piece of the action and be able to invest in what are otherwise large global stocks.
One example from the portfolio is Beyond Meat, which creates meat substitutes that still taste like meat. The company thus targets the unique demographic of health-conscious people around the world who have gone vegetarian for some reason – whether it be for their health, morality, or environment – but still occasionally crave the taste of a good slab of beef. 
Beyond Meat is an example of innovating the very foods we consume. While some may assume that such products require prohibitively expensive research and development, this is not always the case.
Sometimes it's just about turning consumers toward a product that is already there, as in the case of some Asian brands that extol the virtues of goat's milk.
Foodtech for food security
Creating demand for alternative foodstuffs that are as healthy as the incumbent but are nowhere near as popular will aid with food security, one of the sustainable development goals of the United Nations for 2030. As the world population soars past current highs, it becomes even more imperative for foodtech companies to ignite demand (and our appetites) for more sustainable, alternative foodstuffs. If there's not enough social incentive, there is clearly business value (Beyond Meat has more than quadrupled its stock value in three short months after its initial public offering this past May).
Another telling example from the eToro foodtech portfolio is Danone, a multinational food company that has also been actively investing into foodtech disruptors. The inclusion of Danone is reflective of two major trends in foodtech: The first is the influx of venture capital into the space, which according to a recent article from TechCrunch, made for 459 unique investments in 2017, a serious jump from the 223 in 2015.
The writing's on the wall: Asian founders who have an idea in the foodtech space will have a serious chance of raising serious venture capital to turn that dream into a reality.
The second trend that the inclusion of Danone points to is the very nature of most foodtech businesses. In most cases, these are not value-add companies, but disrupt the very nature of how restaurants and other food businesses operate.
Take the example of Travis Kalanick, who recently raised US$400 million for his first startup after Uber, known as CloudKitchens. This company creates what it calls "smart kitchens for delivery-only restaurants." These, in effect, allow food operators to expand rapidly and project themselves into what may have once been prohibitively remote locations. 
Also Read: [Exclusive] Foodtech startup Ai Palette gets US$1M seed funding from Decacorn Capital, others
Since the cost is significantly lower than setting up a consumer-facing restaurant with all its attendant expenses (waitstaff salary, design and decorations, utensils, and so on), food operators can open up more locations at a fraction of the cost. Just as "cloud-based" software allowed companies to save enormously in comparison to on-premise software, "cloud kitchens" will enable food operators to earn more from their menus.
Scaling across a spectrum of possibilities
The foodtech trend is not limited to cloud kitchens. Every stage of the value chain is now being upended, from how food is cooked (some kitchens employ robo-cooks), ordered (some employ touchscreens and other server-less options), sold (many are going with fintech and other cashless solutions), and even marketed – there are an increasing number of digital storefronts that allow food operators to increase their food traffic, such as through user-generated reviews, time- or demand-based discounts, digitized menus, or other high value content.
Clearly, there are opportunities across the entire spectrum of foodtech for Asian founders to create a business that addresses a pressing need.
The fact that these foodtech companies are publicly listed shows the scale available in the space. Not even the largest tech companies have as wide and open accessibility for their consumers and customers. To access Facebook, for example, you need an internet connection, or to use Airbnb, you need a credit card. No such limitation exists in the foodtech industry, which is predicated on finding new ways to serve everyone and more, including the people yet-to-be-born but will further strain our food security over the coming decades. In this view, foodtech is not only a business opportunity, but one for social impact: Your business can reach an unprecedented scale, all while keeping people satiated, fed, and nourished.
–
Editor's note: e27 aims to foster thought leadership by publishing contributions from the community. Become a thought leader in the community and share your opinions or ideas and earn a byline by submitting a post.
Join our e27 Telegram group, or like the e27 Facebook page.
Image credits: Lisheng Chang on Unsplash
The post Bringing innovation to the table: Why foodtech is the next frontier in Southeast Asia appeared first on .