Business Model Design and Innovation: Version 2.0 – The Marketing Mentor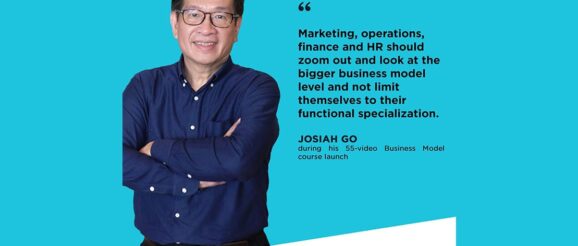 I enjoyed running three batches of my Business Model class last February 2021. I never had so many batches within the same month since my first class in 2010. 
I conducted pre-tests and trained business model mentors from the Go Negosyo Movement on the need to expand business models to 11 building blocks from their existing 9. I also trained hundreds of business owners from the Department of Trade and Industry (DTI), as well as the Philippine Chamber of Commerce and Industry (PCCI) in QC, and Chinoy entrepreneurs from the Kaisa Para sa Kaunlaran. Additionally, I was able to train hospital owners and doctors belonging to the Philippine Hospital Association (PHA) and the Private Hospitals Association of the Phils Inc (PHAPI), franchise owners from the Philippine Franchising Association (PFA), HR heads from the People Management Association of the Philippines (PMAP), and most recently gave a talk to hundreds of inventors with patents from the Intellectual Property Office (IPO) about tech business models.
The 55 videos I launched in Continuum Academy last December 2020 featured business model cases from 11 industries:
The full seminar held through 5 live Zoom sessions featured foreign cases encompassing 14 industries:
The pre-readings themselves included 5 industries:
We analyzed cases from 5 countries:
The full Business Model Innovation seminar featured 5 major topics. Here is a full outline of what we covered, alongside their corresponding sub topics:
I'd like to express my thanks for some of the positive feedback I've received, seen below.
"Business cases used in the discussion are up-to-date and relevant in the Philippine business setting. Josiah delivers the information in a clear and less intimidating manner."
– Product Manager, Union Bank of the Philippines
"Honestly, everything. From the comforts of our homes & offices, no need to travel. I saw a very well designed Course. Learning utilization, from new knowledge to Insighting to Applications is great."
– President, Asia Ceramics 
"It was an eye-opener for me that even a small business must practice or implement this kind of method in its simplest way."
– President, Jacamed Pharma
"Very organized, very clear and the videos were concise. Not boring. Overall, I'm impressed with the videos. Subject matter content was tackled very extensively that I learned a lot of understanding on the different levers of a biz model."
– President, Foodservice, Leslie
After experiencing these batches, I'm very excited to hold my next run of the Business Model 2.0 full seminar, which will be on April 6, 13, 20, 27 & May 4, 2021 from 2:00pm-4:30pm (GMT +8). Don't miss this!
You can find the full details of the course and enroll at www.continuum-edu.com, or email us for further inquiries at [email protected] and ask for Mancom group discount.