Celebrate International Day of the Girl Child With Inspiring Stories From Women Samsung Innovation Campus Graduates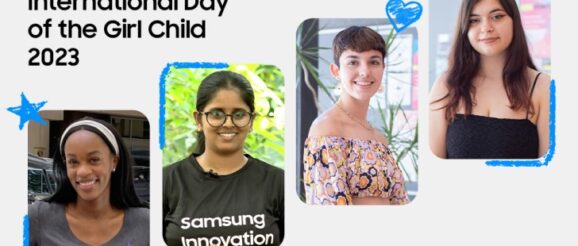 The Fourth Industrial Revolution (4IR) has caused technology to develop at an unprecedented pace, with the most advanced technologies such as Artificial Intelligence (AI) continuing to shape industry and innovation around the world. Despite rising demand for tech-related jobs, women remain underrepresented in STEM fields.
To celebrate International Day of the Girl Child, observed annually on October 11, Samsung Electronics is showcasing the remarkable achievements of young women who participated in Samsung Innovation Campus — the company's global initiative to equip young students with 4IR knowledge and hands-on technical experience.
By pursuing research and work in STEM fields, these young women are breaking down societal barriers and showing how anyone can become leaders and innovators of tomorrow. Read on to learn more about these graduates and their inspiring stories.
USA: Amplifying the Voices of All
Impassioned by her interest in AI and robotics, Natia Lollie from Texas found herself motivated to enroll in Samsung Innovation Campus to take her knowledge and skills further. After completing the rigorous seven-month program, Lollie emerged with a greater understanding of neural networks and deep learning, recognizing their potential to revolutionize robotics as well as solve highly complex challenges.
As Samsung Innovation Campus provides students from all backgrounds the opportunity to learn and grow, Lollie explains how the program acts as a crucial step in the journey towards true inclusivity, diversity and gender visibility within tech. "Encouraging women to participate and discover their places in the development and governance of the AI industry will both reduce bias and ensure that there is a diversity of perspectives. It will also promote greater representation by amplifying all voices and making sure they're heard," Lollie said.
Leveraging the knowledge acquired from Samsung Innovation Campus, Lollie aspires to be a Computer Vision specialist in the future and is actively working towards this goal. "My initial goal when I set out to take the course was to find the intersection between AI, machine learning and robotics and I successfully accomplished this. With the knowledge I gained, I now have a better understanding of how to utilize these skills to achieve my dream," she added.
INDIA: A Community of Women in STEM
Samsung Innovation Campus alumna Medapati Vijaya is currently an undergraduate student pursuing civil engineering at the Dr. Lankapalli Bullayya College of Engineering. As an avid math enthusiast, Vijaya found herself curious to learn more about the role math plays in AI and machine learning — leading her to enroll in Samsung Innovation Campus in 2022.
Vijaya's experiences at Samsung Innovation Campus led to both academic and personal growth. "The field of STEM is traditionally male dominated. However, with the support of the Samsung Innovation Campus community and the program's resources, I was able to connect with other like-minded women in STEM and succeed," Vijaya explained.
Samsung Innovation Campus' curriculum covered a variety of topics related to AI, including data analytics — which Vijaya had a personal interest in due to her aspiration to become a data analyst. The program also enabled Vijaya to strengthen her organizational and analytical thinking skills as it seamlessly bridged theoretical knowledge and practice, which she claims is essential within the tech industry.
"You may encounter some difficulties but don't let this discourage you! Believe in your potential, embrace your curiosity and don't be afraid to ask questions. Surrounding yourself with a supportive community, such as the one I experienced in Samsung Innovation Campus, can make all the difference," Vijaya expressed.
Vijaya explained how the all-female educational environment had a profound effect on her confidence, as she was able to connect with her peers and step outside of her comfort zone. "My experience at Samsung Innovation Campus helped me develop my confidence in many ways," said Vijaya.
SPAIN: A Path Forward for Women in Tech
Valencia natives Carmen Llopis and Daniela Georgieva both began their tech journeys at Samsung Innovation Campus in Spain — a unique program to boost women's participation in the AI field through courses designed specifically for local universities.
Llopis, who attends the Polytechnic University of Valencia, was not initially interested in AI and other technologies. After enrolling in Samsung Innovation Campus, her perspective shifted dramatically and she discovered an interest she did not know she had. "AI is my newfound passion and it's an exciting field to be involved in. I am now advancing my studies and actively engaging in the tech industry as a woman, and I hope young girls in Spain can be inspired to pursue their passions for technology," said Llopis.
Originally a graphic design student, Georgieva gradually became interested in programming and decided to explore this curiosity. Despite her limited knowledge of AI, she was warmly welcomed into the AI training program at Samsung Innovation Campus. The program also actively encouraged women such as Georgieva to participate in the courses, nurturing their talents and allowing them to thrive.
Likewise, Samsung is committed to focus on raising women up through education. Stay tuned to Samsung Newsroom for more inspiring stories about how Samsung Innovation Campus is creating a new generation of diverse leaders in tech around the world.