China-South Asia Expo: Strengthening bilateral ties for innovation and cooperation, says Ambassador Moinul Haque – China Pakistan Economic Corridor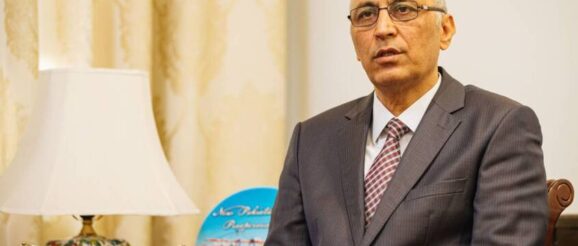 Pakistan's Ambassador to China, Moinul Haque, highlighted the China-South Asia Expo as a bridge for enhancing bilateral cooperation between China and Pakistan across various sectors. He emphasized Pakistan's focus on science, technology, and innovation through initiatives like Digital Pakistan and fostering a startup ecosystem. The ambassador underscored the close friendship and strategic partnership between the two countries, exemplified by joint research projects and working groups under the China-Pakistan Economic Corridor (CPEC) framework. As they enter the second phase of CPEC, aimed at industrial and agricultural transformation, the partnership with China is expected to bolster Pakistan's technological aspirations and contribute to a modern economy. An upcoming MoU signing for a sub-center in Pakistan further highlights the commitment to cooperation and development in the digital era.
BEIJING:
Pakistan's Ambassador to China Moinul Haque has said that the China-South Asia Expo serves as a bridge for uniting China and Pakistan to enhance bilateral cooperation in various sectors.
Addressing the 4th Forum on China-South Asia Technology Transfer and Collaborative Innovation at Kunming Expo on Wednesday, Haque noted that Pakistan, recognising the importance of science and technology, had embarked on the transformative journey of Digital Pakistan "by harnessing our vibrant youth, who constitute 60% of the populace, and tapping into their innovative prowess."
"We aim to reshape our trajectory. The burgeoning number of Pakistani startups attracting international venture capital is a testament to our untapped potential. Through the establishment of the Special Technological Zone Authority, we are nurturing an ecosystem of innovation, entrepreneurship and research," he added.
The envoy stressed that Pakistan and China were close friends and all-weather strategic partners. In recent years, the two countries have placed and added focus on science and technology cooperation.
"We have also created two dedicated working groups on science and technology and IT cooperation under the CPEC (China-Pakistan Economic Corridor) framework."
Currently, 30 joint research projects are at advanced stages, a testament to the shared commitment to innovation. "As we usher in the second phase of CPEC, poised for industrial and agricultural transformation, the partnership with China will underpin our technological aspirations, laying a robust foundation for a modern economy," he underlined.
The ambassador emphasised that the theme of the forum "Innovation Creates the Future, Cooperation Leads to Win-Win Development" resonated deeply with the movement towards a digital era through scientific excellence, achievements and cooperation.
"I am delighted to share that tomorrow (Thursday) we would be signing an MoU on establishing a sub-centre in Pakistan."