Christophe Robin Launches grey Coverage Innovation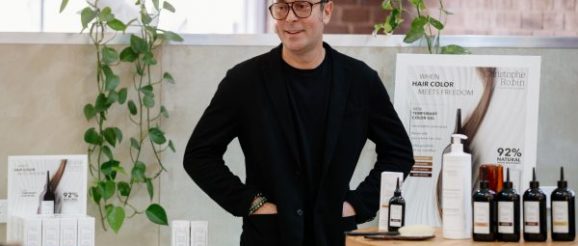 Colourist to the stars Christophe Robin touched down in Sydney to launch his latest innovation in hair colour, Temporary Color Gel. The charismatic brand leader, who counts the likes of Tilda Swinton, Kylie Minogue and Kristin Scott Thomas as his clients, presented his latest concept at an intimate trade presentation at Edwards & Co, Surry Hills, writes Michelle Ruzzene.
Christophe said the latest products, available in four shades (Golden Blonde, Dark Blonde, Light Chestnut and Dark Chestnut) took more than five years to perfect. The products have been designed as the perfect temporary, natural  solution for covering greys.
Formulated with oat flakes, which are highly concentrated in protein, amino acids and lipids, as well as a powerful antioxidant and Inula flower for healthy shine, the gels have been developed to adapt to any hair colour.
"When I make products, I am not about creating a need for something, I'm always trying to answer an existing need," he said. "When people see their first grey hair, they think, 'What do I do?'" Christophe said the gels "are not miracle products", but rather a solution for those  clients wanting non-chemical hair cover for grey.
"I don't create products based on trends," Christophe explained. "My 'trend' is to make people feel as comfortable as possible in their own hair."
During the presentation, a model had the temporary colour gel applied to her grey hair after having her hair cleansed with the Professional Prep Shampoo pH 7.8 (only available for salon use), and after 40 minutes process time, was shampooed and styled.
The temporary gels are designed to wash out between five and seven shampoos, with clients able to purchase a retail sized bottle for home care, making the tools your new go-to, in your kit or on your shelf.
Guests were able to chat one-on-one with Christophe after the presentation and were given a sample of all four shades to take home and try out for themselves. With luxe care and this new colour  heading to us straight from Paris when it comes to Christophe Robin, we'll be doing as the French do.
For more information and visit
Click here for Styleicons|TV.