CMS Innovation Center is testing direct contracting models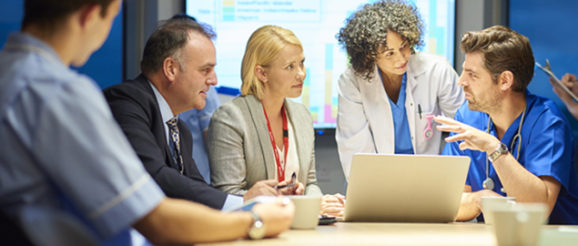 The Center for Medicare and Medicaid Innovation is testing financial risk-sharing arrangements in two voluntary direct contracting options that will qualify as an advanced alternative payment model starting in the first performance year in 2021.
The first option is Professional, which is lower-risk, consisting of 50% shared savings/shared losses and primary care capitation equal to 7% of the total cost of care benchmark for enhanced primary care services.
The Professional option is testing a more gradual onramp to fully capitated payment under the second, Global option.
The Global option is one of full risk of 100% shared savings and shared losses in either primary care capitation or total care capitation, which encompasses all Medicare Part A and B services.
The option for primary care capitation uses Medicare Advantage rates in the regional benchmark and global budgets for providers who are ready for greater risk, according to Blair Childs, Premier senior vice president of Public Affairs.
CMS is considering a third, Geographic option, which is full risk for the total cost of care of all Medicare fee for service beneficiaries in a defined region. Additional information will be provided at a later date.
WHY THIS MATTERS
The direct contracting model is part of a strategy by the CMS Innovation Center to use the redesign of primary care as a platform to drive broader healthcare delivery system reform.
The model builds on the work of Accountable Care Organizations and the Next Generation model, which ends in 2020.
It is expected to broaden participation as it will appeal to a broad range of physician organizations and other types of health organizations, CMS said.
Providers that have responded have been enthusiastic.
Direct contracting provides an opportunity to participate in a value-based care arrangement under Medicare FFS for providers that have not previously been eligible for the Shared Savings Program, the Next Generation model.
Similar to the Next Generation ACO model, direct contracting will include a quality "withhold," in which 5% of each direct contracting entities' performance year benchmark will be held "at-risk." The entities have the opportunity to earn back this withhold based on their quality reporting and performance. 
Direct contracting entities that improve their performance each year and/or are among the highest performing DCEs will earn back higher levels of the withhold, and potentially even more via a high performers pool.
The model options seek to align financial incentives, provide a prospectively determined and predictable revenue stream for participants, and put a greater emphasis on beneficiary choice, CMS said.
THE LARGER TREND
Direct contracting leverages lessons learned from other Medicare Accountable Care Organization initiatives, such as the Medicare Shared Savings Program and the Next Generation ACO, as well as innovative approaches from Medicare Advantage and private sector risk-sharing arrangements. 
MORE INFORMATION
The model will be tested over six years, with an optional initial implementation period, followed by five performance years. 
CMS will stagger the deadlines for submitting applications for Global and Professional. 
For those wishing to start in the first performance period beginning January 2021, the application will be available in spring 2020.
The application period will be open until Monday, February 24, 2020 for those wishing to participate in the implementation period, which focuses on organizations wanting to use the initial year to align beneficiaries, according to America's Physician Groups.
A letter of intent is required to apply for direct contracting.  
There will be three types of direct contracting entities: Standard will be  comprised of organizations that generally have experience serving Medicare fee for service beneficiaries; New Entrant direct contracting entities will be comprised of organizations that have not traditionally provided services to a Medicare FFS population and that will primarily rely on voluntary alignment, at least in the first few performance years of the model; and High Needs Population DCEs that serve Medicare FFS beneficiaries with complex needs, including dually eligible beneficiaries.
For the purpose of assigning accountability for risk sharing and the total cost of care, beneficiaries may be aligned to a DCE in two ways: voluntary alignment; and claims-based alignment, in which beneficiaries are aligned based on where the beneficiary has historically received their primary care services.
CMS will assess DCE quality performance based on a core set of claims-based quality measures as well as information from administration of the Consumer Assessment of Healthcare Providers and Systems (CAHPS) for Accountable Care Organizations.
ON THE RECORD REACTION
"NAACOS is excited to see CMS demonstrating its commitment to value-based care and payment by moving forward with accountable care models like Direct Contracting, which make providers accountable for patients' total cost of care," said Clif Gaus, president and CEO of the National Association of ACOs.
"Risk-sharing arrangements properly incentivize physicians to provide high-value, high-quality healthcare to the patients and communities they serve," said Don Crane, President and CEO America's Physician Groups.
"We're also encouraged that the models will provide a quality bonus, coordinate with PACE (Program of All-Inclusive Care for the Elderly) and Medicaid and focus on care for complex patients," said Blair Childs, Premier senior vice president of Public Affairs.
Twitter: @SusanJMorse
Email the writer: [email protected]