CMS's Brooks-LaSure, Healthcare Associations, Respond to Supreme Court Decisions | Healthcare Innovation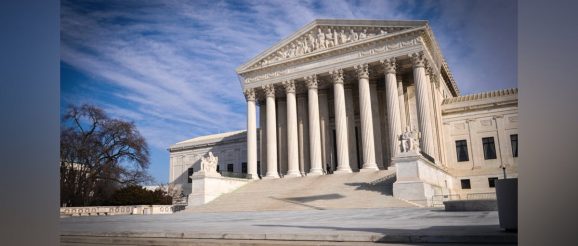 Reactions poured in following the U.S. Supreme Court's two decisions in vaccine mandate cases on Thursday, January 13—the ruling that affirmed the vaccine mandate promulgated as an emergency rule by the Centers for Medicare and Medicaid Services (CMS), and the ruling that struck down the vaccine mandate for employers with 100 or more employees, promulgated as an emergency rule by the Occupational Safety and Health Administration (OSHA), beginning with the CMS Administrator herself.
At 6:49 PM eastern time on Thursday evening, CMS Administrator Chiquita Brooks-LaSure released a statement, posted to the CMS website. Here is that statement:
""The Centers for Medicare & Medicaid Services (CMS) is extremely pleased the Supreme Court recognized CMS' authority to set a consistent COVID-19 vaccination standard for workers in facilities that participate in Medicare and Medicaid. CMS' vaccine rule will cover 10.4 million health care workers at 76,000 medical facilities. Giving patients assurance on the safety of their care is a critical responsibility of CMS and a key to combatting the pandemic.
"Vaccines are proven to reduce the risk of severe disease. The prevalence of the virus and its ever-evolving variants in health care settings continues to increase the risk of staff contracting and transmitting COVID-19, putting their patients, families, and our broader communities at risk. And health care staff being unable to work because of illness or exposure to COVID-19 further strains the health care system and limits patient access to safe and essential care.
"CMS is already implementing its health care worker vaccination rule in 25 states and territories that were not covered by preliminary injunctions. Today's decision will enable us to fully implement this rule, and we look forward to working with health care providers and their workers to protect patients. We will continue our extensive outreach and assistance efforts encouraging individuals working in health care to get vaccinated.
"CMS is disappointed in the decision on the Occupational Safety and Health Administration (OSHA) Emergency Temporary Standard, and agrees with President Biden and Secretary Walsh: This is a major setback for the health and safety of workers across the country.
"The bottom line is that vaccine requirements work and are an important tool to protect patients – and also to keep our health care workers healthy. We've already seen many health care providers successfully implement requirements for their staff. We look forward to working with health care providers to get their workers vaccinated. Protecting vulnerable patients across the country from the devastating effects of COVID-19 remains a top priority for the Biden-Harris Administration and CMS."
Healthcare associations quickly reacted.
The American Hospital Association released a statement attributed to its president and CEO, Rick Pollack, and posted it to its website. Here is that statement:
"For two long years, the dedicated women and men of America's hospitals and health systems have experienced firsthand the overwhelming impact of COVID-19. The pandemic has been frustrating, exhausting, and heartbreaking. The COVID-19 vaccines have been a ray of light because they greatly decrease the chances of contracting COVID-19, becoming severely sick, being hospitalized, or dying. That is why the AHA has consistently urged all health care workers to be vaccinated and supports hospitals and health systems that require them for their workforce to better protect them, their patients and the communities they care for. We also recognize that a vaccine requirement has the potential to create additional workforce staffing issues, at a time when our workforce is already exhausted by the many demands of COVID-19.
 "Now that the Supreme Court ruling has lifted the ban on the CMS vaccine mandate, the AHA will work with the hospital field to find ways to comply that balances that requirement with the need to retain a sufficient workforce to meet the needs of their patients. We appreciate the recent guidance that extended the compliance deadline and offered enforcement discretion. We expect CMS to honor those commitments and continue to work closely with us to ensure that compliance is measured in a thoughtful and careful way that recognizes current circumstances.
 "In addition, we expect the Administration to continue to work with us by providing the funding and other resources needed to pursue aggressive and creative strategies to bolster the health care workforce. Without further support, hospitals and health systems will continue to struggle to maintain the workforce necessary to battle the virus while also maintaining the essential health services that patients and communities depend on each day.
"Lastly, we urge any health care providers that are not subject to the CMS requirement to continue their efforts to achieve high levels of vaccination. We must continue to work together as a field to use vaccines as the powerful tool that they are to protect everyone in our communities."
Meanwhile, the American Medical Association also released a statement, attributed to its president, Gerald E. Harmon, M.D., and posted to its website. Here is that statement:
"In the face of a continually evolving COVID-19 pandemic that poses a serious danger to the health of our nation, the Supreme Court today halted one of the most effective tools in the fight against further transmission and death from this aggressive virus. While the American Medical Association (AMA) is pleased by today's opinion allowing the Center for Medicare and Medicaid's (CMS) interim rule requiring COVID-19 vaccines for health care workers to take effect, we are deeply disappointed that the Court blocked the Occupational Safety and Health Administration's (OSHA) emergency temporary standard for COVID-19 vaccination and testing for large businesses from moving forward.
"Workplace transmission has been a major factor in the spread of COVID-19. Now more than ever, workers in all settings across the country need commonsense, evidence-based protections against COVID-19 infection, hospitalization, and death—particularly those who are immunocompromised or cannot get vaccinated due to a medical condition. In fact, recent data released by United Airlines shows that before their own vaccine requirement went into effect, on average, more than one United employee was dying each week from the virus; however, today, none of their vaccinated workers are currently hospitalized with COVID-19 despite breakthrough infections and 3,000 current positive employees.
"The high court's decision does not contest the reliability of scientific evidence in support of COVID-19 vaccine requirements, and in fact, cites the AMA's support (PDF) in upholding the CMS rule. Widespread use of the COVID-19 vaccines has proven to be the safest, most effective way to reduce virus transmission and public harm. We continue to urge large employers to do their part to safeguard their workforces and communities so we can defeat this COVID-19 pandemic together."
Meanwhile, the Association of American Medical Colleges (AAMC) commented on both Supreme Court rulings. The AAMC's statement, attributed to president and CEO David J. Skorton, M.D., and posted to the association's website, read thus:
"The AAMC is pleased that the U.S. Supreme Court recognized the medical community's broad support and upheld the federal COVID-19 vaccine requirement for federally-supported hospitals, nursing homes, and other health care settings where some of the most vulnerable patients receive care. However, we are disappointed that the federal government will not be able to enforce vaccine or mask-and-test requirements for workplaces with 100 or more employees.
"The science is unequivocal. COVID-19 vaccines are safe and prevent severe illness, hospitalization, and death when dealing with all coronavirus variants. Vaccine requirements help the nation continue to combat the spread of the pandemic. The experience of AAMC member institutions demonstrates that an overwhelming majority of employees get vaccinated after a requirement is instituted, contributing to the health and safety of patients and staff alike.
"Preventing OSHA from enforcing this regulation while challenges continue may result in unnecessary loss of lives and will continue to strain the nation's health care workforce. We urge OSHA to work without delay to revise the regulation with sufficient specificity to protect those working in close proximity to others, and then re-release it so that the intended vaccine or mask-and-test requirements can move forward. Given the court's conclusion that OSHA lacks specific statutory authority to require vaccination because the threat of COVID-19 is not limited to the workplace, we urge Congress to take prompt legislative action to ensure OSHA has the requisite authority to protect employees from all grave hazards of the workplace. Finally, we urge employers to take independent action to protect their employees from the potential threat of exposure to COVID-19 at work by requiring vaccination, where permitted by law, or imposing regular testing and masking policies.
"In light of today's decisions, the AAMC will continue to work with policymakers at all levels, and the public, to increase the number of people getting vaccinations and boosters, increase federal support for testing, and improve health in communities across the country."
One association whose statement contrasted with the rest was that of the Florida Health Care Association, whose tagline is "Florida's Advocate for Long Term Care Providers and the Elders They Serve." FHCA's statement, posted to the association's website, read thus:
"We have always encouraged our members to continue working toward vaccinating as many residents and staff as possible. However, long term care is experiencing a historic labor crisis. We are extremely concerned that the court's decision to allow the CMS  mandate to go forward will cause nursing homes to lose even more staff at a time when we are grappling with significant staffing shortages that are impacting access to care."