Confiz Highlights AI Expertise and Commitment to Innovation at GITEX Global 2023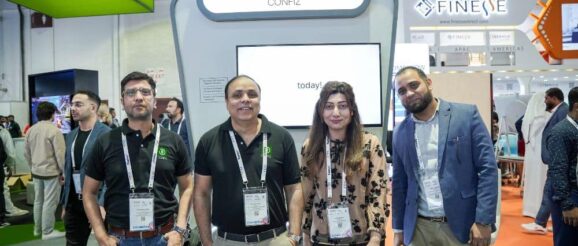 Confiz, a leading global technology firm and Microsoft Solutions Partner, recently took part in the 43rd GITEX Global – a premier technology event on the global stage, held in Dubai from October 16 to 20.
The company distinguished itself with two prominent presences: one at Global DevSlam and another at the Microsoft Hub, underscoring its deep expertise in Data and AI, Cloud, and Microsoft Dynamics 365. Confiz's participation emphatically highlighted its dedication to advancing digitization in the GCC region, with a special focus on Generative AI.
Attracting an impressive assembly of over 180,000 tech visionaries from 180 nations and featuring 6,000 groundbreaking exhibitors, GITEX Global 2023 was the epicenter for transformative business solutions powered by cutting-edge innovation.
Beyond the exhibits, the event covered knowledge-driven sessions, where luminaries, industry mavens, and avant-garde innovators took the stage to dive deep into a broad spectrum of pertinent topics.
Staying true to the overarching theme of "AI Everything" at the event, Muhammad Bilal, Director of Data Analytics at Confiz, was among the notable speakers who delivered a Tech Talk at Microsoft Hub titled "Embracing a Data-Driven Approach for Business Success." He emphasized the importance of building a data-driven culture and leveraging AI to remain at the forefront of digital innovation.
Alongside distinguished partners from across the globe, Confiz proudly holding the title "Microsoft Partner of the Year" showcased its expertise in Microsoft Dynamics 365, Microsoft Power Platform, and Microsoft Azure. Notably, its team of tech visionaries, including Mohammed Reza (Director of Business Development), Bilal Yaqub (Solution Architect), and Zara Saeed (Marketing Manager), represented Confiz with enthusiasm and engaged with prospects, including their esteemed clients from the UAE.
Muhammad Bilal, while speaking at Microsoft Hub, elaborated on how enterprises must enhance their risk response capabilities, leverage AI to establish a robust digital foundation, unlock the hidden value within data, and achieve sustainable development. He also highlighted how Confiz, through its data-driven approach, incorporates AI capabilities into its solutions, creating intelligent offerings that spearhead transformative digital journeys for its global customers in , CPG, FinTech, manufacturing, healthcare, and other verticals.
Confiz's team of tech visionaries met with potential prospects, creators of revered developer platforms, and radical founders. This interaction allowed them to learn about the latest industry trends and share their valuable insights and experiences in data, AI, and software development.
Speaking on Confiz's participation at the event, Qaisar Iqbal, VP of Industry Solutions, Confiz, expressed: "Confiz's presence at GITEX Global 2023 marked a significant milestone, showcasing our expertise in Cloud, Data, Generative AI, and IoT solutions across industries.
GITEX was a great platform to demonstrate our capabilities and explore collaborative opportunities that will help shape the course of innovation. We were thrilled to connect with visionary business leaders and share our insights on leveraging AI to accelerate growth and success."
At the Global DevSlam, the Confiz team represented the company by sharing valuable thought leadership, presenting customer success stories, and showcasing their expertise in domains such as Cloud, Data, AI, Software Development, and Staff Augmentation. They also shared demos of notable solutions like Shopper Value, C-Analytics, CDMS, Holistico, and D365 Super and Hypermarkets Solution, which unlock the full potential of digital marketing.
Confiz made a significant impact at GITEX Global, generating buzz and excitement around its expertise and AI-driven solutions. Its commitment to innovation and excellence was on full display, and the company is poised to shape a future filled with endless possibilities.
The post Confiz Highlights AI Expertise and Commitment to Innovation at GITEX Global 2023 appeared first on ProPakistani.