Conviva Hackathon Drives Innovation Forward – Conviva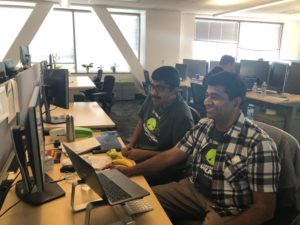 The Conviva Hackathon frees employees to innovate without the constraints of process, business, or operations so that they can develop and test new ideas while getting valuable feedback. When teams come together across departments it encourages collaboration, allowing them to find unique and creative ways to solve problems that may be facing the organization.
Conviva's hackathon is a three-day event which spans multiple teams around the world. The event encourages Team Conviva to flex their creative muscles while working on passion projects which they believe will improve workflows, core capabilities, or introduce future directions for products.
"We are always excited to see the great ideas that our highly talented teams develop during the hackathon," said Bill Demas, CEO at Conviva. "The hackathon once again displayed the initiative, leadership, and teamwork of Convivians around the world. I am proud of the culture of innovation at Conviva."
The winning project, by Shubo and Akara, aims to revolutionize the way Conviva delivers critical information affecting customer business in real time. They are calling it Stingy RealTime.
The Conviva Hackathon would not have been a success without the participation of all 46 teams around the world who signed up and worked to bring their ideas to life. We can't wait to see what you bring to the competition in 2020!
This website uses cookies to improve your experience while you navigate through the website. Out of these cookies, the cookies that are categorized as necessary are stored on your browser as they are essential for the working of basic functionalities of the website. We also use third-party cookies that help us analyze and understand how you use this website. These cookies will be stored in your browser only with your consent. You also have the option to opt-out of these cookies. But opting out of some of these cookies may have an effect on your browsing experience.
This website uses cookies to improve your experience while you navigate through the website. Out of these cookies, the cookies that are categorized as necessary are stored on your browser as they are essential for the working of basic functionalities of the website. We also use third-party cookies that help us analyze and understand how you use this website. These cookies will be stored in your browser only with your consent. You also have the option to opt-out of these cookies. But opting out of some of these cookies may have an effect on your browsing experience.