Cooking program blends culture and innovation – Ipswich First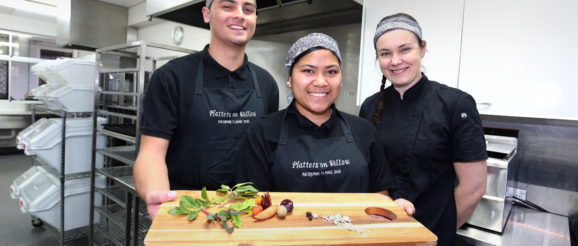 Tyrone Baker is one of 250 students from the school who work for Platters on Willow.
He also helped create the schools bush tucker garden that the group uses for fresh ingredients in their cooking.
"I get to meet Elders and serve them traditions foods such as crocodile and kangaroo," Tyrone said.
"We get a lot of ingredients from our bush tucker garden at school.
"It helps me to connect to my culture more than what I do at home."
Students of all backgrounds participate in the program finding value in the practical hands on experience.
Not only are they learning how to cook and serve they are gaining first-hand experience in what is involved in working in the hospitality industry.
"It also develops their confidence and positions them to have a better chance at employment when they finish their schooling," Mrs Pulou said.
"They know how to work hard. They are often on their feet from before the sun rises until well after it sets when we do a function."
Year 12 student Dante Faasisila said the program allowed him to discover his passion.
"From having this opportunity I have realised that I want to become a chef and I may not have discovered that if it wasn't for this course," he said.
For year 12 student Afano Uesiliana, it is the interaction with the public she enjoys.
"I love talking to everyone and I like cooking this food, kangaroo and crocodile, it's different to what I cook at home," she said.
Mrs Pulou said they are a multicultural group who have the opportunity to be exposed to the Indigenous community.
"I am not Indigenous and have to explain to people that I am just a cook that loves the ingredients," she said.
"I did seek permission from Elders to prepare and serve the Indigenous inspired food, as I did not want to offend anyone.
"I utilise Indigenous students and non-Indigenous students to work in Platters on Willow and also support grass root Indigenous business by buying the ingredients from suppliers that comes directly from various communities.
"The students are also learning a lot of cultural knowledge about our local area, what grows in our bush tucker garden and meeting with Indigenous people at our events."
Platters on Willow is run as a self-sufficient business that covers the cost of transport to functions, ingredients and equipment but Mrs Pulou is eager for the program to expand.
"I really need a 12-seater van with a purpose-built trailer to allow more students to accompany me to events," she said.
"In the next five years I aim to have a fully industrial kitchen with more portable equipment.
"We are also keen to try and find a female Elder who can become involved, as our school is located within sacred women's area."
Mrs Pulou is equally passionate about cooking and making a difference in her students' lives.
"A lot of the students are shy at first but give them time and encouragement and they usually rise to the challenge and gain confidence," she said.
"I just want to encourage the kids to have a go and seeing the smile on their face at the end of event, well that makes it all worthwhile."