Creating value through innovation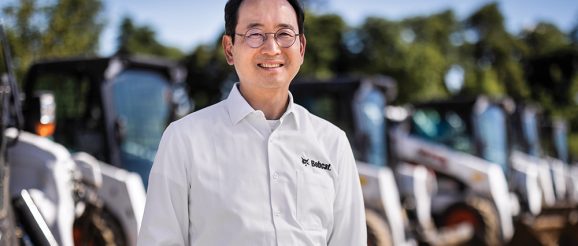 Sitting down with Doosan Bobcat CEO, Scott Park at the company's headquarters in Dobříš, Czech Republic, it's pretty obvious that he enjoys his job. Whether discussing near-term headwinds or Bobcat's strategy both globally, and in the Middle East, he is pleasantly forthcoming. Everything is on the table; the company's philosophy when it comes to expanding its product portfolio, how a new mindset is helping to grow the business and whether today's innovations really are meeting its customers' needs. Throughout it all, he comes across as a man at ease with both himself and his environment.
"It doesn't matter if I've been up for 48 hours and travelling around the world, once I start talking around the business something clicks," he says.
Amongst the challenges of the last couple of years; rising energy prices, supply chain delays, a war that rages on in Ukraine and persistent rumours of a global recession, there are genuine reasons to be excited at Bobcat. The company is experiencing one of its most successful periods with record numbers on revenue in four of the last five years proving that it is possible to move forward, even in a climate where new obstacles seem to appear at almost every corner.
"We actually expected steel prices to go down and then the war happened, so it's a balance between ensuring that you're moving forward achieving your strategies that you've defined, while at the same time saying how do we act prudently to ensure that whatever decisions that we make, in case there is an event that is going to go in the wrong direction, that we are prepared to be able to work through that," says Park.
"Whatever the scenario is, we still have to move forward because the world doesn't stop. It's just a matter now of with how much intensity, and how much capital and how much investment you are going to do that with."
Over the course of its 65-year history the manufacturer has become most widely known for its skid-steer loaders, which were invented by the two Keller brothers and began trading under the Bobcat name in 1962. Both the skid-steer and its other most well-known export, the compact excavator, remain core products in its portfolio today.
"What made us great, we will continue to do that," explains Park, pointing out the importance of also focusing on the dealers and customers and providing the "product bundle" that they need.
"That product bundle is really focused in with our core value. We empower people to do more. We are going to look at that bundle and we are not going to stay within the constraints or confines of what the industry says is compact equipment but we are going to look at it from a customer perspective. Therefore, we have a very strong plan on product diversification of growing our product portfolio."
To clarify its core capabilities and competencies, one of the things the company did was take a review on what has made it great over the last 65 years. It was part of a product strategy that involves looking not just at the space it is in, but also using its strengths as leverage elsewhere. The review found that, aside from just looking at what else the company can do with a skid-steer or compact track loader, there are also other key qualities such as its ability to create products with great functionality, combining high quality with a fantastic brand or financing offer, or having excellent channel development and management capabilities.
"It's all these things put together that make us successful," says Park. "That really opened up our eyes in trying to define what we do. And that really gave us the ability to step away from a traditional industry. That's why we acquired a forklift company. It doesn't really overlap too much with compact loaders or mini-excavators but it overlaps significantly with our core capabilities."
Innovating to create value
As the saying at Bobcat goes, innovation is in their DNA and it is something which the company continues to pursue. No more than a hundred yards away from the main building where this interview takes place, customers and dealers gather at the innovation tent outside trying first-hand the latest Bobcat concepts such as the Bobcat T7X – the World's First All-Electric Compact Track Loader and Bobcat MaxControl Remote Operation with Joysticks.
Speaking about the need and practicality of such innovations in today's world, Park describes openly how it is not about innovating for the sake of innovating but rather about empowering Bobcat's customers to do more.
"It's about innovation that is really stemming from efficiency and productivity. There's this whole discussion around Environmental, Social and Governance (ESG) and it's about saying what is our part in enabling the earth to be more sustainable but also providing everything else that goes along with it that can provide that productivity and efficiency for the customer.
"For example, we've got the remote control on our phone and we even have a device that you put on it so you can have a toggle on there. You can see that this is definitely an efficiency play. If you're in the cabin and you need to go through the gate it's much better that you just get out of the cabin and then go out and move the gate open, let the track loader through using the remote control and then you can close the gate. So there's a big efficiency and productivity thing here."
Park continues: "Now if you think about it from a social perspective, how about the safety around that where you have certain angles or certain places that are a little bit dangerous to be working in. You can do that remotely. So now we are providing an additional value to the customer that's around safety. Even for people with special needs, if you're in a wheelchair or you're not able to put yourself in the cabin to operate that machine suddenly now you have a way to be productive in your wheelchair working in your backyard or making money as a contractor. This ties in with social and environmental responsibility but also ties in with efficiency and productivity. So that's what innovation is about. It's not just about innovating for the sake of innovating but innovating to create value for the organisation and for the world."
Bobcat in the Middle East
Park is keen to point out that the company's strategy in the Middle East falls right in line with what it is doing globally. Although the speed of adoption can vary from one place to another it is still driven forward by the company's eco-system with the process never really changing that much. On the day itself, many of the dealers and customers on Bobcat's campus are actually from the Middle East and Africa. Days like this give each of them the chance to experience the latest technologies and see the possibilities of having these types of solutions on their own worksites.
"It's a value proposition. If people truly understand the value of it then they start getting into it," explains Park.
"Quite often if you look at new technologies, like the iPhone for example, there were a lot of failures at the beginning and people said I don't need something like that, I don't want to pay for that but now this is cheap because they say I'm doing my banking, I am doing my scheduling, I am doing my emails and communications, I am doing my Instagram and everything else. So we see the value. So how do we get people to understand and see what that value is? It's a step-by-step process but we'll get there because people will see it and then others will start to look over their shoulder and say I have to get that too."
Of course, regulations in different parts of the world is something, which Park says Bobcat will continue to look at in terms of getting new technologies and products approved. However, as far as the dealers are concerned there is already a considerable amount of interest there.
"If you think about it, everywhere in the world there is a shortage of people. It's hard to hire the people that you need. Another one is also the capability of the people. Even if you do hire someone it's surprisingly hard to dig a trench. If you want to dig a certain amount wide and deep and flat on the bottom, if a human does it, we are not that efficient. What if someone you hired to be an operator could just press a button. Now that person is actually working to the equivalent level of someone who is a 20-year professional."
Attachment business growth
When it comes to technological advancements in the industry there will always be competition, yet the key advantage that Bobcat has over many new software startups today is the hardware and infrastructure that is already in place.
"It's a question of hardware and software. You need to have the stuff that needs these innovations that can actually create this additional value," Park points out, explaining further that within the organisation Bobcat's machines are commonly referred to as "tool carriers."
Currently in the MEA region, the company offers approximately 150 attachment families and globally it offers more than 400. It is based on the philosophy of putting the building blocks in place whilst, at the same time, expanding the product portfolio. The more infrastructure or carriers of innovation that are out there then the higher capability there is that the software can make life better for the customer.
At Bobcat, the parts and attachments business already makes in excess of a billion dollars a year, which Park says, not only makes it a massive part of Doosan Bobcat but also one of the largest parts and attachments businesses in the world. Against this backdrop, he recently challenged the team to think of it almost as a second stand-alone business and take a look at some things that could be done differently.
"We're actually transforming the mindset of that organisation to think of it as a wholly separate profit and loss organisation that's really allowed to do whatever they want to do," he says. "There's a lot of exciting projects going on right now, so yes we do plan on accelerating the growth of that business. That side of the equation actually has higher profitability and also more stability during the downturns than the actual power unit itself."
He adds: "People buy a lot of attachments not because they use it eight hours a day but because it gives them so much productivity. That's why the profitability is so high. The value proposition is there instantly so the growth of that area is tremendous."
Looking Forward
Looking forward, the company is on track to make more than $6bn US this year, up from $5.1bn last year, and $3.9bn the year before. With the trajectory and profitability going up, it is an exciting time for all those who are part of the Doosan Bobcat transformation. Yet, away from the numbers, Park is keenly aware of the people driving the company along this road of growth and perhaps it is this that gives him the most pleasure.
"What's really exciting is, I look at younger people because my job as a CEO is to create a vision and a desire to be in this organisation and grow in this organisation because it's a great place to be in and it's got a great future. You spend most of your working hours at work, so being able to give a vision to these younger people to say five, ten, twenty years down the road, there's so many opportunities and fun to be had here – why would I go anywhere else? That's the kind of culture that we're cultivating and growing and it's really happening. I can feel a big change in the organisation from that perspective. And that's what's really exciting."
Read more:
The post Creating value through innovation appeared first on Middle East Construction News.