DCF Ventures Brings Israel s Open Innovation Platform SOSA to India – BW Disrupt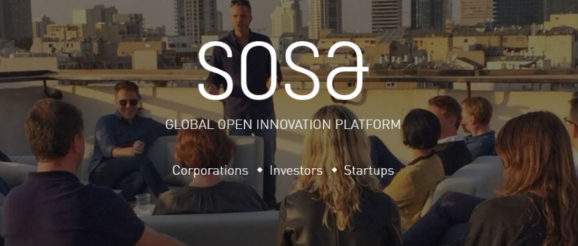 DCF Ventures brings Israel based open innovation platform SOSA to India. SOSA is an exclusive network that provides a unique opportunity for progressive corporates and entities from India seeking to identify cutting-edge technologies and startups from the world's startup nation, Israel.
Founded in 2013 by 25 leading Israeli investors and high-tech entrepreneurs, SOSA is a global open innovation platform with a global network of tech innovation hubs, bringing together startups, entrepreneurs, corporations, and investors – all under one roof.
SOSA selectively works with organizations committed to innovation and those who want to be pioneers in their industries, seeking to disrupt their businesses to grow exponentially. Once they join this exclusive network, a special team will work closely with the organization to understand and map the organization's key innovation objectives. In addition, SOSA also enables corporations to set-up innovation hubs in Israel and New York.
DCF Ventures collaborates closely with organizations in private and public sector that want to establish corporate innovation programs, incubators, and accelerators or work with the Indian or Israeli startup ecosystem. Within its ecosystem, it has access to 9000 plus Indian startups that it works with to enable corporate innovation programs. DCF Ventures also works closely with mature startups from around the world to advise and strategize market entry into India.
Through SOSA, DCF Ventures will facilitate a connection with cutting-edge startups from Israel in areas of fintech, big data, clean tech, insure-tech, mobility solutions, industrial solutions, cybertech, supply chain management amongst others.
Lakshmi Potluri, CEO of DCF Ventures said, "We are delighted to partner with SOSA as there has been a long-standing relationship and mutual synergies between India and Israel. While we have some shining examples in the retail and services businesses, there are great examples of path-breaking ideas in Technology, IOT, Fintech as well as Energy and new mobility in which India can stake a claim for global leadership. This partnership will herald the next generation of Indian entrepreneurship".
Recently Intel India and the Israel Consulate General, have announced a collaboration to drive innovation and technology development by connecting startups and enterprises from both the countries.
In July 2017, during Modi's visit to Israel, the two countries – India & Israel, also have launched a bilateral innovation challenge for startups in Israel and India – India-Israel Innovation Bridge.
The Bridge provides a tech platform to facilitate bilateral cooperation between Indian and Israeli startups, tech hubs, corporations, and other key innovation ecosystem players.