Delivering Restaurant Innovation With Mobile Technology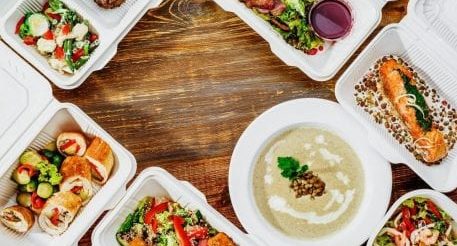 With more choices for fast-casual dining than ever before, diners can choose to eat in restaurants or tap into delivery whether they want pizza, sandwiches or entirely different fare. And, as consumers have many options, fast-casual and quick-service restaurants (QSRs) realize they must meet growing diner expectations and embrace technology to stay relevant.
Many restaurants, for instance, have discovered that frictionless mobile ordering experiences are essential when it comes to keeping customers satisfied. According to the new PYMNTS Order To Eat Tracker, the volume of mobile app orders rocketed 130 percent from 2016 to 2018, and the overall mobile order market value is set to reach $38 billion by 2020.
From Panera Bread to Postmates, restaurant chains and the third-party delivery platforms that work with them are enabling mobile commerce for delivery orders. These are some of the ways that innovators in the dining space are making it easier for consumers to order their favorite foods — and for restaurants to accept their orders:
The projected value of online restaurant delivery sales by 2022, compared to $25 billion today, is $62 billion. And food-ordering platforms are teaming up with restaurant technology companies to make it easier for eateries to accept delivery orders. DoorDash and Chowly, for instance, are partnering to provide restaurant brands of all sizes the opportunity to grow their business through offering delivery. Chowly, which is a restaurant technology company, integrates third-party delivery marketplaces with the point-of-sale (POS) systems of restaurants. By working with DoorDash, restaurant clients of Chowly can start or expand delivery options. DoorDash is said to be one of the biggest and fastest-growing last-mile logistics platforms, now in more than 4,000 cities in Canada as well as the United States.
The estimated value of 2019 restaurant revenue from QSRs, fast food eateries, drive-thrus, deliveries and more is $273 billion. Restaurants are also bolstering their delivery efforts: Panera Bread, for instance, announced national delivery availability for the first time via Grubhub, DoorDash and Uber Eats in August. The arrangements allow diners to order via apps while taking deliveries from Panera drivers. Diners will now have the ability to tap into the three apps to order dinner or lunch from the restaurant chain. Panera EVP Chief Growth and Strategy Officer Dan Wegiel said, according to an announcement, "Panera has been a leader in the delivery market as one of the first fast casual concepts to offer its own delivery service. Today, through these partnerships, we are pioneering once again by being the first fast-casual to launch the "bring your own courier" model nation-wide."
The projected share of U.S. smartphone users who will utilize food delivery apps by 2023 is 23 percent. At the same time, food delivery platforms are rolling out new features to serve their customers better. Postmates, for instance, is joining Caviar and DoorDash in letting diners make group orders. "Group Orders allow you to share orders with friends so they can add items into your shared basket," the company explained in August. "Name your group, set a spend limit for your guests, and share it out." DoorDash has been offering group orders on its site since 2015 and on its app since 2017. Caviar, which is now owned by DoorDash, offers group orders on a desktop web browser. Grubhub and Seamless, as well as Caviar, offer programs for companies that need to feed their employees.
The share of consumers who are unwilling to wait longer than 10 minutes for food ordered via mobile app is 90 percent. And digital innovators are devising new ways to deliver food to consumers. In one example, Starship Technologies, which deploys self-driving robots, will expand and deliver everything from pizza to Starbucks to students at colleges throughout the nation via partnerships with food companies Compass Group and Sodexo. The latest campuses that will get the delivery robots are University of Pittsburgh, George Mason University, Purdue University and Northern Arizona University. Indiana University will have them this month. Students can tap into the Starship app for 24/7 deliveries and can also use a meal card if the products they are buying are covered in a plan.
The estimated share of customers who want order-tracking capabilities for their food deliveries is 60 percent. Domino's, for instance, keeps investing in technology to assist franchisees as well as operators. And, in a July earnings call, CEO Richard Allison said GPS tracking technology would be rolled out by the end of the year. "This will be an innovation step that will bring even further transparency to the experience of tracking an order," Allison said in the call. Beyond restaurants, innovators in the grocery space are tapping into order tracking as well. Albertsons, in one case, has partnered with Glympse to give shoppers real-time status of their grocery delivery or Drive Up & Go order.
From Domino's to Postmates, restaurants and technology companies are making it easier for consumers to place their orders — and for restaurants to facilitate deliveries for their customers. And going forward, the QSR market must continuously evaluate whether it successfully meets expectations of diners as preferences shift and new tech emerges.