Digital Innovation Grants for Tech-Driven Impact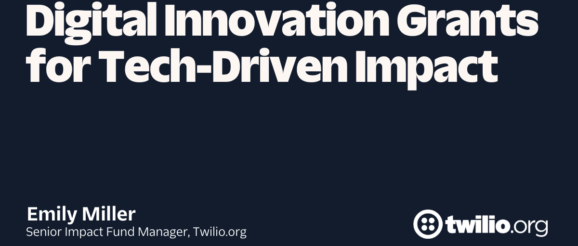 Through Twilio.org's Digital Innovation grant initiative, we've provided over $5M in funding to build the technical capacity of nonprofits across the world.
Nonprofits are on the front lines tackling some of the most difficult challenges society faces. They operate in every sector, from food access, to education, to humanitarian response from climate-induced disasters. And they are rethinking how to approach and solve these challenges by using technology to scale their services for some of the most underrepresented and overlooked communities.
Twilio's 2022 State of Nonprofit Digital Engagement Report revealed that 89% of nonprofits report that digital communications like text messaging, chatbots, voice, and video are critical to achieving their missions. However, when asked what are common challenges to adopting digital communication, the top two barriers cited are lack of technical support and insufficient budget.
We listened and learned that time and time again, nonprofits found it challenging to hire and retain technical talent in a competitive market, and they also needed to secure a flexible budget to fund these efforts. That's why we introduced Digital Innovation Grants to provide funding to help nonprofit organizations overcome some of these challenges.
An outdated funding model creates opportunities to reinvent how nonprofits prioritize digital transformation
Hiring and retaining technical talent
One key ingredient that we've identified in successful digital innovation and transformation for tech nonprofits is developers. In fact, Twilio's 2022 State of Nonprofit Digital Engagement Report revealed that only 1 in 4 nonprofits that are at the beginning stages of digital maturity have the developer talent they need. It's not hyperbole to say that talent is the secret sauce for tech-forward nonprofits.
Securing a flexible budget to focus on digital transformation efforts
Gaps in flexible funding are a huge barrier – nonprofits say that budget is the #1 barrier to adopting digital communications. Too often, funders rely on restrictive funding models, treating talent and technology as overhead costs and perpetuating a short-term bias for programmatic funding only. And as you can tell, funding and talent are highly interdependent. If you have one, you can often attract the other in a virtuous cycle.
Introducing Digital Innovation Grants: Through Twilio.org's Digital Innovation Grant initiative, we set out to provide funding to bolster the technical capacity of nonprofits and alleviate these pain points. The funding model is effective because it's fast, often completed within four to five weeks from application to funding decision. By comparison, it can take several months to over a year for some federal, state, and foundation grants. We also leaned into trust-based grantmaking principles by building a lean, streamlined application process with rolling funding decisions. The funds are meant to be flexible, to support costs ranging from personnel to technology infrastructure, programmatic functions, and more.
We believe the Digital Innovation Grants can fill a gap in the funding spectrum. By taking a less risk-averse approach, we are funding innovators across the nonprofit sector, often funding projects that are experimenting with new and unproven models of service delivery. We've seen encouraging signs that this early-stage funding leads to follow-on funding from governments, foundations, and individual donors once the nonprofits achieve product market fit.
Since our first grants in August 2022 through October 2023, we've allocated $5 million in funding to 47 grantees operating in 25+ countries. To date, the Digital Innovation grantees have reached 6 million individuals, with projections to reach over 60 million in the coming year.
Twilio.org Impact Fund
Our grants are made possible through the Twilio 1% equity pledge. In 2015, we reserved 1% of our common stock to fund the Twilio.org Impact Fund. Any grant funding does not come from Twilio's operating budget or impact its path to profitability.
How four grant recipients reach people through digital engagement
Today we're also happy to feature the impact that four digital innovation grantees have made with the funding.
Helping people thrive at work
Every day, lower-wage, marginalized workers connect with Empower Work because they struggle to deal with cut hours, bullying, harassment, discrimination, and unemployment. By providing the first confidential, third-party SMS hotline dedicated to workers, they are able to connect with real-time support. The Digital Innovation grant from Twilio has allowed Empower Work to fund primary project staff and engineering support, as well as build a more robust system for customized follow-up information to the workers who reach out for resources and support.
Harnessing the power of technology to support asylum seekers
With 570,000+ asylum-seeking members and counting, the Asylum Seeker Advocacy Project (ASAP) is currently in direct communication with more asylum seekers than any other organization except the U.S. government. ASAP supports members as they navigate the immigration system—through real-time digital communication, breaking news alerts, a virtual legal help desk, and in-depth resources accessed millions of times yearly. The Digital Innovation grant is funding their newly created Director of Engineering position and allowing ASAP to pursue real-time data updates to understand members' needs, as well as personalized legal resources for asylum seekers from 175 countries and counting.
Optimizing the Trafficking Hotline for victims and survivors
Polaris operates the National Human Trafficking Hotline (Trafficking Hotline), the backbone of the U.S. response to sex and labor trafficking. Available 24/7/365 in 200+ languages, the Trafficking Hotline connects victims, survivors, and those supporting them to needed resources and service provider referrals. The Digital Innovation grant supported Polaris's Hotline Optimization Project, which is updating technology and improving user experience for Polaris staff, and improving service to those contacting the Hotline. After initial upgrades and the use of a chatbot for SMS/chat and an updated IVR, Polaris staff has seen a huge decrease in SMS/web chat missed signals as well as reduced missed calls and wait times.
Connecting refugees to healthcare in their host communities.
With over 80 million forcibly displaced people around the world, we know that displacement of refugees is associated with high health risks. According to the Hera Digital team, the risk of death among moving populations can increase by up to 60 times, particularly for pregnant women and young children.HERA Digital Health aims to bridge the gap between refugee communities, especially women and children, and healthcare services in their host countries. The HERA app is free and open source, educating refugees in Türkiye on important dates for prenatal medical checkups and lifesaving childhood vaccinations through a simple interface. The Digital Innovation grant enabled them to quickly pivot and build a system that updated the status of healthcare centers and facilities in the 11 provinces directly affected by the earthquakes in Türkiye and Syria.
At Twilio, we believe that technology has the power to accelerate positive change. The four featured nonprofits are just a few examples of the many organizations that are building their tech capacity and innovating with digital solutions that are transforming the way organizations reach and serve more people. While our current grant rounds are by invitation only, we invite any social impact organization to sign up for the Impact Access Program to receive $100 in one-time product credits, exclusive discounts, and additional support from Twilio.org.
Twilio.org. Our mission is to scale yours.
Emily Miller is the Senior Impact Fund Manager at Twilio.org. She believes that technology has the power to accelerate positive social change, and the Twilio.org Impact Fund provides grants and investments as fuel for our partners' digital transformation efforts. When she's not thinking about unleashing tech for good, she's scaling the mountains in her backyard of Colorado. She can be reached at [email protected].