DLI staff present keynote on classroom design innovation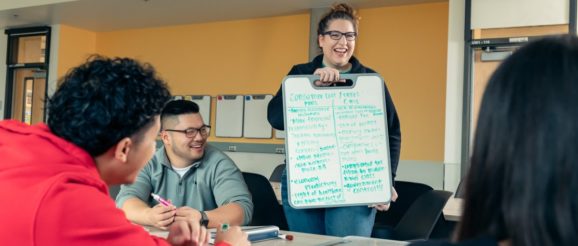 Ana Thompson and Andreas Brockhaus from the Office of Digital Learning & Innovation (DLI) along with David Moehring from the Physical Planning and Space Management (PPSM) group recently presented a keynote at the Next Generation Learning Spaces conference in Los Angeles. The title of their presentation was Changing Perspectives to Innovate in Collaboration, Accessibility and Teaching and Learning. The presentation considered what is meant by innovation in learning space design, and how innovation should be more than just something new, but should also add significant positive value.
The innovation at UW Bothell started with the formation of a learning space design team that is made of representatives from the DLI, PPSM and Information Technologies to provide a more holistic design process. The innovation continued with the UWB learning space design team using a classroom refresh cycle to convert 12 non-tiered classrooms into flexible classrooms that are set up in group format as a default. In these flexible classrooms, wheeled furniture makes it easy to move into other configurations, while personal whiteboards help students work together in groups. Accessibility was also a foundational principle in the redesign.
Just as innovative is that enhancing teaching/learning engagement came at a fraction of the cost of building a dedicated active learning classroom, and each classroom still had the same student capacity while at the same time feeling roomier and more inviting.
The keynote presentation was well received, with some audience members especially impressed by the low cost of innovation in classroom design.