DUT'S TEAM UBUNTU FIBRE WINS 2021 YOUTH INNOVATION CHALLENGE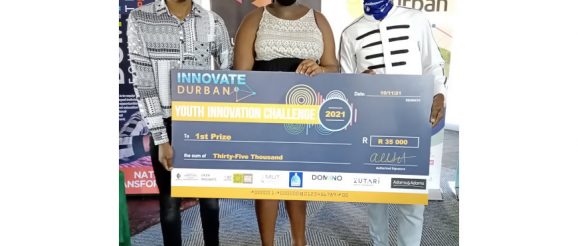 Durban University of Technology students, Muzi Mhlongo and Phumla Mnguni have made DUT proud by scooping the first prize in the Innovate Durban's Youth Innovation Challenge 2021 Awards recently held at the Botanic Gardens Visitors Centre, Durban. 
Mhlongo (25), a Master of Applied Sciences: Biotechnology student and Mnguni (20), a third-year Child and Youth Care student, both from Chesterville are ecstatic after being announced as winners of this year's Youth Innovation Challenge. 
The two students are part of the team Ubuntu Fibre which is made of three members. The third member is Mhlongo's older brother, Bhekabakubo Mhlongo. They excelled among 23 teams consisting of 60 participants that took part in this year's Challenge. 
The Challenge resumed in September 2021, where the teams were invited in an exciting workshop week supported by Sustainable Development Goals Champions and Industry Experts. 
According to Mhlongo the teams were requested to choose at least two Sustainable Development Goals and start working on their solution and on their pitch. He said the solution they developed is an eco-friendly alternative to Feminine Sanitary Wear and Hygiene. 
"We chose the Sustainable Development Goal number 9: Industry Innovation and Infrastructure and number 11: Sustainable Cities and Communities. Looking at sustainability, we decided to look at sanitary pads, the material that they use which consist of toxic chemicals. These chemicals often pollute our environment. We then came up and developed sanitary pads with non-toxic chemicals, with renewable strong absorption capacity. They are also biodegradable," explained Mhlongo.
He expressed his gratitude to his team members for their support and for believing in his concept. He said Mnguni believed in this idea from the beginning which encouraged him to work harder in making it even better. Mhlongo is also grateful to the team at Innovate Durban's Youth Innovation Challenge for the first prize money of R35 000 and the exposure to potential funders. 
He extended a special thanks to DUT's Technology, Transfer and Innovation Director, Professor Keolebogile Motaung for her assistance in developing a winning pitch. He mentioned that his team received tremendous support from the student entrepreneurial units under the newly launched Innobiz DUT Centre for Entrepreneurship and Innovation. 
Today, Thursday, 18 November 2021, Mhlongo will be once again representing DUT in the finals of the Entrepreneurship Development in Higher Education (EDHE) Entrepreneurship Intervarsity 2021 to be held in Johannesburg. He was selected among 4000 students and he is now among the 28 top student entrepreneurs at the South African public universities. The competition provides the opportunity for aspiring entrepreneurs to pitch their innovative business ideas. 
Mhlongo thanked DUT for encouraging students to look at the bigger picture of becoming entrepreneurs and consider being job creators instead of job seekers. 
Pictured: The winning team: Muzi Mhlongo, Phumla Mnguni and Bhekabakubo Mhlongo.