Ealing and QED recognised for modular innovation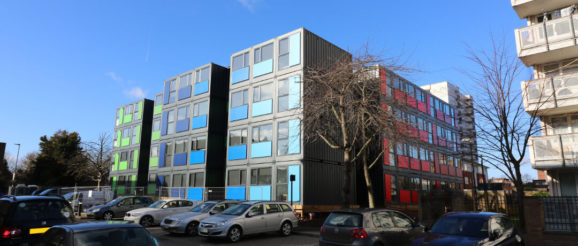 Ealing Council's modular homes have been recognised for the clear improvements they make to homeless residents' lives.
The homes, built in partnership with QED Sustainable Developments, are made from heavily modified shipping containers. They house 96 vulnerable households that would otherwise be in bed and breakfast accommodation, and have won the Homes and Housing category at the Place West London Awards 2018.
Ealing was one of the first local authorities to use modular buildings as temporary accommodation in this way. The homes – Marston Court on Borders Walk in Hanwell and Meath Court on Hope Gardens in Acton (pictured) – are built on formerly derelict sites which were blighted by anti-social behaviour and are earmarked for permanent development in the future. They are designed so that they can be easily moved to other sites when necessary.
Each unit is self-contained, with its own front door, bathroom and kitchenette. Shared landscaped areas around the homes have play areas, laundry rooms and management offices. Because the homes are modular, it is relatively straightforward to plan for different sizes of accommodation.
Councillor Peter Mason is Ealing Council's lead member for housing, planning and transformation. He said: "For people who find themselves in the distressing position of being made homeless, these innovative homes provide a stable, comfortable environment to live in. For the same financial outlay as bed and breakfast, the homes offer 96 families a far better standard of accommodation, with a front door on each unit and private kitchen and bathroom facilities.
"The homes are a great way of bringing derelict, run-down sites which previously attracted fly-tipping and anti-social behaviour back into good use by housing families who desperately need a roof over their heads. We're delighted that our ground-breaking approach has been recognised by the Place West London Awards."
Ross Gilbert, Managing Director of QED said: "Throughout the planning and public consultation of the development we have ensured that Meath Court provides emergency accommodation that has its own kitchen, bathroom and front door which is safe and secure, with features that many emergency accommodation solutions don't provide."
The post Ealing and QED recognised for modular innovation appeared first on Capital West London.