FEELM2.0 Receives Awards for the 'Best Innovation in the Vaping Industry' for Its 1000+ Puffs in 2mL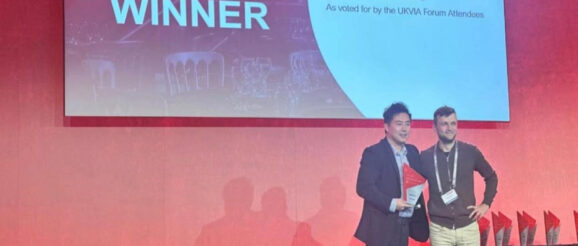 November 10, 2023: Smoore International, the world's leading atomisation technology company, has received awards for the Best Innovation in the Vaping Industry for its FEELM2.0 technology solution voted by the attendees, and the Most Responsible Vaping Business at the UKVIA Vaping Industry Forum.
The annual UKVIA Vaping Industry Forum is the largest event of its kind in the UK. Focusing on the major opportunities and challenges in the industry, attracting key figures from government, parliament, regulatory bodies, the healthcare community, retail sector and research community.
The conference is followed by the UKVIA Industry Recognition Awards selected by the panel of expert judges, with only the Award for the Best Innovation in the Vaping Industry voted by the attendees of the forum.
FEELM2.0, the technology solution to deliver more than 1000 puffs in 2mL e-liquid, was revealed at the keynote speech delivered by Rex Zhang, the Strategy Director of Smoore. Zhang made the point that the major challenges of the disposable vaping sector could all be contributed by the lack of innovation in the core of vaping technology. The stagnation has pushed consumers to look else where for better value while also creating a homogeneous competition between brands.
The FEELM2.0 was revealed to greatly advance the technology over the top selling brands on the market now. "Inter Scientific has tested FEELM2.0 with the top sellers on the market in their UK labs. Inter Scientific procured 7 disposable vapes from each of the top 3 brands and included our new solution to be measured in several dimensions. All samples were measured to be within the compliant volume and nicotine level and the report shows a very evident improvement in two main aspects. Our new solution is proven to pretty much double the industry average of puffs, over 1000 puffs within a 2mL container," explained Zhang
"Also solving the pain point of waning flavours, FEELM2.0 keeps the vapour volume consistent with only 3% variation, compared to others which would have flavour drop off with variation of vapour volume up to 47%. The consistency of vapour volume is directly correlated to the consistency of flavour quality."
The attendees were welcomed to examine the report by Inter Scientific proofing the technological marvel of FEELM2.0.
Speaking at the award reception, Rex Zhang encouraged the industry to continue to have faith in pushing the technology forward, to improve harm-reduction and provide better value to society, economically and sustainability.
【Media contact information】
PR Manager: Jason Tian