Filipino CEO Introduces AltWallet at Dubai's Future Innovation Summit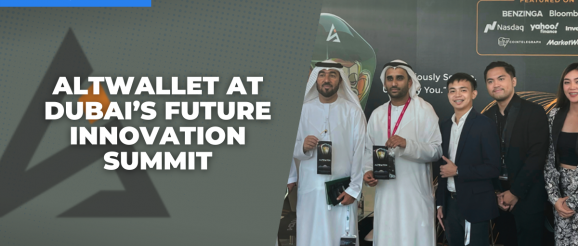 Editing by Nath Cajuday
DUBAI, United Arab Emirates — In front of key personalities and organizations in the metaverse, AltSwitch Chief Executive Officer (CEO) Carl Munsayac introduced their firm's revolutionary hardware wallet, named as AltWallet, which features an NFT display, to a panel during the Future Innovation Summit V2 last May 11-12, 2022 at the Meydan Hotel. 
Universal rewards protocol AltSwitch brought its core team web3 talents such as its Chief Marketing Officer (CMO) Dragos Petrovan (Dogefather), Chief Technology Officer (CTO) Vlad Sulea (BNBae), Chief Commercial Officer (CCO) Carlo James Nuque (Tetherogue), Chief Data Officer (CDO) Clark Abella (Ethero), Chief Sales and Marketing Officer (CSMO) Kaye Labay (Xrpixel), Chief Human Resources Officer (CHRO) Shari Ashley (Cardanova), and Chief Public Relations Officer (CPRO) Nicholas Sledziona (Stellarcat).
During the event, Munsayac and his team debuted their hardware wallet video on stage, which, according to the company, received applause from the crowd, even giving him a standing ovation. 
According to a media release, the upcoming hardware wallet of AltSwitch will be equipped with multi-layer encryption and biometric security. Its users will also be able to view their prized NFTs through the wallet's innovative integrated OLED NFT display.

Further, as Munsayac discussed more about the core topics of the metaverse and digital currencies, he tackled the exponential growth of cryptocurrency, as well as the foreseeable direction of global transactions. He also highlighted their aim to introduce a revolutionary solution to the growing threat of digital asset theft.
Accordingly, he stressed how the alarming rise in digital asset theft has damaged the reputation of cryptocurrency as well as trust of its investors and consumers. 
Munsayac also pointed out that the amount of the stolen funds from major exchanges and NFT projects through various methods such as hacking, phishing, and social engineering exploits already reached $90 billion.(Read more: 2021 Crypto Bull Market made Cyber Criminals Richer)
Moreover, the Altswitch CEO also cited the exponential growth of wallet users from 5 million in 2016 to now 300 million wallet users in 2022. He noted that this is a pattern of increasing digital asset theft, and how AltSwitch aims to "provide an innovative solution to an otherwise stagnantly developing digital asset security industry" —which is its very own state-of-the-art hardware wallet:
"Inherent responsibility to support solutions to the growing problem of digital asset theft as a moral responsibility." 
Consequently, he implied that the growing concept of the H2H or Human-to-Human business practice is in alignment with AltSwitch's company values. He highlighted that behind each dollar that was lost to digital theft is people's hard-earned money that could have been used to fund their child's education, put up a small business, or even achieve a lifelong dream. 
"These are the things that were worth the massive effort to provide a solution to and are the company's mission to achieve in providing consumers peace of mind over their assets on the blockchain," Munsayac concluded.
This article is published on BitPinas: Filipino CEO Introduces AltWallet at Dubai's Future Innovation Summit
Disclaimer: BitPinas articles and its external content are not financial advice. The team serves to deliver independent, unbiased news to provide information for Philippine-crypto and beyond.
The post Filipino CEO Introduces AltWallet at Dubai's Future Innovation Summit appeared first on BitPinas.