From Startup to Industry Leader: Drizly's Success Story Through Data Analytics and Innovation – Beyond Efficiency: AI's Creative Potential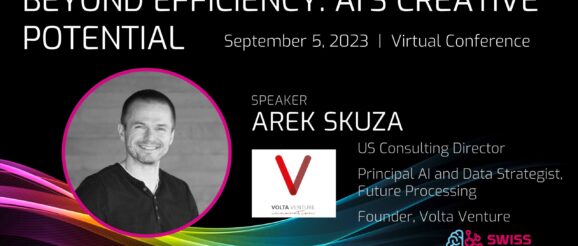 A startup that revolutionized online drink delivery, has harnessed data analytics to optimize its business model and achieve success.
SwissCognitive Guest Blogger: Arek Skuza  – "From Startup to Industry Leader: Drizly's Success Story Through Data Analytics and Innovation – Beyond Efficiency: AI's Creative Potential"
---
Drizly is an online drink delivery service that has seen great success capitalizing on technology and making shopping for drink products easier than ever before. Founded in 2012, Drizly has since become a leader in online drink delivery, offering over 4,000 beers, wines, and spirits from local retailers in more than 70 cities across the United States and Canada. 
The company's innovative approach to online drink delivery has made them a leader in the food delivery industry, and its focus on customer convenience has paid off. In 2021, the company was acquired by Uber, the largest ridesharing, food delivery, and transportation network company in the United States, for 1.1 billion USD. During the COVID-19 pandemic, the company's sales grew 800% due to the enhanced demand to buy drinks with limited exposure to the virus. Of course, the idea behind Drizly was innovative and popular. However, their business model and use of data analytics made the company stand out in a competitive market with many other product delivery and e-commerce startups.
The graphic below highlights Drizly's success timeline. Companies often take years and years until they reach the so-called "breakthrough," if they're lucky. As you can see, Drizly was able to achieve this in just nine short years, which further highlights the effectiveness of data analytics.
Business Model and Strategy
Drizly's business model revolves around providing customers with a convenient, fast, and easy way to purchase drinks online. Unlike traditional retail stores or licensed premises, Drizly has no physical locations. Instead, they partner with local retailers who carry the necessary licenses to be able to provide delivery services. Customers can order from Drizly and deliver their orders to their homes, offices, or designated pickup locations. 
Drizly's strategy is focused on customer convenience and providing a seamless online shopping experience. They offer a wide selection of beverages from local retailers, ensuring customers get the freshest products. The company also has a comprehensive delivery network, ensuring that orders are delivered quickly and efficiently. Additionally, Drizly offers a variety of promotional codes that customers can use to get discounts on orders. It's no wonder that Uber was eager to make the acquisition. With the success Uber Eats, Uber's food delivery service, has had, adding Drizly to its arsenal was a strategic business decision to maintain its position as the leading food and now beverage delivery company in the United States.
Drizly's revenue model can be seen in the graphic below. As you'll see in the next section, advanced analytics fuels this model.
Data Analytics
Data analytics has been a key part of Drizly's success. Data has allowed them to create an effective and efficient supply chain, optimize prices based on customer demand, and ensure that they provide customers with the best possible products. 
Drizly consulted Hashpath, a data analytics consulting company, to speed up their time-to-market. Hashpath helped ease and speed processes like authentication and onboarding. The advantage of utilizing Hashpath's services was that it ensured the longevity and long-term success of these processes for users and administrators. In the case of Drizly, we can see that it's often advantageous to outsource the incorporation of data analytics to another firm. Startups should not feel intimidated by the need to adopt analytics-based tools. In today's business landscape, data analytics is at the forefront of success. As seen in the graph below, the advanced analytics market is growing at a compound annual growth rate (CAGR) of 15%, which is very fast. Companies like Amazon and Meta are industry giants due to their use of advanced analytics. Furthermore, the jobs with the highest demand are all data-oriented positions. Therefore, outsourcing data analytics-based approaches to outside firms is an effective way startups can integrate these profitable techniques. 
While Hashpath's services were extremely valuable to Drizly, the firm was not working alone. They consulted Google's Looker, a data exploration and discovery company. Looker partnered with Hashpath to help Drizly create new revenue streams, including direct monetization. Drizly is able to take advantage of direct monetization to sell its customer reports to vendors. The company receives loads of Big Data about customers, which is a highly valuable asset to various companies. 
Another advantage of Big Data is to evaluate customer behavior and preferences, analyze sales data, and track delivery times. This analysis helps the company make informed decisions about how to expand its service offering, determine what products customers are looking for, and ensure that orders are delivered on time. 
In addition to using Big Data for tactical decision-making, Drizly also uses data insights to inform its marketing strategies. The company can quickly determine what types of customers respond best to certain promotions and tailor messages and offers to meet the needs of each customer segment. This level of personalization has been a key factor in the tremendous success that Drizly has seen over the past few years. 
Drizly uses data from customer orders to make informed decisions about product selection and pricing. This information allows them to stock the products customers are looking for and ensure they have competitive pricing. The company also uses customer feedback to make product and service improvements, which further boosts customer loyalty. 
Conclusion
Since its founding in 2012, Drizly has become the leader in online drink delivery due to its innovative approach to convenience and data analytics and customer-centric focus. The company has created an efficient delivery system and optimized pricing strategies by leveraging the services of Hashpath and Google's Looker. It now stands as a major player in the food industry thanks to Uber's acquisition of the firm in 2021. With its unique data-driven approach, Drizly will continue to grow and expand its operations in the future. 
Without question, Drizly has proven that adopting an analytics-driven approach is essential for startups to succeed in today's crowded business landscape. Startups can benefit from the use of data analytics and should not be afraid to outsource these services to experienced firms. By utilizing advanced data tools, companies like Drizly are sure to remain at the top of their industry and maintain a competitive edge.  
References
https://cloud.google.com/customers/drizly
https://cloud.google.com/looker/
https://www.contentstack.com/blog/all-about-headless/use-predictive-analytics-augmented-analytics-make-most-of-data/
https://www.apptunix.com/blog/drizly-business-model/
---
Arek will speak at the SwissCognitive World-Leading AI Network AI Conference focused on Beyond Efficiency: AI's Creative Potential on 5th September.
Der Beitrag From Startup to Industry Leader: Drizly's Success Story Through Data Analytics and Innovation – Beyond Efficiency: AI's Creative Potential erschien zuerst auf SwissCognitive, World-Leading AI Network.