'Future of Golf': PGA of America, T-Mobile Partner on 5G Wireless Innovation » Dallas Innovates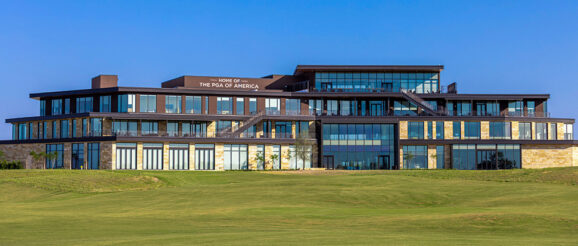 The PGA of America opened its new HQ in Frisco last year to be a "first-of-its-kind golf laboratory" and "a destination for the future of golf." Now it's partnering with T-Mobile to help move that future forward—from the high-tech hitting bays in its Frisco coaching center to innovations in TV golf broadcasts that could change how fans see the game.
PGA of America announced today it has chosen T-Mobile as its official 5G innovation partner and will be utilizing a 5G hybrid network from T-Mobile's 5G Advanced Network Solutions at its Frisco HQ. 
The PGA Coaching Center at Frisco HQ will be powered by 5G-connected technologies, including advanced ball-tracing technology, Toptracer Range, and Toptracer Coach, a web-enabled coaching platform that leverages the Toptracer Range experience. And PGA of America coaches and their students will be able to use 5G speed to leverage "AI-powered analytics and AR-enabled visual aids" to supplement their lessons, the partners said.
The partners will also work together "to develop technologies that level up the fan experience" at big events like the PGA Championship and the KPMG Women's PGA Championship. They intend to "bring millions of fans closer to the game than ever before" with immersive viewing experiences including footage from 5G-powered first-person drone cameras.
"Whether it's posting a picture of your family at the golf course to social media or one of our more than 29,000 PGA of America golf professionals using advanced analytics during a coaching session, the game of golf is more connected than ever," Seth Waugh, CEO of PGA of America, said in a statement. "I've been hugely impressed with the innovation and passion that our new partner T-Mobile brings to every task. I'm so excited by the promise of what T-Mobile can deliver to our members and our shared vision to drive the game forward for current and future generations of players."
Special benefits and opportunities for T-Mobile customers, but 'enhancements for all'
Jeff Price, chief commercial officer at PGA of America, told Dallas Innovates that while special benefits and opportunities from the 5G partnership will be available only to T-Mobile customers, "every fan's experience will be enhanced, because we can make our digital applications and the experience that you have better. It enhances everything that the PGA of America can deliver."
"There will be elements of what's available that comes through our app that everyone will have," Price added. "We can provide more information, more data that goes to everyone. But we're also working with T-Mobile to make sure their customers have unbelievable experiences at our events and as they're playing at the coaching center."
Developing a 'broadcasting and content innovation hub' at the Frisco HQ
The PGA of America will also be developing a broadcasting and content innovation hub at its Frisco HQ. The hub will pilot production technologies including "data-rich broadcasts using real-time data and analytics sources."
And to push golf broadcasts even further into the 21st century, the hub will experiment with first-person POV cameras including 5G-connected drones and small cameras spread all over a golf course.
The goal: creating an ever-more immersive viewing perspective for fans watching on TV.
"Together, T-Mobile and the PGA of America are showcasing innovation, bringing fans closer, and creating opportunities for PGA of America Members to learn and bring those learnings to their home facilities," Callie Field, president of the T-Mobile Business Group, said in a statement. "5G ANS is the platform for innovation that's bringing a competitive edge to thousands of PGA Coaches, all while increasing operational efficiencies at the modern home of golf. That's the power of our 5G solutions."   
One big benefit of the 5G hybrid network is the ability to deploy technologies while eliminating the infrastructure lift of installing wired systems—"which require things like digging out a path for wires through the course and running wired cameras across the practice range," according to T-Mobile.
Augmented reality is in development for golf instruction
"I think we can make this partnership work on so many different levels," Price, told Dallas Innovates.
On the most basic level, he said the Frisco HQ's 5G hybrid network will bring two key things together: playing the game of golf, and using technology to help you do it better.
"There's the tangible kind of human experience that we all have," he said, meaning gripping a club, taking a swing, and hoping you don't slice into the next fairway. "And the technology that can help to improve your game and let you have more fun—something that we want to make happen every day for the 41 million people who are playing this game, whether it's on course or off course."
At the Frisco HQ's coaching center, PGA of American aims to use 5G to make technologies more mobile while "substantially enhancing data capture," offering golf professionals "a more versatile toolbox for analyzing player performance and personalized coaching."
So what about those "AR-enabled visual aids"? Price said the technology is "still in development," but will take video-enhanced golf instruction to a new level.
"Video has been a key part of golf instruction and coaching for the last 20 years, and it's continued to get better," Price noted. "But that kind of ends up being a two-dimensional view. How do you think about it from a 3D perspective?"
"One of the challenges that I have is I don't turn enough in my backswing," he said by way of example. "And so how can you see that from an AR perspective to understand that you're not getting in the right position?"
"As we think about coaching and engagement, there's the swing itself. There's the fitness that you need to support that. And we're trying to put all of that into an experience that can dimensionalize it. If we're going to appeal to the 35 and under generation—where technology is such an integrated part of their lives—we want to make sure we're on the cutting edge of that."
"We're going to continue to experiment," he added. "Part of this is a trial to find out what works and what engages with the consumer, and where do we go to continue to evolve. And that's the beauty of the partnership with T-Mobile. We know where we're starting, but each year we're going to go into it with the next challenges that we want to take on. And together, we want to make our pros' lives better—so they can make millions of lives better."
Bringing enhanced analytics and innovations into TV broadcasts
Another goal of the partnership is. finding ways to bring even more analytics into TV broadcasts of PGA championship golf events. 
"There are great opportunities to bring analytics much greater to life. In our partnership with ESPN, we have multiple feeds on ESPN+. If you're really into data, following the success that the NFL has had, how do we create opportunities for folks to see the game differently as it's being played at our major championships? We can certainly enhance it at the grassroots level, but also around our major championships," Price said.
That's just one of many ways the PGA of America is working to make golf on TV jump right out of the screen at viewers.
"We have said to CBS and ESPN and NBC, 'Hey, we are very much about innovation and trying new things, a lot of which have worked,'" Price said. "We're working step by step with the broadcasters to say, 'If you've got a 5G hybrid network, what are things that you'd like to do today that you can't just get from the course into the production in a way that will enhance it?' So there's a lot of exploration going on right now."
"I think it's going to start with what you see in Toptracer [technology that shows a highlighted arc of a ball's flight; the tech was acquired by Dallas-based Topgolf in 2016]," Price said.
"Today, we use the Toptracer technology. How do we enhance that? What does that look like?" Live data overlays from Toptracer could reveal even more about each shot's path and result. "How does that evolve to provide more information, more data, a better understanding of what folks are doing?"
The broadcast possibilities also extend to "4K camera opportunities."
"I think each year you'll see innovations coming that just bring you closer to the action," Price said.
Get on the list.
Dallas Innovates, every day.
Sign up to keep your eye on what's new and next in Dallas-Fort Worth, every day.
One quick signup, and you're done.  
R E A D   N E X T
Trick Rider will pay homage to a legendary woman trick rider from the 1940s and '50s. Its spirit will be encapsulated in an astonishing light sculpture suspended over the bar: a 16-foot-long, nine-foot-high crystal horse chandelier made from 4,075 "bohemian cut" crystal beads.
A year after the PGA of America opened its new headquarters a few steps away, the Omni PGA Frisco Resort opened today with a ribbon-cutting ceremony featuring Gov. Greg Abbott. The resort offers 500 guests rooms plus suites, two new 18-hole championship courses, a lighted par-3 short course, a full-service Mokara Spa, a Lounge by Topgolf, 13 restaurant and bar offerings, and more.
The app was developed by Dallas-based Zimperium, a leader in mobile security, and is designed to secure devices against even the most advanced threats. Available as a free download on Apple iOS and Android Play, Dallas Secure arrives just in time for the busy holiday mobile-commerce season. "Public safety comes first in Dallas—and cybersecurity is a form of public safety," Mayor Eric Johnson said.
Kessler brings experience in "off-course golf" to the PGA from his years as COO of Dallas-based Topgolf. That's important, PGA of America CEO Seth Waugh says: "For the first time in history there are now more off-course golfers than on-course, so his track record of innovation and growth has never been more relevant or welcome." Kessler most recently served as CEO of Dallas' Buff City Soap.
HomeVestors filed a lawsuit yesterday against HGTV's parent company. Warner Bros. Discovery, Inc., saying the show violates the intellectual property rights of HomeVestors' "The Ugliest House Of The Year" trademark.