GLP Celebrates 25 years of Innovation in Style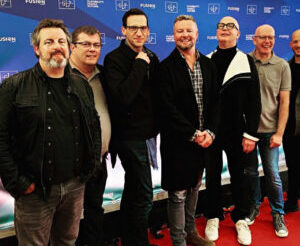 PLSN was pleased to attend the 25th anniversary celebration of 25 years of Innovation at German Light Products Karlsbad, Germany headquarters. We were part of a five day celebration featuring fun filled activities, German dining, a fantastic party and a whole lot of beer, schnapps and fun was had by all. Over 700 people attended the actual party on Friday, September 27th at their facility, including local civic leaders who showed their appreciation for a company that has stayed in the same town since its inception in 1994.
The party covered a lot of area including an enclosed tent that had a full sized concert stage adorned with GLP products. Awards were passed out, games with the audience were played and a concert by the band The New Roses was held. Various stands full of food and beverages were engaged in the front concourse, keeping everyone full and happy as they mingled. Inside the building was a demo room/bars set up for people that wished to converse in a quieter part of the facility.
We sat down with founder Udo Kunzler, who is still the hands on owner of the company to talk about the past and the future of the company and what drove him to start German Light Products 25 years ago. One of the things he is most proud of is the fact that all five of the GLP shops he has owned are all located within 100 meters of the current facility. He was raised in this area and has been proud to give back to his community.
"I started out helping my uncle by installing lights in night clubs as a young man. I found it interesting and moved on to work with Siemens (the largest industrial manufacturing company in Europe) for a spell, learning about electronics. I followed that with a compulsory stint in the military. When I returned home, I took a full time job with my uncle at B&K Showelectronic, who had become a major supplier to the nightclub market. In 1993 the European disco market was still booming." While working at B&K he was always handling new products. Eventually he had an idea of his own for a new product, coming up with the Patend Light, a helicopter like spinning version of a scanner.
Udo explains the next step, "It took us about two years to build the first models and we were ready to show them. In the meantime, someone else had a patent on the original name of the light, so I decided to play off of that by naming this fixture 'the Patend'." One of the obstacles to building this previously unheard of product was Udo had no financial backing, he had a shortage of cashflow to start production on these fixtures. "To raise capital, we had the technology to build a basic scanner, a moving mirror fixture that was becoming quite the rage around this time period. So in 1994 GLP released their first light fixture, the Startec 2000. A scanner operating on nine channels of control. We made maybe 100-200 of them, which raised the capital for us to get the company running."
The company started with three employees. Udo outsourced the electronics design to a friend who patented the designs, while the three of them did the mechanical design, internal works and construction of the fixtures. "Now there are 50 employees here in Ittersbach, with an additional 100 employees employed around the world."
Udo's vision has always been driven to "Building something different. Why copy or improve on something unless it's original or fills a need in the market?" He tells a funny story of unveiling his new Patend light at the PLASA Show some years ago. " I had a lot of people approach us with interest in the product. I was amazed when Richard Belliveau from High End Systems approached us and wanted to buy the product and distribute this technology. This was a huge moment for us. Unfortunately around the same time Varilite was suing everyone for patent infringement and we, like others starting in the biz had to get tangled up with lawyers. After several months Richard had to rescind his offer because he himself was involved in the same patent issues and could not add another product to his woes. Looking back now, we are glad we stayed on our own, developing our brand."
In his quest to develop something not on the market, Udo came up with the idea for the first Impression fixture. Two things made it unique. It was the first of his line of moving fixtures to be baseless – everything was built into the head, the yoke sat on a small pedestal. The other thing was they had figured out how to make what has been called the first moving LED powered light source. The Impression 90 with separate red, green, and blue LEDs was born.
"VL had started with this baseless idea before, but they quickly moved away from it. We knew this wasn't mainstream for anyone producing lights, so we took on the development of our own series. While this technology was a forerunner, it was the next step, the X4 Impressions that catapulted us to the next level." These lights incorporated the 4in1 RGBW LED cell technology that other companies have since glommed onto. This led to the whole range of X4's from the X4 Bar20, to the JDC-1, to the Atom and KNV series."
Mark Ravenhill
Employees Mark the Success of GLP
Kasper Gissel was brought into GLP from another company in his home in Denmark. "I moved to Germany in 2007, because I was intrigued by what this company was doing with LED fixtures. I became their business director for five years while we were located solely in Germany, joining the board of directors." By 2012 he was allowed to move back to his home country to start up a satellite office there and continue the pursuit of worldwide appeal. The Dane had been one of the key members of the old Martin Professional team as Head of International Business Development, and his network of contacts immediately reaped dividends. "We had to engage with LDs in order to make the Impression a professional LED light," Gissel says, "ensuring we had an even beam, smooth dimming and that it was flicker-free for TV use." Thus GLP became a pioneer, selling a professional LED wash light.
The downsizing of Martin seemed to become beneficial in many ways, especially when it came to the American operation. Gissel comments, "I knew Mark Ravenhill as a salesman working out of the US for several years. I had an inkling that he may consider working with us, so around Christmas time in 2008 I sent him a German Football Jersey and said if he ever wanted to become a member of the team, we'd love to have him." A few months later he was in.
Mark Ravenhill recalls this time in his life. "I was challenged, to go from a large multinational company to what was a much smaller company trying to start up a business in America. But I saw a future. I thought I could get in at this level and help grow a worldwide company and heck, they had LED lights. I  started selling the pizza light." a homage to the Impression, whose circular face of LEDs were separated into six quadrants like a sliced pizza pie.
"All Access was kind enough to rent us a little corner of their warehouse with a loading dock to store and ship fixtures.' Ravenhill admits. But he was desperately in need of some staff. Who better to call then two old colleagues who had formally worked with him and were looking for a new adventure?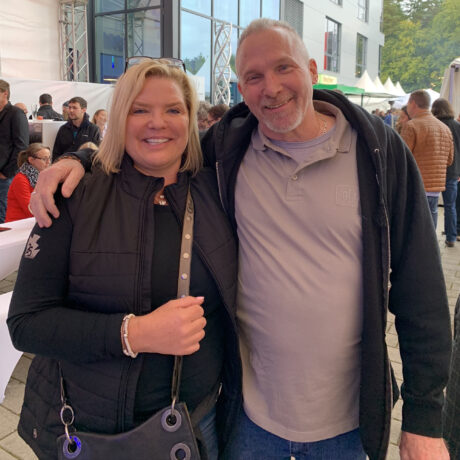 Annalise Laundrup and Carl Wake
Annalise Laundrup had been laid off in 2008 and working at various jobs that didn't really interest her when Ravenhill called in 2009 with a line of "What do you think about coming back to work with me?" She asked what her duties might entail at this new position. "You will be an octopus, a person with many arms. The company will be what the two of us make it." She was in.
"I've been called the Operations Director for lack of a better title. Mark has been like a brother to me. We work through everything together and have been with him since the All Access days thru the Sun Valley location and now in our new place in San Fernando. As soon as we got together we knew we needed one more key piece to the puzzle to make this work. A technician that would know the lights inside and out while doing QC on the new fixtures coming in."
That would be Carl Wake, a person the two of them had enjoyed working with for many years at their old job. Carl states, "When I got the call I was intrigued. I could move to sunny California and work with two old friends starting up a company. I said, 'Hell yeah' and off I went. My title is Director of Technical Service which means I oversee and place hands (not always his own) on every piece of gear that runs through this LA shop." If there are any problems with a line or any product service related issue, it's handled by Carl.
Wake adds, "I've been here over nine years now, since the Ypoc and Volkslicht series were being built. But the X4, which was released in August of 2012, is what really put us in an upwards trajectory. But what I really feel is a major feat for this company is that every product we have designed since 2012 – is still in production."
Back to the party.
It was great to watch as Udo celebrated on stage by bringing up people that were instrumental in building GLP to where it was today. He brought up a fellow from Italy, who was kind enough to sell all the motors GLP needed for their light fixtures on a delayed payment schedule. In other words, "Sell some lights and pay us back. We have faith in you." They went on to also thank the first foreign country representative to agree to sell GLP products. The fellow from Portugal told a story of the time he first met Udo and asked him, "Do you think these lights are really and good?" Udo replied, "Of course they are. They are German engineered."
GLP has never rested on their laurels, but they are not the type of company that puts out new fixtures just for the sake of getting more stuff on the market. Michael Feldman has been their product manager in charge of developing new gear for the GLP Range for a long time and does his R&D right there in house. The thought process for innovation is well thought out, usually initiating over Friday afternoon team meetings where it may be said that alcohol was absorbed in the quest for unique ideas. Hence the JDC-1 was first originated, while copious amounts of Jack Daniels and Coke were imbibed. The new FR-10 batten appears to be labeled off of the Four Roses brand of bourbon.
The KNV lines as well as the little single 60-watt Atom have become big sellers in the marketplace because they have filled a niche. Even the Force 120 LED Fan is still selling well. New to the market is the Fusion series of IP65 rated lights. Product manager Stephen Braun has been spearheading this new series with fixtures for the architectural, television and entertainment markets.
Soon to be flooding the market will be the Highlander, a 1400 watt moving arc light. We questioned Ravenhill on why the company is building something that has already existed. "Well, like I said before, we fill a niche. The VL3500 wash was a power horse for years, as was the Mac 2k wash. But they have been discontinued. Where does one go to find a proper arc wash light nowadays? Why GLP of course. Except ours has internal barndoors and a 1400 watt arc source. It's going places, mark my word."
For many lighting vendors and lighting designers this was a place for all of us to hobnob and meet new people. Having a party was so much better than a trade show, where time is limited, and friendships don't have time to form. The hospitality shown by the company over several days included everything from a Mercedes Benz factory tour, to castle explorations to the GLP World Cup of racing where some 50 drivers from around the world battled on the Go-kart track for the title of best driver.
Brian Dowd, Sales Director for the USA operation sums it up best, "GLP designs and builds products that matter. The company culture is based on family and always has been. The camaraderie with fellow co-workers across the globe is just fantastic. GLP cares. It was an awesome celebration of the first 25 years, and we were so happy that so many friends could join us."