Gonzalo Perez Appointed Assistant Vice President of Academic Affairs, Workforce Education and Innovation at Mercer County Community College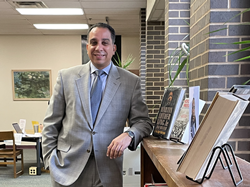 TRENTON, N.J. (PRWEB)
February 23, 2023
Mercer County Community College (MCCC) has announced Gonzalo Perez as the new Assistant Vice President (AVP) of Academic Affairs, Workforce Education and Innovation. In his role, Perez will oversee Mercer County Community College's James Kerney Campus (JKC) in conjunction with the Division of Lifelong Learning and MercerOnline.
Perez replaces the former Dean of JKC, Tonia Perry-Conley and will retain the majority of his current responsibilities as AVP of MercerOnline and the Division of Lifelong Learning.
"We are pleased to welcome Dr. Perez as AVP," said Dr. Deborah Preston, president of Mercer County Community College. "His expertise and depth of experience in higher education and his demonstrated commitment and contributions to Mercer over the past several years have established him as a remarkable leader and invaluable member of our senior team," the president said.
MCCC's Vice President of Academic Affairs, Robert Schreyer, also applauded the selection of Perez. "Mercer County Community College has a vested interest in continuing to improve the student experience by providing the finest academic and career options," said Schreyer. "I believe Dr. Perez has the requisite skills and passion to meet and exceed these goals at James Kerney Campus in Trenton," he said.
Perez brings to the position 17 years of higher education experience and a history of innovation, leadership, staff development, relationship building and operations planning. His work to date has focused on improving access to education and fostering success for a diverse student population.
"I am honored and excited about my expanded role at MCCC," said Perez. "My past experience has put me on solid footing to face the new and interesting opportunities and challenges that lie ahead," he said.
Before joining MCCC in 2020, Perez served as Associate Provost of Coconino Community College (CCC) in Flagstaff, Arizona where he helped develop innovative online programming. He also expanded CCC's pre-college program that prepared students for higher education. While at CCC, he collaborated with Native American tribes on remote education initiatives and led the Southern Nevada/Northern Arizona Louis Stokes Alliances for Minority Participation (LSAMP) grant, increasing the number of underrepresented students in science, technology, engineering and mathematics (STEM) fields. At both CCC and NAU, Perez also served as an adjunct professor of computer information systems.
Originally from Guttenberg, New Jersey, Perez spent seven years in various leadership roles with Passaic County Community College in Paterson and is no stranger to working with urban communities. Many of Perez's colleagues in and around the Trenton area were happy to learn of his new capacity at the college.
Reverend John R. Taylor from Trenton's Capital City Community Coalition – a group of area city officials, clergy, law enforcement, first responders and nonprofits – said, "My hat is off to Mercer County Community College for recognizing the strength of character and incredible work ethic of Dr. Perez. He will make Mercer shine." Taylor continued, "I believe he will enhance the downtown campus so that urban students can achieve and maximize their potential under his leadership."
Brother Gene Bouie, executive director of the Training and Development Institute at the African American Chamber of Commerce of New Jersey, said "I cannot think of a more deserving individual for this role at Mercer County Community College … it has been both an honor and pleasure to collaborate with Dr. Perez in our goal to create learning and skills acquisition pathways for the residents of Trenton in our attempt to address the high poverty rates."
During the months ahead, Perez hopes to implement many new initiatives involving student success, education and workforce readiness at James Kerney campus.
"My vision is to create proven pathways to career success for our students through the growth and expansion of James Kerney Campus," Perez remarked. "By strengthening and expanding workforce development opportunities for businesses and the community at large in Trenton," said Perez, "I hope to make JKC a top-tier choice for Trenton residents or any individuals seeking to pursue their academic and career goals."
Perez holds a Doctorate in Applied Computing from Pace University in New York City, and both a Master of Science in Management Information Systems and Bachelor of Science in Management Science from Kean University in Union, N.J.
For more information about Mercer County Community College's James Kerney Campus in Trenton, please visit this link: https://www.mccc.edu/welcome_kerney.shtml.

Established in 1966, Mercer County Community College is a publicly supported comprehensive institution that provides opportunities for higher education through an open-door admission policy. The scenic 292-acre West Windsor Campus was opened in 1972 to serve the needs of Mercer County residents. MCCC's James Kerney Campus, located in downtown Trenton, serves as an educational and cultural hub for city residents that meets the changing needs of thousands of students and community members seeking educational fulfillment and personal and career growth.