Hadean at Med-Tech Expo: Why The Medical Industry Is Demanding Innovation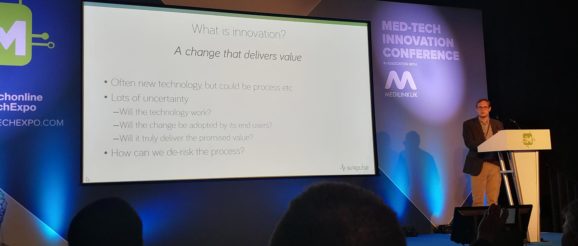 Most of you will know about Hadean thanks to our hugely successful tech demo at GDC. After all, why wouldn't you? Our global experiment brought together 14,274 ships in a single battle in an unprecedented stress test, live at GDC. We saw 3,852 players getting stuck into the fight, pushing and pulling our Aether Engine tech in an unprecedented stress test. It was phenomenal seeing that many people getting their hands on our product.
But our distributed simulation engine isn't just used for gaming.
One example we're particularly proud of is that Aether Engine is also used by Francis Crick Institute to simulate large and complex models of protein-protein interactions, researching novel binding sites for tackling diseases like cancer.
Given our pride in that productive and innovative use for Aether Engine, it made sense for us to attend Med-Tech Innovation Expo, the UK's biggest exhibition for medical design and technology. We wanted to see for ourselves what sharp and inspiring advances have been made in healthcare.
Every aspect of medtech had been brought together under one roof in Birmingham's NEC for the expo. From medical connectors to decontamination equipment, from plastics to patent and trademark attorneys, it was a fascinating snapshot of the medtech industry in the UK.
Given Hadean's position as a deep-tech company pushing the boundaries of what's possible with Aether Engine, what was particularly interesting to us was the key word that we kept hearing over and over again: innovation.
It was there in Professor Daniel Steenstra's talk, as he spoke about the need for disruptive innovation as well as incremental innovation in healthcare, highlighting the stent as an example from medtech's past and 3D printed drugs as a possible example in its future.
It was there in Eivor Oborn's talk about digital transformation within the healthcare sector and collaborative ecosystems, which will bring the industry forward ("No-one's going to come up with good ideas on their own so it's about switching boundaries, changing boundaries").
It was there when Dr James Carpenter was highlighting the difficulties in bringing his company's innovative product to market, overcoming the regulatory requirements and cynicism blocking its path.
As a deep tech company, it was interesting to see the same challenges for innovation in medtech as we see in technology. If you want to innovate and you want to challenge the status quo, you need the right attitude, you need the right ecosystem and you need the right people around you.
MedTech Innovation Expo was a fascinating event that gave us new insight and inspiration into the challenges we face and, more importantly, into the solutions to solve those challenges. We've already marked the event on our calendar for next year and we can't wait to see what progress has been made… and perhaps, more importantly, what progress we can aid with our Aether Engine technology!