Harvard program for entrepreneurs in education innovation – Harvard Gazette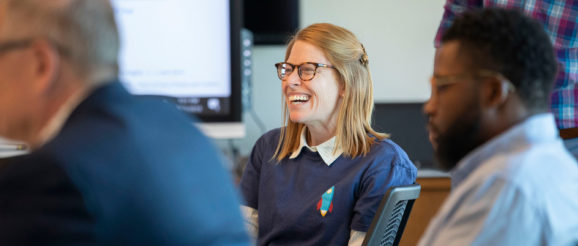 For New Teachers Thriving, the program Hester started, Operation Impact and its fellows helped the team organize their resource allocation, develop their growth strategy, and prepare for meetings with funders and pitch competitions. In fact, Hester said participation in HILT helped the team — which includes Crystel Harris, Ed.L.D. '21, and Akash Wasil '19 — become finalists in two other Harvard funding competitions that support student entrepreneurs: the President's Innovation Challenge and the Harvard Business School New Venture Competition. But what helped most of all was the confidence Operation Impact instilled in the group, Hester said.
"It was a big wind in our sails to have someone say, 'This idea is not crazy. We think there's something here and we think you should pursue it,'" Hester said. "It was just really encouraging to get their support."
With funding this past year, the team was able to purchase food and supplies for the personal-development training they delivered to more than 50 Boston Public School teachers. This year, because of their early success, they're reaching even more educators. Teachers in Boston are currently applying for the second version of the program and nearly 200 district teachers and administrators in Stockton, Calif., are taking part. In the future, New Teachers Thriving hopes to offer their training online so they can reach thousands of teachers across the country.
While Hester's group did well, others got even more traction. Brown Art Ink has been lifting up artists of color for the past five years in cities such as Baltimore, Cleveland, Washington, D.C., Toronto, and Mexico City by offering training and creating paid opportunities for them to show their work in museums, galleries, and other public spaces. Co-founders Amanda Figueroa, who's earning her Ph.D. in American studies from the Harvard Graduate School of Arts and Sciences, and Ravon Ruffin turned their $200 grant from Operation Impact into $8,000 in annual revenue.
This year, Operation Impact will invite students from the Massachusetts Institute of Technology to collaborate, making it open not only to all Harvard students in degree-granting programs but to all MIT students, too.
The move is in line with the program's stance on collaboration. Teams must include more than one person and preferably feature members who represent different disciplines across both campuses.
"You don't solve a complicated problem like education with one field alone," Goldstein said. "You need a business mind. You need a technology mind. You need a marketing, sales mind. You need a pedagogy mind. You need all these different skill sets."
Teams last year featured a mix of students from Harvard College, Harvard Business School, Harvard Divinity School, Harvard Extension School, GSAS, Harvard Graduate School of Design, HGSE, Harvard Kennedy School, Harvard Law School, and Harvard School of Public Health. There were also many non-Harvard affiliated members.
Operation Impact was designed in collaboration with HGSE, the Social Innovation and Change Initiative at HKS, the iLabs, and the HBS Social Enterprise Initiative. It works with SMART Technologies, Wix.com, Amazon Web Services (AWS) Educate, AWS EdStart, and RallyCry Ventures, which provide funding and access to software and experts.
One of the driving factors for its creation was the need for increased funding in education innovation. According to research from HILT, 97 percent of students looking for funding in education innovation at Harvard weren't getting it.
"To me that was just not the message that I think we wanted to be giving students across Harvard," Goldstein said. "In my mind, we need more students and not less students working in this problem space. We should be giving as many of them as possible the experiences to learn what it actually takes to take an idea and do something in the real world with it."
Operation Impact's University-wide kickoff event for students seeking funding this year is Oct. 3 at the Smith Campus Center from 5 to 8 p.m. Interested students can RSVP here.