Health Innovation Tops $6.6B in Funding and IPO Market Heats Up in Record Third Quarter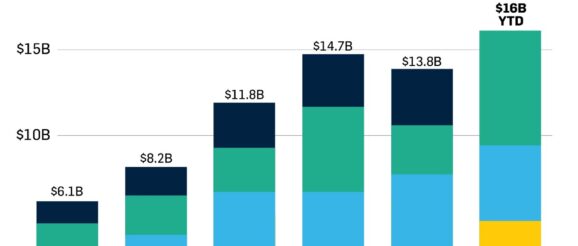 This is "a tipping point for digital health" says StartUp Health CEO Steven Krein.
The third quarter of 2020 ended with more than $6.6B in health innovation funding, making it the most-funded quarter this market has ever seen since we began tracking funding in 2010. By a lot. Q3 was $1.6B higher than the next most-funded quarter on record, which was Q1 of this year. That brings 2020's YTD funding total to around $16B, more than any previous full year on record.
We've also seen a wave of digital health companies go public this quarter, along with the mega-merger of Teladoc and Livongo, creating new benchmarks for digital health valuations, signals for a health platform leadership race, and potential for a wave of M&A activity to come.
"This quarter is a tipping point for digital health," says Steven Krein, CEO, co-founder, and managing partner at StartUp Health. "It's not a small thing at a time when health innovation is now a priority for every nation, organization, and person on the planet as a result of the global pandemic." Let's unpack the numbers.
It would be a mistake to underplay the significance of this quarter's health innovation funding growth. First, we can view it in light of 2020's economic storyline. At the end of Q1, the world was just beginning to feel the effects of a coronavirus shutdown. The S&P 500 tanked and it was anyone's guess how long the pandemic would last and how individual markets would be impacted. At midyear, despite a lengthening global recession and a population put on lockdown, we saw a strong performance from investors, who apparently saw that a pandemic was the right time to double down on upgrading health. Now, at the end of Q3 2020, with continued economic uncertainty, we see investors roaring into digital health, eyes wide open. This amounts to a sustained response and is suggestive of a new normal. COVID proved to the world that the future of health is virtual, it's personalized, it's tech-enabled, it's AI-powered, and it's disruptive. Investors responded to that paradigm shift with their checkbooks.
It's also important to view this quarter's funding from a historical perspective. At StartUp Health, we've been publishing this quarterly report for the better part of a decade. In 2010, we counted only about a billion dollars in health innovation funding across 139 deals. Only a decade later, at its current pace, 2020 could reach the $20 billion mark and as many as 800 deals. That is an incredible increase and shouldn't be glossed over.
While the large uptick in overall funding year over year is encouraging, perhaps even more game-changing are the public offerings that have made the news in recent months. Just to give a fly-by of the most recent: Accolade IPO'd in July, raising $220M; GoHealth raised $916M when it went public a couple weeks later. Oak Street Health IPO'd in August, raising $328M, while Outset Medical raised $242M in their public offering. Amwell went public in September raising $742M, and then GoodRx closed out the quarter with a whopping $1.14B IPO raise. A reminder: that was just one quarter. Open up the timeline to a year and the story gets even more interesting.
Why are these public offerings so important? Because "public markets are often the biggest indicators of growth opportunities and the room available to develop great businesses," says Krein. "The recent digital health IPOs signal a significant increase in the ceiling by which entrepreneurs are going to be judged for potential and future value. When we started StartUp Health, the biggest indicator of a company's potential in our market was WebMD, an ad-supported media business. So it's really important to celebrate and acknowledge the progress, traction, and success of these health innovation IPOs. They took the ceiling of imagination and practical valuation and moved it up 100-fold."
On top of recent IPOs, we are seeing a growing list of mergers and partnerships maturing the market. Teladoc teamed up with Livongo (in a deal that created a new remote care juggernaut valued at ~$37B) to extend the telemedicine giant into the chronic care arena. Walmart partnered with pharmacy benefit manager Capital Rx to upgrade the company's prescription system. Amwell deepened its partnership with remote diagnostic company Tyto to extend their reach into the home. These are just three of many, many examples of health innovation companies rounding out their solutions and taking a more comprehensive approach to solving a given problem. We see this trend continuing. "It's not a matter of if there will be consolidation, but rather who will partner to provide the fullest possible health stack and design universally with everyday people in mind," says Unity Stoakes, StartUp Health president, co-founder, and managing partner. "We see a great health platform race accelerating as legacy healthcare companies compete (and merge) with newer health platforms and a scramble to get closer to the consumer. It's still wide open and very early, but the smart ones are moving fast to acquire new health innovation."
Who Is Getting Funded?
There's no question that a big reason why 2020 is shaping up to be a record-breaker for health innovation funding is because of the presence of a string of mega-deals. Viewing the top 10 largest deals of the year we see that all ten are $200M or higher. This list gives us a glimpse into where investors are confident and where we might see the market heading next. What we saw in Q3 was a king-sized investment into home fitness (Zwift), cancer detection (Grail and Freenome), value-based primary care (VillageMD), and AI drug discovery (Recursion). We also see a diversity to the market.
"There is a diverse mix of the types of companies that are getting funding too," noted Stoakes in a recent episode of StartUp Health NOW. "It is not just one aspect of the landscape where the money is flowing to, it is really happening across the whole ecosystem, to a certain extent."
Some experts point to the number of mega-deals this quarter as evidence that investors are seeking sturdier bets in the midst of the pandemic. But just because we're seeing massive checks get written doesn't mean smaller deals or earlier companies are being forgotten. There were still 95 deals (about 50% for Q3 2020) that were under $10M per round, and none of these deals necessarily take into account the number of convertible notes that have been happening with earlier stage companies. A lot of investors are supporting these bridge rounds during this time to help get their early companies to stronger positions to raise more robust series A+ rounds later.
Every quarter StartUp Health looks at global hubs for health innovation, with a particular eye towards where health entrepreneurs are being funded outside the United States. Our list of the top 10 most-funded cities outside the US is notable for a few reasons. First, China is back. After multiple years topping this list, China fell off entirely for three quarters — presumably due to the COVID slowdown. Now, Beijing and Hangzhou are back in the top 10 with a combined $551M raised across six deals. London, Toronto, and Tel Aviv remain our most-active cities for 2020 thus far, posting 20, 15, and 15 deals respectively. Israel continues to punch above its weight, with three cities (Tel Aviv, Jerusalem, and Haifa) making the top ten list, despite the entire country having a population of 8.6M.
"It is important to look at different innovations where it is coming from; it really is a diverse landscape now," says Stoakes. "We believe that one of the biggest opportunities is to cross-pollinate that innovation. With different business models and different designs, there is an opportunity to learn from different ecosystems and different parts of the world."
Bottom line: this quarter marks a dramatic increase in funding at every stage, a historic series of high-value public offerings plus significant mergers and partnerships creating end-to-end platform solutions. Put all together, says Krein, and what we're seeing is "an industry coming of age."
This report was written by Logan Plaster with contribution from Anne Dordai, Tara Salamone, Jenn Hankin and Nicole Kinsey.
Check back in the coming days to download the full StartUp Health Insights Q3 2020 Report, including a discussion of why we believe funding continues to increase.
---
Health Innovation Tops $6.6B in Funding and IPO Market Heats Up in Record Third Quarter was originally published in StartUp Health on Medium, where people are continuing the conversation by highlighting and responding to this story.