Hello Tractor joins new Nigerian agri innovation hub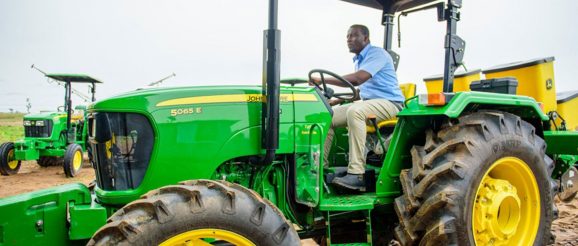 The award-winning agritech start-up Hello Tractor is among the first organisations to join the Edo Agri Digital Innovation Hub. This is a brand-new Pan-African initiative aimed at creating an ecosystem to promote digital transformation, innovation and climate smart agriculture.
The hub is specifically focused on Edo State in southern Nigeria. According to a media release, it will be coordinated by the Edo State Skills Development Agency and Songhai Labs described as a "knowledge broker platform".
Some of Africa's leading agritech start-ups and organisations are set to also be selected for the hub. This includes farmer and financial organisations, start-up ecosystems, research institutions as well as Nigerian and international organisations.
Founded in 2014, Hello Tractor was founded by social entrepreneur Jehiel Oliver. According to an earlier Forbes report, the innovative app cuts down on the labour and the drudgery long associated with farming, making it more appealing and lucrative for the next generation.
Hello Tractor reaches more than 250 000 smallholder farmers across the continent, connecting them to tractor owners.
According to Crunchbase, Hello Tractor has raised a total of $4.2 million in funding over six rounds. Its latest funding was raised on 11 August 2022 from an undisclosed venture series round. It is funded by four investors with John Deere and Heifer International being among the most recent.
Through the Edo Agri Digital Innovation Hub, Hello Tractor is expected to work with some of the local organisations in Edo State, deploying its innovative technology to contribute to the digital transformation of the agriculture sector.
The long-term perspective of the project will include an expansion to other regions of Nigeria and other African countries.
The news comes after John Deere recently announced that Hello Tractor was among the first group of companies to participate in it's start-up collaborator programme. Launched in 2019, the programme deepens the company's interaction with start-ups whose technology could add value for customers.
"John Deere sees this as an opportunity to support Hello Tractor's innovative work to provide technologies and solutions to agricultural entrepreneurs in Africa and Asia," said Jason Brantley, John Deere's director: agriculture, turf sales and marketing in Africa and Asia.
"Hello Tractor's work also aligns with the John Deere strategy and the ag and turf division's Leap ambitions to ensure 100% of new small agricultural equipment is connectivity-enabled by 2026."
ALSO READ: Agritech disruptor AgriKool vows to increase farmer profits
The post Hello Tractor joins new Nigerian agri innovation hub appeared first on Ventureburn.